LOUISVILLE, Ky. (TheBlaze/AP) -- A judge has temporarily barred the city of Louisville from removing a 70-foot-tall Confederate monument near the University of Louisville campus.
Jefferson County Circuit Judge Judith McDonald-Burkman signed a restraining order Monday morning forbidding the city from moving the 121-year-old obelisk honoring Kentuckians who died fighting for the Confederacy in the Civil War.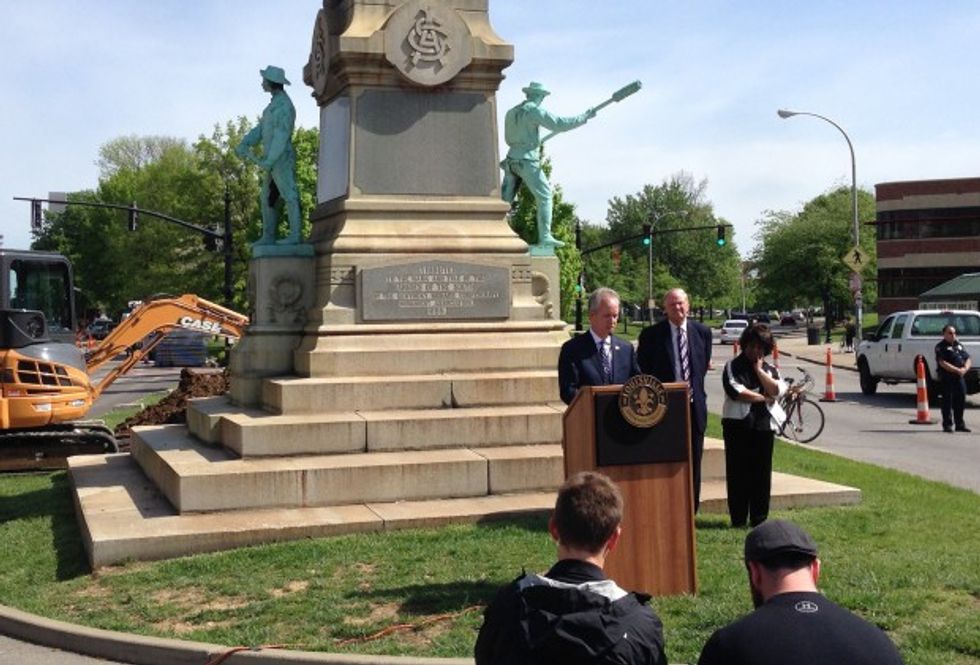 Louisville Mayor Greg Fischer speaks in front of the Confederate monument near the University of Louisville with university President James Ramsey last Friday. (AP Photo/Dylan Lovan)
"The Court finds that the plaintiffs will suffer immediate and irreparable harm if, during the pendency of this litigation, Defendants are allowed to continue with their stated plan to dismantle and remove the Confederate Monument from its present location," the judge wrote, according to the Courier-Journal.
Mayor Greg Fischer and University President James Ramsey announced Friday that they would remove the monument, marking the latest government effort to reconsider displaying Confederate symbols following the massacre of nine black churchgoers in South Carolina last summer.
The Sons of Confederate Veterans and Everett Corley, a Republican running for Congress, filed for the restraining order on Monday. The judge scheduled a hearing Thursday morning.
—