© 2023 Blaze Media LLC. All rights reserved.
Did One of the World's Most Notorious Atheists Really Make a Deathbed Conversion?
There's an old adage that says, "You can't judge a book by its cover." But what about its title?
In a recent interview with TheBlaze, author Larry Alex Taunton addressed some early reviews of his new book, "The Faith of Christopher Hitchens," that claimed Taunton had asserted that famous atheist Christopher Hitchens made a deathbed conversion to Christianity. Taunton, founder and executive director of Fixed Point Foundation, a nonprofit that publicly defends the Christian faith, suggested that reviewers drew their conclusions from reading the book's title and not the book itself.
One example of jumping to conversion conclusions can be found in this tweet from the Religion NewsService: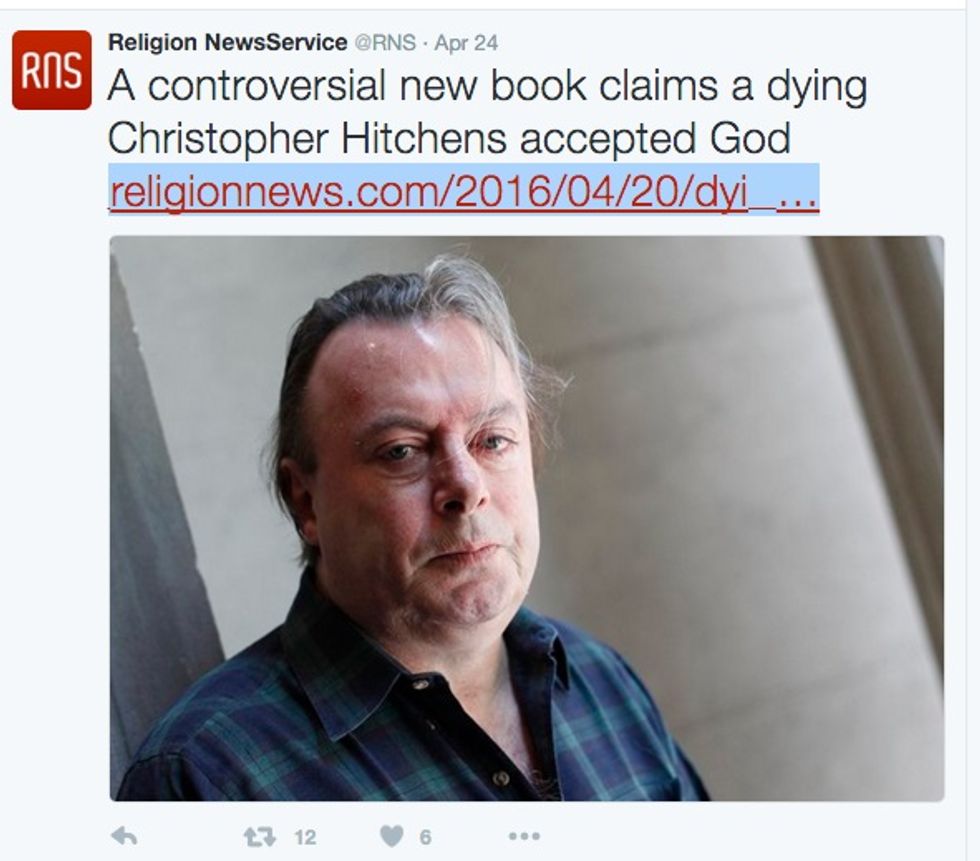 Image via Twitter/RNS
However, it didn't take long for RNS to issue a correction: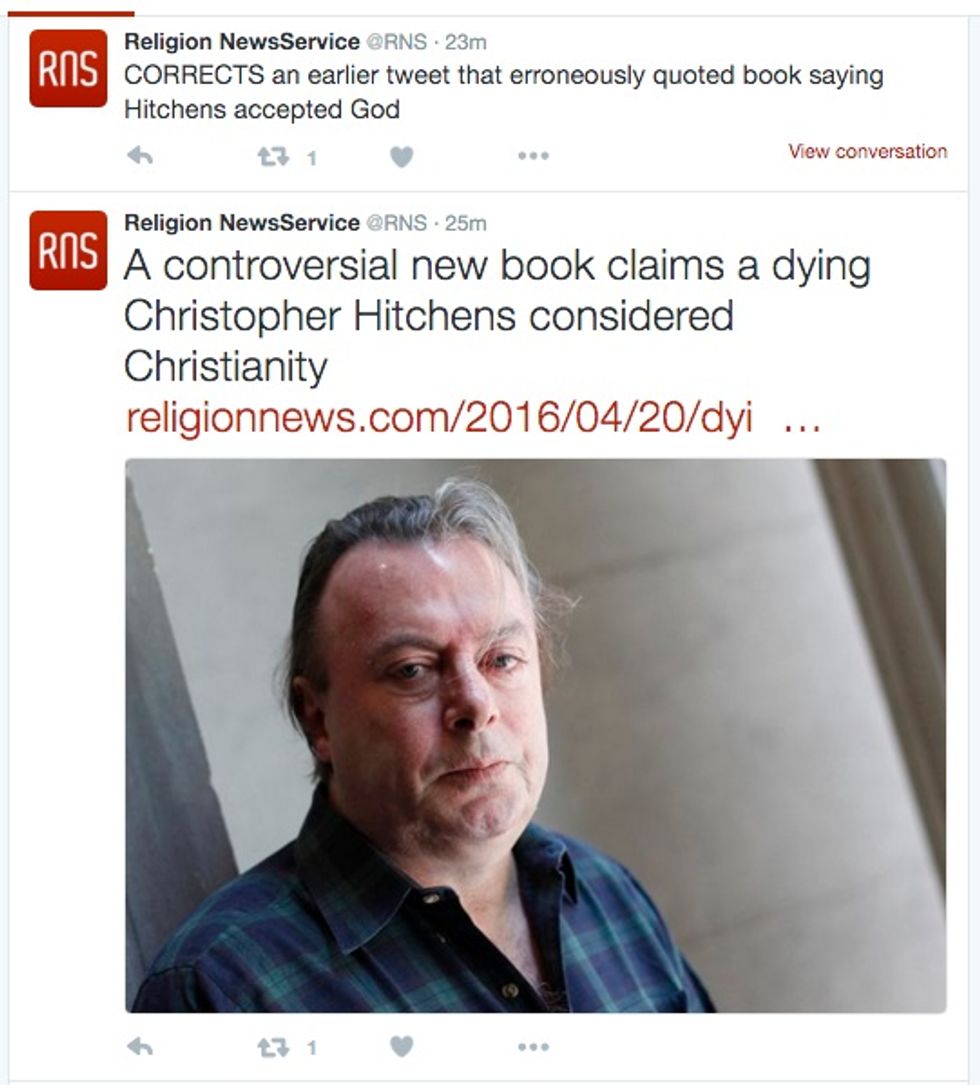 Image via Twitter/RNS
The book does claim that Hitchens did, indeed, "consider Christianity." The author writes:
The whole of my thesis is this: Christopher had doubts ... and those doubts led him to seek out Christians and contemplate, among other things, religious conversion. Whether he did make such a conversion or not is a separate question and one that we cannot answer — that no one can answer — with certainty.
Besides being absent from Hitchens' bedside on Dec. 15, 2011, the day of his passing, Taunton pointed out several chapters in his book in which he specifically said he did not know the state of Hitchens' mind — or soul — when he passed.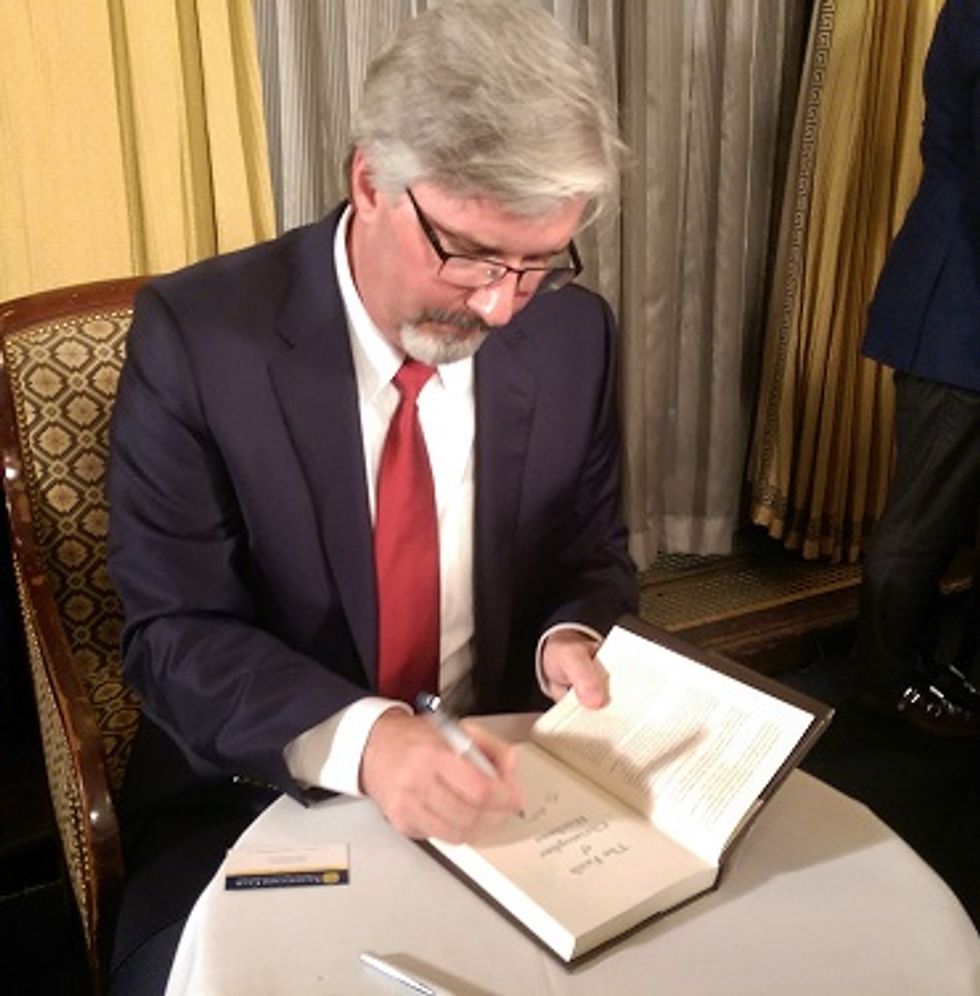 Author Larry Alex Taunton signs his book after speaking recently at "Socrates in the City" in New York City. (A. Sadar/TheBlaze)
In the epilogue of "The Faith of Christopher Hitchens," the author likens the deathbed-conversion controversy with one similar to another champion of atheism, Charles Darwin. A century earlier, evangelist Elizabeth Cotton (also known as "Lady Hope of Carriden"), a friend of the celebrated author of "On the Origin of Species," claimed Darwin recanted his theories and embraced "Christ Jesus and his salvation" in his last moments. Christians, naturally, celebrated. Evidence to the contrary, however, suggests no such salvation moment happened.
Taunton makes it extremely clear that he makes no similar "salvation" claims when he writes that Hitchens was "teetering on the edge of belief."
In our interview with Taunton, we asked if he, as a friend, were to lean one way or the other, would he say "yes" or "no" to a Hitchens conversion? Taunton leaned toward "no."
Again, though, "no one can answer — with certainty."
Well, perhaps "no one" is too final.
Taunton provides a codicil: "There is one, however, who is capable of distinguishing the soul's voice ... [a]t the end, he's the only one still listening." (emphasis in original)
Check out TheBlaze Books review of "The Faith of Christopher Hitchens."
Want to leave a tip?
We answer to you. Help keep our content free of advertisers and big tech censorship by leaving a tip today.
more stories
Sign up for the Blaze newsletter
By signing up, you agree to our
Privacy Policy
and
Terms of Use
, and agree to receive content that may sometimes include advertisements. You may opt out at any time.