NBC News published its first "battleground map" for the general election — and it shows presumptive Republican nominee Donald Trump at a significant disadvantage to Democratic presidential candidate Hillary Clinton.
First Read: Battleground map shows disadvantages for Trump https://t.co/zW7aJzABPy #Decision2016 https://t.co/Zke1d820DM

— NBC News (@NBC News) 1462541191.0
The map, based on recent polling and demographics of each state, depicts how states are expected to vote in November, and how many electoral votes each candidate will receive from their victories.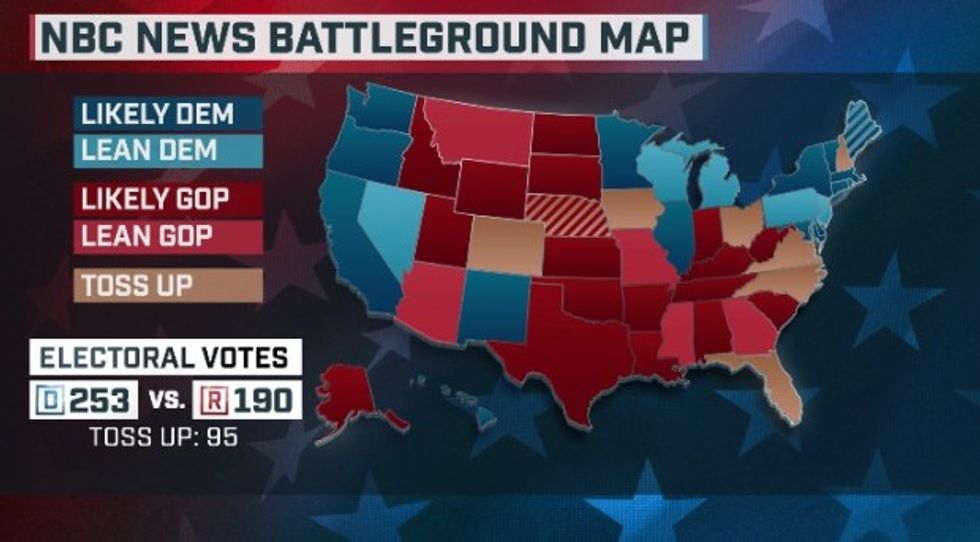 Image source: NBC News
The map shows Clinton and the Democrats leading Trump 253-190 in electoral votes, with an additional 95 electoral votes left as "tossup." In order to be elected president, a candidate must receive 270 electoral votes.
That means — as the map currently stands — in order to win the White House, Clinton would need to win only Florida or Ohio.
—
Follow Kate Scanlon (@kgscanlon) on Twitter