Just one day before the United Method Church geared up for its General Conference beginning on Tuesday, more than 100 pastors, deacons, elders and ministry staff publicly came out as members of the LGBTQ community.
It was a move intended to bring increased attention to an issue that the denomination is slated to contend with in the coming days as its members convene in Portland, Oregon, for a central meeting that is held once every four years.
"While we have sought to remain faithful to our call and covenant, you have not always remained faithful to us," reads the letter, which was organized by a group called Reconciling Ministries Network and is addressed to the United Methodist Church. "While you have welcomed us as pastors, youth leaders, district superintendents, bishops, professors, missionaries and other forms of religious service, you have required that we not bring our full selves to ministry, that we hide from view our sexual orientations and gender identities."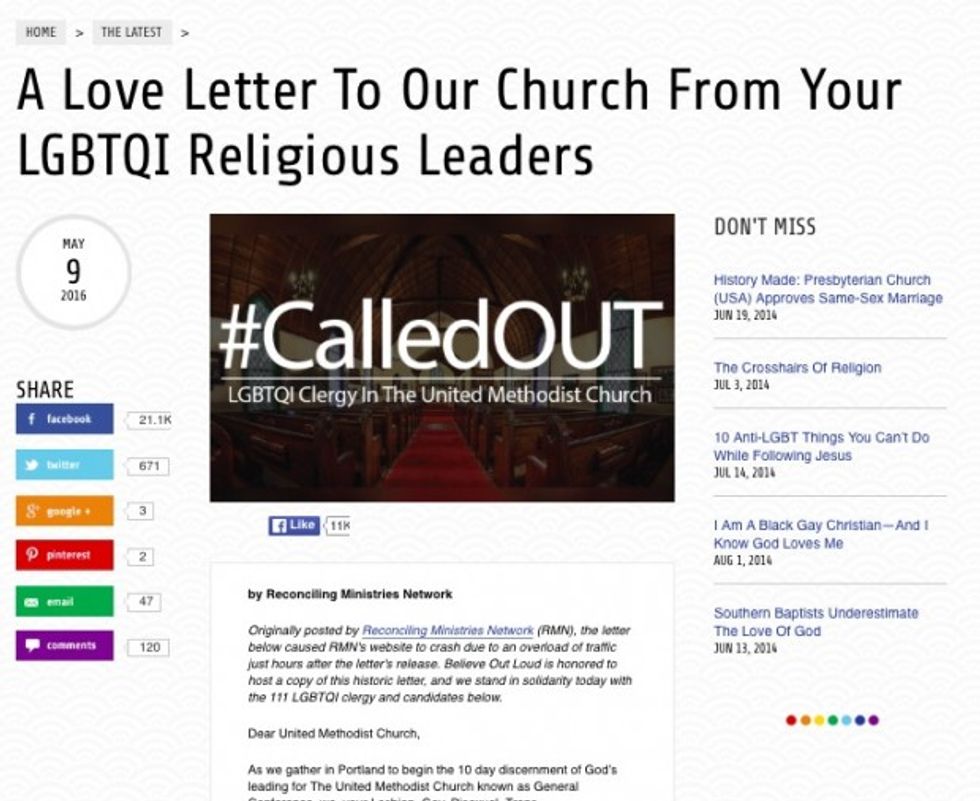 A screen shot of a portion of the published letter
The letter went on to say that people in the LGBTQ community have been forced to conceal "a core part" of themselves in many churches across the country, pushing back against those who are calling for members of the community to separate themselves.
"Is leaving home ever that simple? We are United Methodists because there is no other denomination with our unique connectional polity and distinctive Wesleyan spirituality," the text continues. "We are here because God has called us to serve in this denomination, and our souls are fed by the theology in which we've been raised."
The cohort went on to say that the purpose of the letter — and the public coming out — is to show love and "seek to remain in relationship" with the rest of the denomination, and that, regardless of what happens next, congregants opposed to LGBTQ inclusion cannot stop what those behind the letter believe to be the will of God.
Even if a split does unfold, the writers said that God will still work in the heart of "LGBTQI young people and adults." They added, "You cannot legislate against God's call."
The group said that it is praying for inclusion and for unity, with both sides being able to come together amid a "world fractured by fear and mistrust." Read the text in its entirety here.
AFP/Getty Images
The letter comes amid increased tensions within the United Methodist Church, as numerous pastors have openly defied the traditional marriage rules that govern the denomination.
The United Methodist Church's Book of Discipline, which outlines church law, is explicit in noting that marriage is confined to one man and one woman. The official church rules on matrimony read, "We affirm the sanctity of the marriage covenant that is expressed in love, mutual support, personal commitment, and shared fidelity between a man and a woman," with pastors falling under strict guidelines.
"While persons set apart by the Church for ordained ministry are subject to all the frailties of the human condition and the pressures of society, they are required to maintain the highest standards of holy living in the world," the rules read. "The practice of homosexuality is incompatible with Christian teaching. Therefore self-avowed practicing homosexuals are not to be certified as candidates, ordained as ministers, or appointed to serve in The United Methodist Church."
Some, though, are seeking to overturn these provisions.
As TheBlaze recently reported, two Methodist preachers openly married a same-sex couple at First United Methodist Church in Charlotte, North Carolina last month — a move that could lead to church discipline for the clergy members.
The Rev. Val Rosenquist and Bishop Melvin Talbert presided over the wedding of John Romano and Jim Wilborne — the first gay couple to be publicly married inside of a United Methodist Church in North Carolina, the Charlotte Observer reported.
Consider that the Rev. Cynthia Meyer also shocked parishioners when she came out as a lesbian during her first sermon of the new year on Jan. 3. Now, she's publicly advocating for the United Methodist Church to officially embrace gays and lesbians.
Meyer, pastor of Edgerton United Methodist Church in Edgerton, Kansas, told the congregation, "At last I am choosing to serve in that role with full authenticity and as my genuine self — as a woman who loves and shares my life with another woman."
And last year, the Rev. Michael Tupper of Parchment United Methodist Church in Parchment, Michigan, was reportedly involved in a wedding ceremony last year for the Rev. Benjamin Hutchinson, a gay pastor.
The United Methodist Church will hash out the issue of gay clergy during its conference, which runs May 10-20. It's a battle that threatens to divide the Christian denomination, and it is hardly the first religious body to contend with such a paradigm.
Last summer, the Episcopal Church officially joined Presbyterian Church (U.S.A.) and the United Church of Christ in becoming the third mainline denomination to embrace gay marriage rites — a move that came just days after the U.S. Supreme Court legalized same-sex unions. Still, the majority of Christian denominations hold to a traditional view of sexuality and marriage.
--
Follow the author of this story on Twitter and Facebook and check out his new book "The Armageddon Code: One Journalist's Quest for End-Times Answers":