Texas Republican Sen. Ted Cruz is no longer campaigning to be the next president, but he still doesn't want to give up his delegates.
Mirroring Florida Sen. Marco Rubio's move when he suspended his own presidential campaign in March, Cruz implored state party leaders to allow him to keep the delegates he received in each state.
"I write this letter to inform you that although I have suspended my campaign for the Republican Party nomination for President of the United States, I do not release any Republican National Convention delegates bound to me as a result of the 2016 delegate selection process that took place in your state," the letter obtained by TheBlaze and signed by Cruz stated.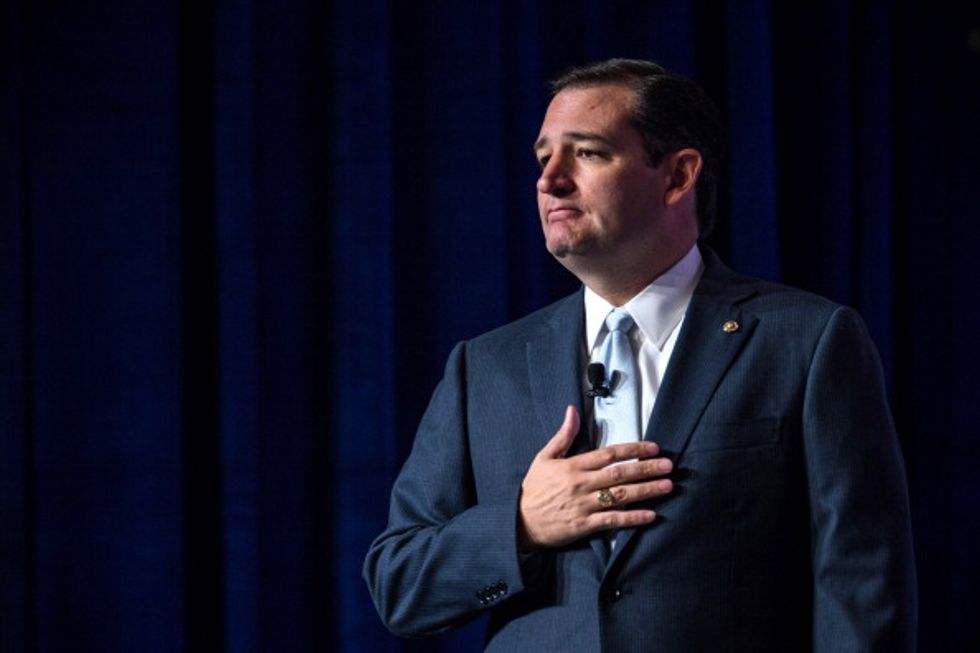 Getty Images/Andrew Burton
Prior to suspending his campaign, Cruz garnered a total of 564 delegates, but because state party rules vary, the fate of those delegates is complicated.
For starters, while Cruz's language when he announced the suspension (not an official end) of his campaign will save him some delegates, he won't be able to keep them all. 
Five states in particular — Louisiana, Michigan, Missouri, North Dakota and New Hampshire — will officially unbind Cruz's delegates. Cruz's total delegate count in those five states is 63.
"Our rules unbind delegates when the candidate to whom they are pledged becomes inactive," Jonathon Prouty, executive director of the Missouri GOP, told TheBlaze. "The position of the party is that Cruz's delegates are no longer bound at this point."
However, just because those delegates are unbound, does not mean they will not support Cruz at the convention. A spokesperson for the North Dakota GOP told TheBlaze Tuesday that Cruz's unbound delegates will still "vote their conscience."
Yet Cruz will still be able to keep his delegates in a majority of states — at least for the first round — with many state party leaders expressing that the same curtesy is extended to Rubio in their states.
"We've allowed Sen. Rubio to hold his delegates, so by inference the answer would be an obvious, unequivocal yes," a representative of the Alaska GOP told TheBlaze when reached by phone Tuesday night.
Katie Boyd, a spokeswoman for the Minnesota GOP, told TheBlaze that "just as Rubio retains his delegates for the first ballot — if he appears on the ballot — Cruz will also retain his delegates."
But in Minnesota — and in other states — while Cruz is allowed to keep his delegates, there's a pretty huge caveat: He has to make it on the convention ballot.
"That depends on the rules approved by the National Convention delegates," Boyd said.
A spokesperson for the Iowa GOP also iterated to TheBlaze Tuesday that Cruz's delegates could remain bound to him for the first round as delegates are bound to caucus results, but that is solely conditioned on what the RNC Rules Committee decides this summer ahead of the convention.
It also appears that not every state party leader received a letter from Cruz — including in Pennsylvania where he received only four delegates.
"Our 17 bound delegates are bound to Donald Trump," Megan Sweeney, a spokeswoman for the Pennsylvania GOP told TheBlaze. "Our remaining 54 delegates are unbound, so they are not legally tied to a particular candidate. We haven't gotten any letter, but I'm guessing we won't because of those rules."  
Party officials in five other states confirmed to TheBlaze that they were either uncertain of the states' rules, planned to hold a meeting to discuss Cruz's request or simply just weren't sure as of Wednesday morning. In those states, Cruz has 122 delegates at stake.
A campaign aide who worked on Ohio Gov. John Kasich's presidential campaign told TheBlaze that Kasich had not yet decided if he would ask state party leaders to keep his delegates bound as well.
—
Follow Kaitlyn Schallhorn (@K_Schallhorn) on Twitter