Democratic presidential front-runner Hillary Clinton has fought to keep the FBI investigation into her private email server from interfering with the 2016 campaign. The former secretary of state has referred to the probe as a "security inquiry," presumably to indicate that it is not as severe as her opponents have made it out to be.
But when Fox News asked FBI Director James Comey Wednesday about Clinton's euphemistic characterization of the bureau's operation, he abruptly dismissed it.
FBI Director James Comey (AP Photo/Susan Walsh)
"I don't even know what that means — a 'security inquiry.' We do investigations here at the FBI," Comey told Fox.
When asked about the timeline for the investigation, the FBI director said that he would rather focus on doing the investigation "well" than hastily and that he's not "tethered" to a schedule.
Wednesday's briefing came shortly after reports that investigators have reached out to top Clinton aides for answers, including Huma Abedin and Cheryl Mills. In light of these interviews, many have speculated that the probe may be close to wrapping up as the primary season progresses into its advanced stages.
Comey said Wednesday that he would not discuss at this time whether he would make a public announcement whether criminal charges are pursued or not. He did, however, say that there is "no special set of rules for anybody that the FBI investigates."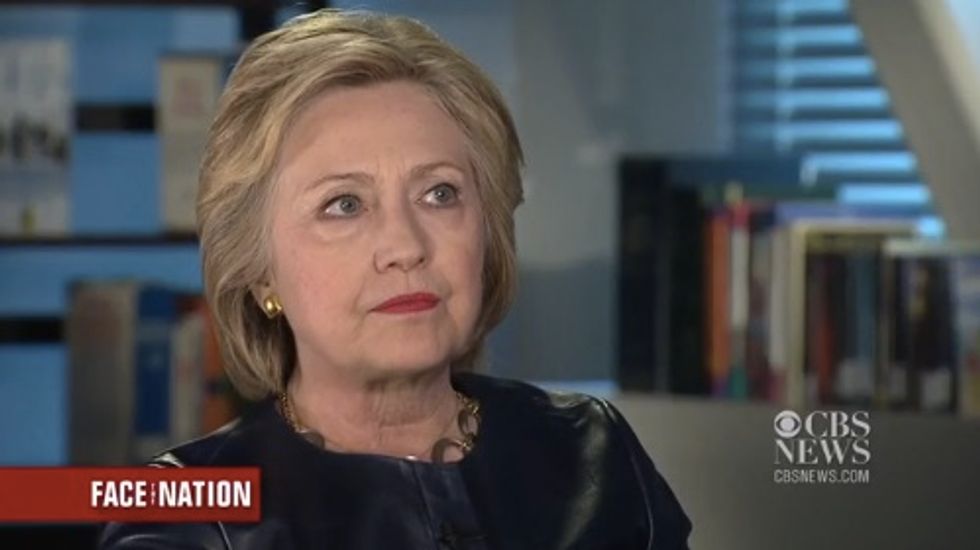 Image source: CBS
Clinton's most recent employment of the term "security inquiry" with regard to the investigation was during her appearance on CBS' "Face the Nation" Sunday when she was asked how she'd address people who think the FBI probe is a "big deal."
"I say what I've said now for many, many months," Clinton said. "It's a security inquiry. I always took classified material seriously. There was never any material marked classified that was sent or received by me, and I look forward to this being wrapped up."
The FBI is going to interview Hillary Clinton on email use. Here she explains what she's learned from the scandal https://t.co/MKcDQrV7av

— Face The Nation (@FaceTheNation) May 8, 2016