As the United Method Church meets for its General Conference in Portland, Oregon — an event that is held once every four years — church leaders continue to deal with a contentious issue that threatens to splinter the denomination: homosexuality.
In a narrow vote of 428-405 on Wednesday, the Council of Bishops — the top policy arm of the nation's third largest faith group — voted to assess and review current church law on sexuality, the Associated Press reported.
The United Methodist Church's Book of Discipline, which outlines church regulations, is explicit in noting that marriage is confined to one man and one woman. The official church rules on matrimony read, "We affirm the sanctity of the marriage covenant that is expressed in love, mutual support, personal commitment, and shared fidelity between a man and a woman," with pastors falling under strict guidelines.
"While persons set apart by the Church for ordained ministry are subject to all the frailties of the human condition and the pressures of society, they are required to maintain the highest standards of holy living in the world," the rules read. "The practice of homosexuality is incompatible with Christian teaching. Therefore self-avowed practicing homosexuals are not to be certified as candidates, ordained as ministers, or appointed to serve in The United Methodist Church."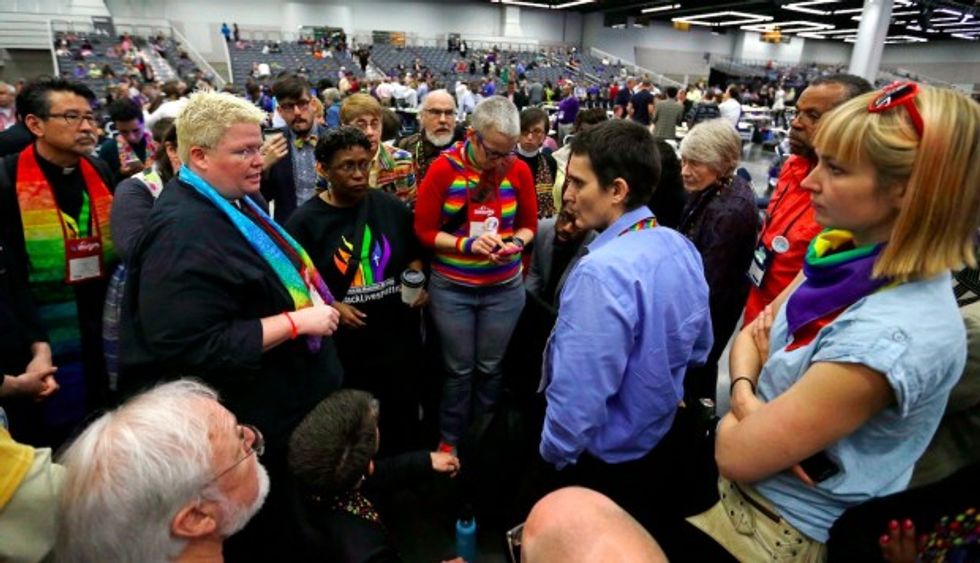 Attendees and LGBT advocates gather to confer during a break in the United Methodist Church conference in Portland, Ore., Wednesday, May 18, 2016. The United Methodist Church, the nation's largest mainline Protestant denomination, is holding its once-every-four-years meeting and is facing a bitter fight over whether they should lift the church ban on same-sex marriage. (AP Photo/Don Ryan)
Rather than immediately consider current proposals for LGBT inclusion — proposals that would require changes to the Book of Discipline — the denomination's vote means a commission will be setup to explore the United Methodist Church's rules on marriage and sexuality over the next two years in an effort to address the ongoing battle over homosexuality, according to the AP.
LGBTQ advocates were reportedly content over the decision, as it buys more time for clergy who have ignored denominational rules and continue to wed gay couples, while conservatives were left disappointed that the Methodist church isn't standing by what they see as clear biblical teaching on gender and sexuality, the New York Times reported.
Perhaps words spoken by Lonnie Chafin, a delegate from Northern Illinois Annual Conference, best described how dire the situation has become. Speaking in favor or creating the exploratory commission, Chafin said, "We are at a precipice. There is urgency before us. The church might divide."
A possible divide is something that has been floated for quite some time, as the denomination, which dates back to 1784, has struggled to balance the interests and views of liberal, conservative and moderate wings. Some pastors, in fact, have become defiant over the past few years.
As TheBlaze recently reported, two Methodist preachers openly married a same-sex couple at First United Methodist Church in Charlotte, North Carolina last month — a move that could lead to church discipline for the clergy members.
The Rev. Val Rosenquist and Bishop Melvin Talbert presided over the wedding of John Romano and Jim Wilborne — the first gay couple to be publicly married inside of a United Methodist Church in North Carolina, the Charlotte Observer reported.
Consider that the Rev. Cynthia Meyer also shocked parishioners when she came out as a lesbian during her first sermon of the new year on Jan. 3. Now, she's publicly advocating for the United Methodist Church to officially embrace gays and lesbians.
Meyer, pastor of Edgerton United Methodist Church in Edgerton, Kansas, told the congregation, "At last I am choosing to serve in that role with full authenticity and as my genuine self — as a woman who loves and shares my life with another woman."
And last year, the Rev. Michael Tupper of Parchment United Methodist Church in Parchment, Michigan, was reportedly involved in a wedding ceremony last year for the Rev. Benjamin Hutchinson, a gay pastor.
The United Methodist Church will hash out the issue of gay clergy during its conference, which runs until May 20. It's a battle that threatens to divide the Christian denomination, and it is hardly the first religious body to contend with such a paradigm.
Last summer, the Episcopal Church officially joined Presbyterian Church (U.S.A.) and the United Church of Christ in becoming the third mainline denomination to embrace gay marriage rites — a move that came just days after the U.S. Supreme Court legalized same-sex unions. Still, the majority of Christian denominations hold to a traditional view of sexuality and marriage.
(H/T: Associated Press)
--
Follow the author of this story on Twitter and Facebook and check out his new book "The Armageddon Code: One Journalist's Quest for End-Times Answers":