Darrell Castle was there the day the Constitution Party was founded in 1992 in New Orleans. It would be another four years before the Federal Elections Commission would officially recognize the party, but Castle, who is the one of the only — if not the only — original founders still alive, had a vision: restore constitutional government.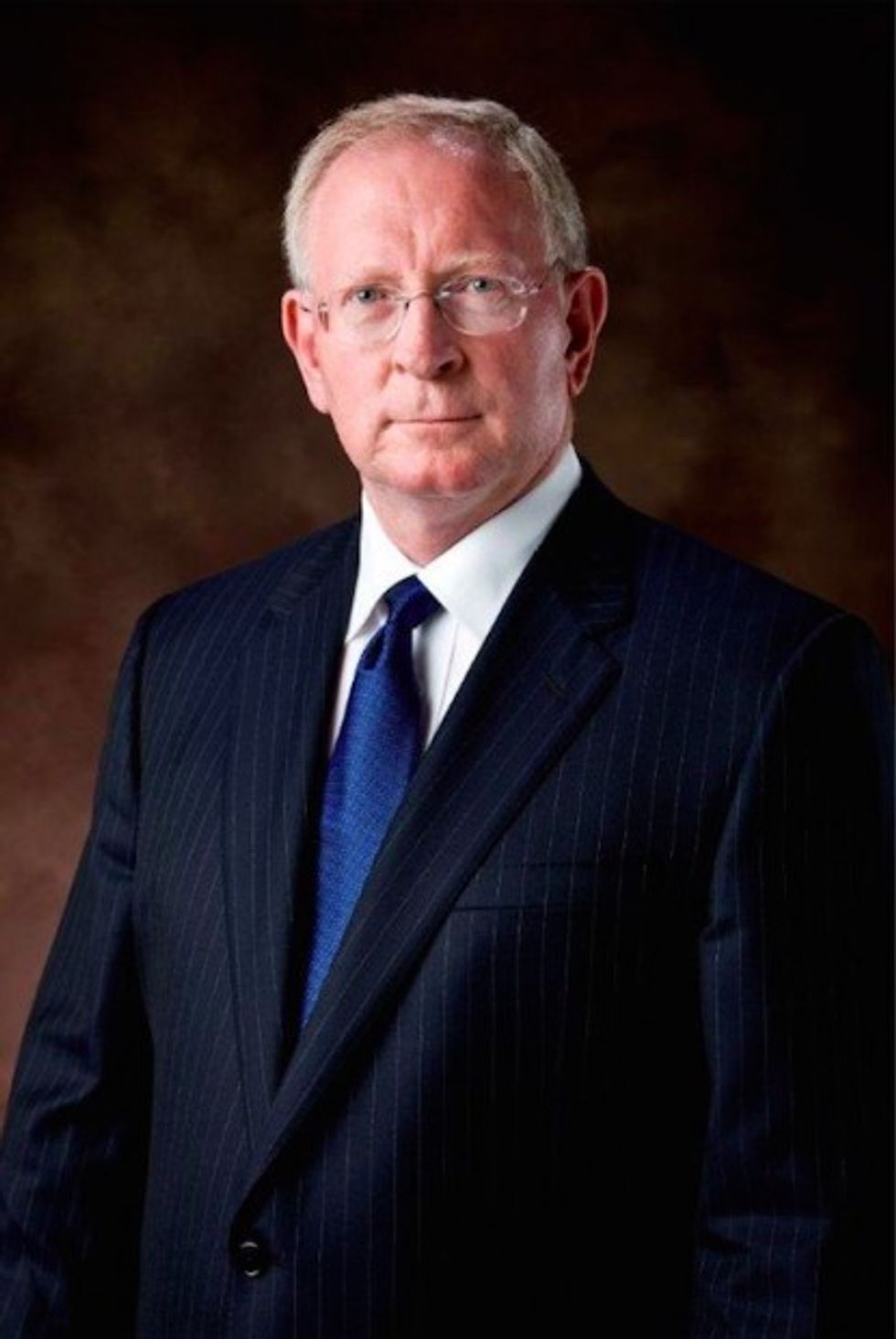 Constitution Party presidential nominee Darrell Castle (Image provided to TheBlaze)
"A return to the rule of law is no small thing," Castle, the Constitution Party's 2016 presidential nominee, told TheBlaze in an interview. "The Constitution is what it says it is — the supreme law of the land."
That law, as Castle and members of his party see it, delegates only 17 powers to the federal government, leaving the rest to the states.
"Our mission is to return the federal government to constitutional government, which means to restrict it to those 17 powers only," he said. "If that was done, it would obviously be a completely different world."
"In addition to that, the concept of the rule of law includes the idea that no one is above the law's sanction, and no one is beneath the law's protection," Castle said. "There is a general feeling in the population now that the law is for little people like us, not for big people like Hillary Clinton and others."
It can be discouraging to be a third party that doesn't get much recognition or national media attention, but establishing the party was essential because those who started it "didn't believe that the Republican Party or the Democratic Party would ever offer us an acceptable choice," Castle explained.
"It's discouraging that we get the same questions every election cycle — something like this: 'Number one, if people vote for you, they're really just electing Hillary Clinton, Barack Obama, Bill Clinton, whoever the candidate happens to be in the Democratic Party.' The other question would be: 'Since you know you can't win, why are you doing this?' So the two major parties have been very clever at always giving us one who is 'Mr. or Miss Evil' and one is not quite so evil, but the results are always the same. So yes, it's discouraging, but we keep going on," he said.
But as Donald Trump has all but secured the GOP nomination, the Constitution Party — like many other third parties — has seen an uptick in interest among conservative voters, particularly those who were supporters of former Republican presidential candidate Texas Sen. Ted Cruz, multiple high-ranking members of the party told TheBlaze.
"A couple of old friends from the Republican Party, who before didn't know anything I've done, would not have given me the time of day, have contacted me and offered to help and that sort of thing," Castle said.
Karen Murray, national spokeswoman for the party, told TheBlaze that the Constitution Party's website has seen "thousands of visitors every day," as well as "hundreds of new social media followers each week."
According to Kellan Terry, a data analyst at social media monitoring company Brandwatch, a third-party race has been mentioned more than 25,000 times just in the past 30 days. However, the Constitution Party seems to be mentioned only 104 times in that time frame.
Terry noted that 55.8 percent of people who discussed a third-party candidacy did so negatively.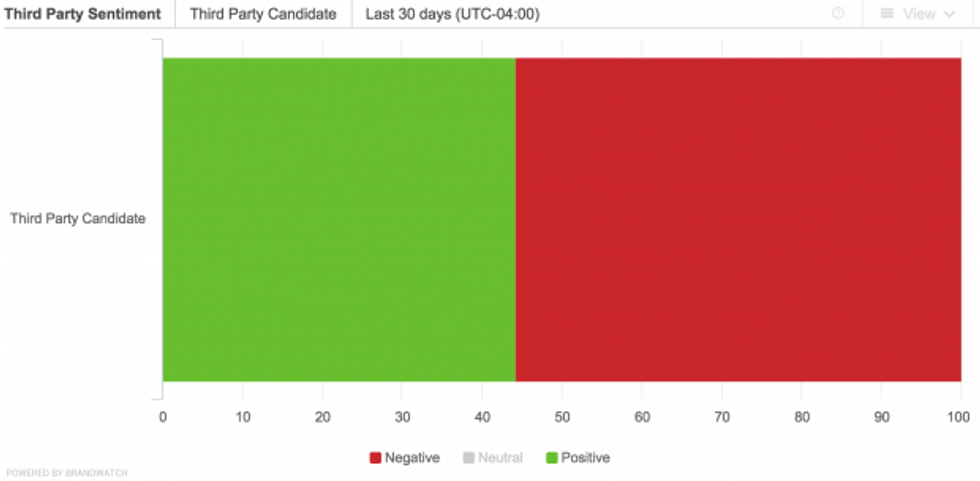 Image provided to TheBlaze by Brandwatch.
Murray asserted that the Constitution Party differs from other parties in that "it has a specific mission as evidenced in its mission statement: 'to secure the blessings of liberty to ourselves and our posterity through the election, at all levels of government, of Constitution Party candidates who will uphold the principles of the Declaration of Independence, the Constitution of the United States, and the Bill of Rights. It is our goal to limit the federal government to its delegated, enumerated, constitutional functions.'"
"We are not about playing political games or gaining power to control the lives of other people," Murray said. "Rather we seek to re-establish America's Constitutional Republic, according to the actual intent of the founders, and to return the power to the people. We recognize that our rights come from our creator and states are sovereign."
Below are a few examples of where the Constitution Party stands on specific issues:
Education
The Constitution Party is against Common Core, the controversial learning standards initiative. The party also believes that the Constitution allows for education to be a state issue since it does not give the federal government the authority.
"Education should be free from all federal government subsidies, including vouchers, tax incentives, and loans, except with respect to veterans," the party's website proclaims.
Federal Reserve
Castle is a proponent of eradicating the Federal Reserve, an entity that he views as unconstitutional.
"I think we should ... retake our monetary system," Castle said. "Article 1, Section 8 does not give Congress the right to delegate [the American monetary system] to a private organization like the Federal Reserve."
"I advocate ending the Federal Reserve by repealing the Federal Reserve Act and charting a new course monetarily," he continued.
Foreign Policy
The Constitution Party believes "in a non-interventionalist foreign policy," Castle said.
"By that I don't mean that we will not protect America. I would like to think that I'd be better and more willing to protect America than the other [candidates]," the nominee continued. "But I would not be interested in using the U.S. military to intervene in every rattlesnake's nest that pops up around the country like in Libya or any other places across the Middle East."
"I believe in a strong defense, but I believe in a 'mind your own business' type of government as the Constitution requires us to do," Castle said.
Castle also said that he would like the U.S. to withdraw from the United Nations in order to keep the country free to "chart its own course."
Murray argued that both the GOP and the Democratic Party "have a globalist agenda."
"If you believe that America is a sovereign nation, yet continue to support parties that are committed to destroying that sovereignty by their legislative actions and treaties, then you have truly 'wasted' your vote," she said.
Gun Control
The Constitution Party is adamantly against gun control as it refers to gun ownership as one of the "unalienable rights" Thomas Jefferson referred to in the Declaration of Independence.
The party adamantly opposes gun control — particularly efforts made by the Obama administration.
"Disarmament is apparently one of the building blocks President Obama intends to use in the building his new Orwellian, total surveillance police state," the party's website states. "Despite his and Vice President Biden's rhetoric, they must understand that disarmament will not 'keep millions of people out of harm's way' nor will it save 'thousands of lives.'"
The party's website goes on to state that "virtually ever right listed in the original Bill of Rights is either dead or seriously threatened" and encourages its members to be constantly vigilant in defending those rights — specifically the right to bear arms.
"Perhaps President Obama sees economic calamity coming to the nation as a result of his economic policies, and he wants us disarmed to make martial law easier to enforce," the website speculates. "We can use history as a guide; but ultimately we can only guess at his motives."
Immigration
According to the Constitution Party's platform, its members oppose illegal immigration and amnesty of any sort, including proposals that would provide some sort of pathway to citizenship for those who are in the U.S. illegally.
"We support programs, such as E-Verify, to put millions of Americans back to work," Frank Fluckiger, chairman of the party, said. "We must have strict enforcement and compliance of any and all commonsense visa programs, and we demand security of our borders and ports to ensure that illegal immigration is a diminishing problem for the future."
Castle argued that on issues such as marriage and abortion, he is the most conservative candidate out of anyone else who is running for president. Yet on one issue, he shares some commonality with Trump: securing the country's borders.
"If conservative people want a person to uphold the traditional values they only have one choice in this election, and that's me," Castle said. "If they ever say something like, 'I'll never vote for a pro-abortion candidate,' their only choice is me. If they value traditional marriage, their only choice is me. I can't say that about secure borders because Mr. Trump has obviously made a good living by talking about immigration."
Taxes
As president, Castle would like to redo the country's tax policy to reflect states' population and put the responsibility on the states.
"In other words, say the state had 1 percent of the population of the nation, then it would be required to collect 1 percent of the budget, and it could do that any way it wanted to," Castle explained. "For example, Alaska might raise that money by taxing the petroleum industry or it might be tourism and so forth down the line."
"As a result of that, the states would be empowered as the Constitution dictates that they be be, and Washington would be disempowered," he said. "States would not have to worry about all these unfunded mandates that the federal government puts on them, and they would not have to be intimated by the federal government by saying 'we will cut off your funds and you will not be able to meet your budget unless you do what we say.' It would solve a lot of those problems, and it would free the United States, the American people from having to send their income to the federal government. And I personally think it would make us a much more dynamic, growing and explosive economy."
Murray said voters concerned about "wasting their vote" on a third-party should view their votes in regards to their taxes.
"In fact, how you vote determines how much of your investment is taxed and on what things whose taxes are spent," she said. "If you invest in a party that does not share your belief system, then you are investing in something that will never live up to your expectations."
The people in the Constitution Party know it's a long shot to actually win the presidency, but its members are adamant in their quest. At every speech he gives, Castle said he closes with the same statement:
"I give the people a picture of all the bad things that they already know about, but I illustrate it for them, and then I tell them that this is a big, wonderful free country, still relatively free — I mean, you can still do things that free people do," he said. "And the good news is, it doesn't have to be the way it is now. All those things I just listed for you are terrible, it doesn't have to be that way. You can change it if enough people want to. So that's what I tell people."
—
Follow Kaitlyn Schallhorn (@K_Schallhorn) on Twitter