When the United States Military Academy posted a short Facebook clip of its graduating West Point cadets marching to ceremonies Saturday, it included the caption, "Rise & shine with #USMA2016! This morning they will finish their 47-month cadet experience! #WithHonorWeLead."
But what one cadet was caught doing near the end of the minute-long clip had many commenters doubting the latter credo.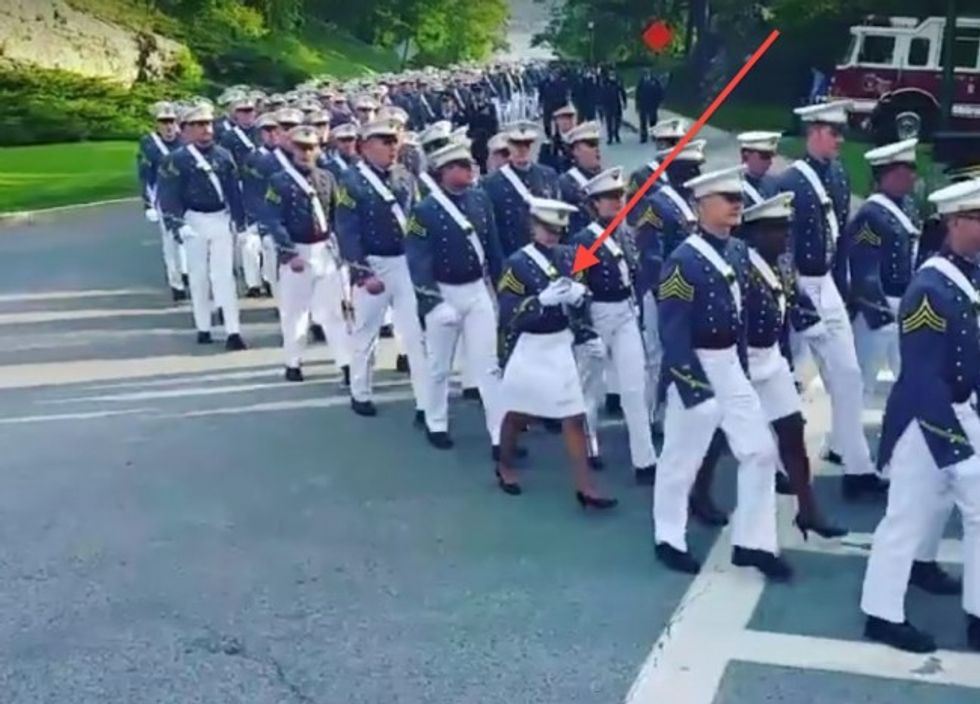 Image source: Facebook/WestPointUSMA
A female cadet was caught looking down at what appeared to be a cell phone while she was marching — and with that, observers didn't just lambaste the cadet in question, but also classmates she was marching with, along with the state of the military in general.
"That's what's wrong with this military and government. This is not just another college graduation," Al Vega commented. "No military pride or discipline being taught. Embarrassment!!!!"
"As a veteran, I want to know why are the cadets allowed to use cell phones while in formation?" Shirley Smith commented. "I am embarrassed for them and the new military standards. Obviously the uniform does not mean much to them."
"Amazing...in just a few hours, these cadets become our future leaders of the US military. They don't even seem to know anything about D&C! Seriously, can't even march in step, wrong uniforms, playing with their smartphones?!?!" Mike Brinkman commented. "Look like a bunch of privates on the first day of basic!!!"
"Wow way to show discipline at West Point. Texting while marching, wearing sneakers and not dress shoes, also not wearing gloves like everyone else is," Tina Ryan commented. "To think these are future officers and can't even follow basic military rules. So disappointing cadets."
One commenter didn't like what the cadet in question was doing, but noted that most of her classmates behaved better.
"It's called bearing and walking in a military manner, people are watching and how you carry yourself is how people perceive the service as a whole, we are briefed on this constantly," Michael Bersch wrote. "Marching in formation and texting regardless or branch of service is not allowed even in route step. The majority of them are doing what they are supposed to do."
(H/T: Fox News)