A DePaul University student fed-up with her peers disrupting a Tuesday event featuring provocateur Milo Yiannopoulos decided to take matters into her own hands.
While security stood by and watched, junior Kati Danforth walked on stage and confronted the Black Lives Matter protesters who were attempting to shut down the event.
"Alright, you guys really need to check yourselves," Danforth told the rowdy group of demonstrators.
"You're in a place and you're not respecting it," she added.
— Scroll down for video —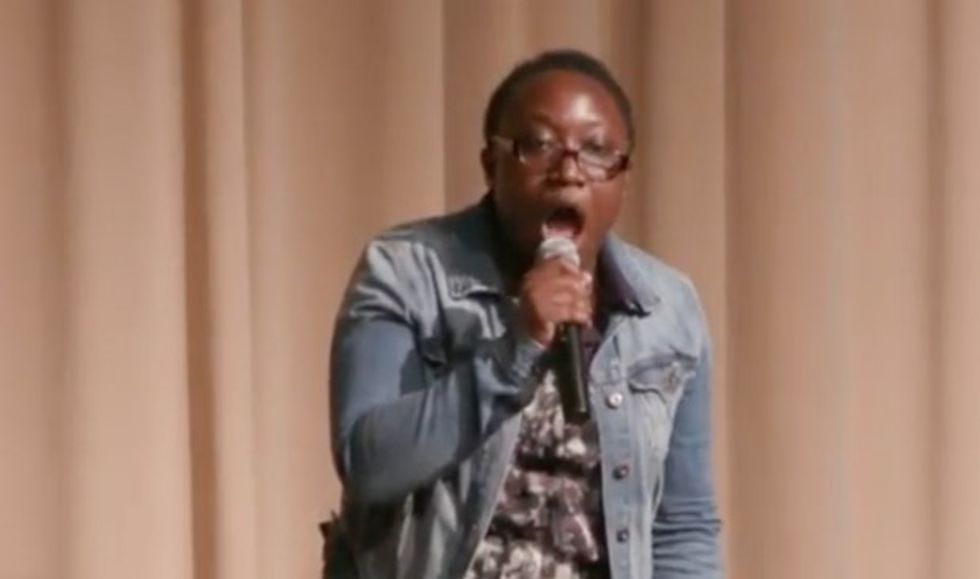 Image source: Screen grab
Moments later, one of the protesters walked up to her and shouted something in her face.
"I'm a white supremacist now? Because I believe in hard work and deciding that I need to make a life for myself makes me a racist, a bigot and a white supremacist?" Danforth asked.
"You're being lazy and disrespectful," she told the student. "And I'm pretty sure your parents didn't raise you to be disrespectful!"
Danforth tried to convince her peers to stand down by noting that several conservative groups had worked hard and paid for the event to take place. Her arguments fell on deaf ears.
"It's an opinion guys! It's an opinion! It's not going to kill you!" she shouted. "If you believe in who you are and you know who you are, it will not bother you!"
"I know who I am! I am Kati Danforth. I am a math major and junior at DePaul University and I am working my ass off to become something!" she added as the audience rose to their feet in applause.
Yiannopoulos ultimately chose to end the event early because the protesters wouldn't exit the stage. Instead, the Breitbart editor led a group of students to the school's administrative office to complain about security's failure to restore order to the room.
Danforth did not immediately respond to a request for comment from TheBlaze Tuesday night.
—
Follow the author of this story on Twitter and Facebook: