Presumptive Republican nominee Donald Trump harshly criticized New Mexico Gov. Susana Martinez (R) during a campaign rally in her state Tuesday night, blaming the Latina governor for her state's economic woes.
The billionaire businessman faulted Martinez for an increase in unemployment and the number of people using food stamps in the state over the past 16 years and told the crowd that it wasn't their fault — it's their governor's fault. Martinez was elected in November 2010.
"We've got to get your governor to get going. She's got to do a better job," Trump said. "Hey, maybe I'll run for governor of New Mexico. I'll get this place going."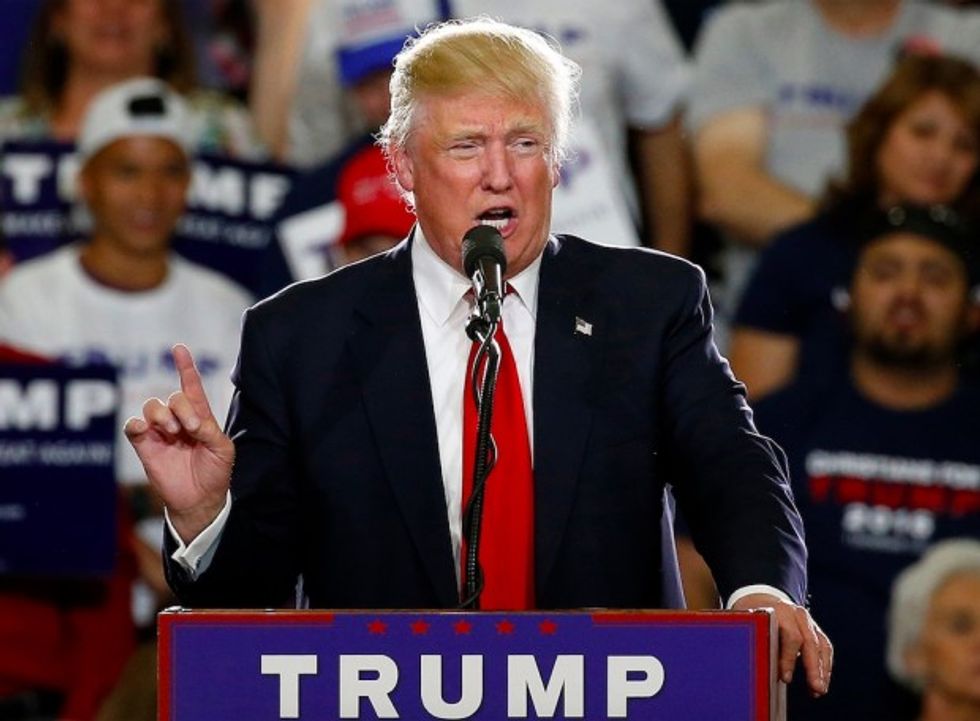 Republican presidential candidate Donald Trump speaks at a campaign event in Albuquerque Tuesday. (AP Photo/Brennan Linsley)
Martinez, the first Latina governor in the U.S. and head of the Republican Governor's Association, did not attend Trump's rally in her state because, she reportedly said, she was "really busy" running the state instead. Martinez, who endorsed Florida Sen. Marco Rubio for the Republican nomination, has been openly critical of Trump, particularly his comments on immigration.
Trump also slammed Martinez Tuesday night for not doing enough to prevent Syrian refugees from relocating to her state.
"If I was governor, that wouldn't be happening," Trump said. "They say, 'The governors don't have a choice.' If I'm governor, I have a choice."
Martinez's office hit back at Trump, who has been recently calling for party unity.
"Apparently, Donald Trump doesn't realize Governor Martinez wasn't elected in 2000, that she has fought for welfare reform, and has strongly opposed the President's Syrian refugee plan," Mike Lonergan, Martinez's press secretary, said in a statement to TheBlaze.
"Governor Martinez doesn't care about what Donald Trump says about her — she cares about what he says he will do to help New Mexicans," Lonergan added. "She didn't hear anything about that today."
Rubio jumped to Martinez's defense as well following Trump's attacks.
"The truth is [Martinez] is one of the hardest working and most effective Governors in America," Rubio tweeted early Wednesday morning.
Ahead of Trump's New Mexico rally, the Democratic Governors Association released a video pushing for Martinez to finally break her silence on whether or not she will endorse Trump.
"For months, Gov. Susan Martinez has been ducking questions about supporting Donald Trump for president. Will Martinez use Trump's first appearance in New Mexico to finally endorse his campaign? Or will she keep New Mexican voters in the dark while she continues her game of hide and seek," Jared Leopold, the Democratic governor's spokesman, said in a statement.
But Trump's rhetoric and Martinez's absence from his rally Tuesday night didn't do anything to quell any anxious Trump supporter who would like to see Martinez's endorsement — or even her name on the ticket alongside Trump's as she has been discussed as a potential running mate for the presumptive GOP nominee.
As Lonergan told TheBlaze, "The governor will not be bullied into supporting a candidate until she is convinced that candidate will fight for New Mexicans."
—
Follow Kaitlyn Schallhorn (@K_Schallhorn) on Twitter