Ahead of a private fundraising event in Los Angeles Wednesday night, Republican presidential candidate Donald Trump taped a guest appearance on ABC's "Jimmy Kimmel Live," where he speculated about a potential debate with Democratic candidate Bernie Sanders.
Kimmel was the first to propose a Trump-Sanders debate to replace the Clinton-Sanders debate, which Democratic front-runner Hillary Clinton turned down.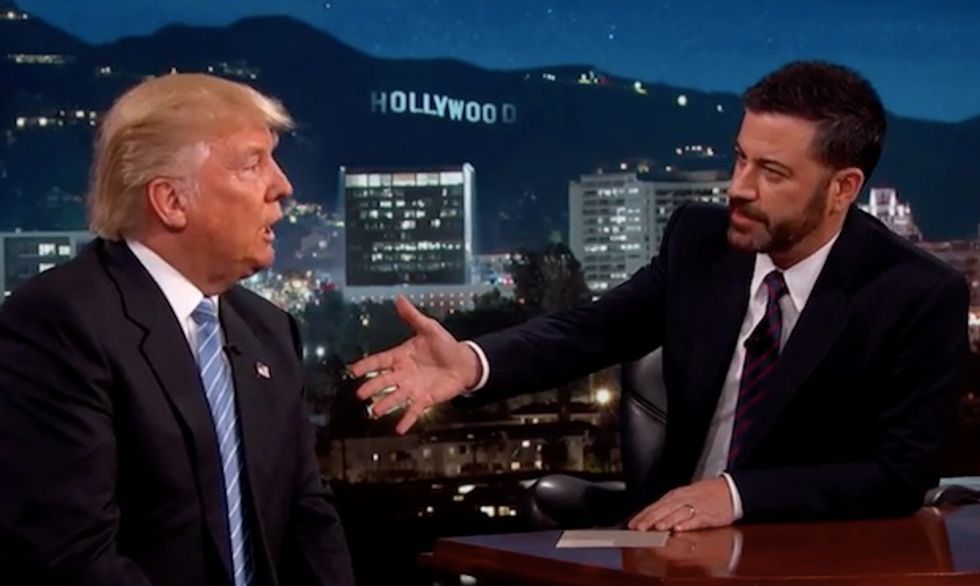 Image source: YouTube

Trump told the late-night host that he would debate Sanders on the conditions that proceeds from the event would go to charity. The presumptive GOP nominee, who claimed to have never met Sanders in person, said he wondered how much the Vermont senator would pay him to engage in the debate.
Almost immediately after the show aired, Sanders fired out a response via Twitter:
Game on. I look forward to debating Donald Trump in California before the June 7 primary.

— Bernie Sanders (@Bernie Sanders)1464237049.0
Sources told CBS News Thursday that Trump was just joking about debating Sanders, assuring the outlet that it will never happen.
Sanders' campaign manager Jeff Weaver, however, told CNN Thursday that a Sanders-Trump debate is still a possibility.
"There have been a few discussions," Weaver said of scheduling a debate, sharing that talks were still in their "preliminary" phase. "We have heard from, I think, every network."
Weaver added that he hopes Trump doesn't "chicken out" for the one-on-one debate.
Trump didn't seem to be joking either when he said at a press conference later Thursday that he'd happily debate Sanders — for a fee of $10 million.
When Clinton was asked later Thursday about a potential Sanders-Trump debate ahead of the June 7 California primary, the Democratic front-runner said she thought it was "a joke" and said she too looked forward to debating Trump.