Donald Trump urged Florida Sen. Marco Rubio to reconsider his decision not to run for re-election to the Senate in a late-night tweet Thursday, hours after the Republican lawmaker said he would "certainly" speak on behalf of the presumptive GOP nominee.
Trump wrote, "Poll data shows that Marco Rubio does by far the best in holding onto his Senate seat in Florida. Important to keep the MAJORITY. Run Marco!"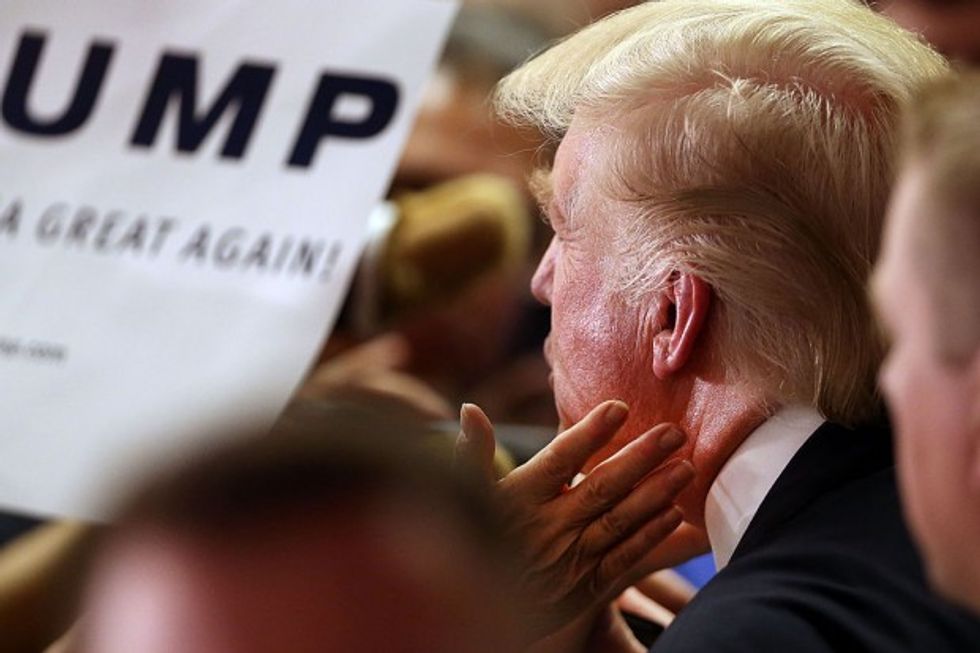 Photo by Spencer Platt/Getty Images
Rubio, who was a staunch critic of Trump before bowing out of the race for the White House, voiced a sharp turn in rhetoric, telling CNN host Jake Tapper Thursday that he plans to go to the GOP Convention in July, adding, "I want to be helpful. I don't want to be harmful because I don't want Hillary Clinton to be president."
Trump then echoed that major turnaround. But the history between the two men is anything but friendly.
In one of the most reported moments of the primary contest, Trump mocked Rubio's famous water bottle gaffe during a rally in Texas, sloshing around an open bottle of water, shouting, "It's Rubio!"
Donald Trump mocks Marco Rubio with a water bottle during a Fort Worth rally. #Fox4Elections https://t.co/0XSn6VfKLA

— FOX 4 NEWS (@FOX 4 NEWS) 1456513382.0
During the heat of his battle against the billionaire businessman, Rubio sought to capitalize on the anti-Trump sentiment, even selling several products bearing the hashtag #NeverTrump.
So do these go up in value, like a rare postage stamp? https://t.co/3NWIjdKjod

— Jimmy (@Jimmy) 1464294371.0
And there was no love lost on Trump's Twitter account, either, where he frequently suggested Rubio, who he nicknamed "Little Marco," was a "lightweight" and part of the "establishment."
Don't believe the millions of dollars of phony television ads by lightweight Rubio and the R establishment. Dishonest people!

— Donald J. Trump (@Donald J. Trump) 1457369414.0
Rubio is weak on illegal immigration, with the worst voting record in the U.S. Senate in many years. He will never MAKE AMERICA GREAT AGAIN!

— Donald J. Trump (@Donald J. Trump) 1458015680.0
Why would the great people of Florida vote for a guy who, as a Senator, never even shows up to vote - worst record. Marco Rubio is a joke!

— Donald J. Trump (@Donald J. Trump) 1457005217.0
All in all, this latest development from both camps seems to be an effort to bring the many sections of the fractured Republican Party together around the GOP nominee.
—
Follow the author of this story on Twitter: