During President Barack Obama's speech in Elkhart, Indiana, on Wednesday, he didn't mention presumptive Republican nominee Donald Trump by name — but as the New York Times reported, there was no mistaking who Obama was railing against during his time behind the mic.
While much of the focus was on the president's strident foray into the 2016 election, one moment during his speech has been getting attention: Obama's very noticeable stutters and extra long pauses while making a point about "divisions."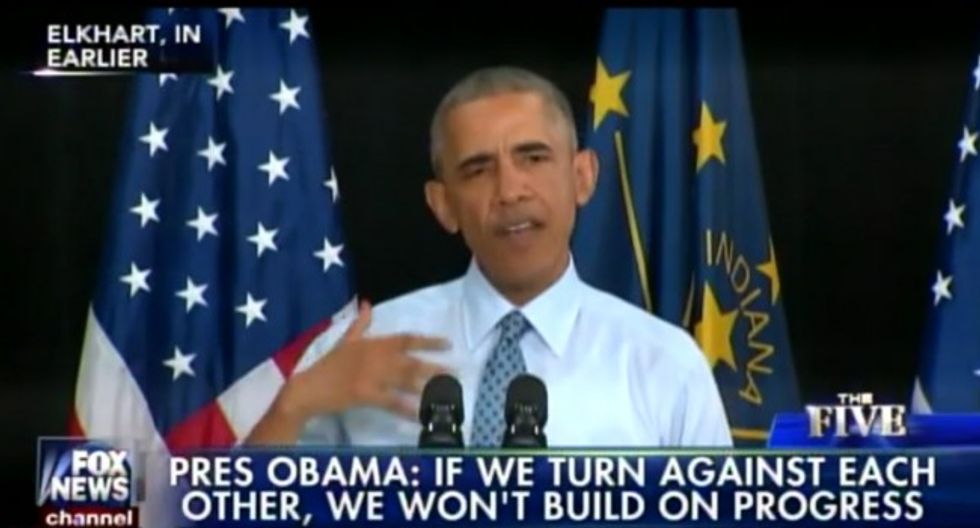 Image source: YouTube
"If we turn against each other based on divisions of race or religion," he began — and then the president seemed to have trouble coming up with the words to follow "if," which he repeated multiple times.
Obama then came back with a warning to not fall "for a bunch of okie doke just because, you know, it sounds funny or the tweets are provocative" — along with some noticeable pauses — "then we won't build on the progress that we've started."
Here's the clip:
And as you might expect, Twitter was none too kind:
Obama Tries to Trash Donald Trump and Turns into a Stuttering Mess | TelePrompTer malfunction... https://t.co/1USFAXwmfz

— James Woods (@RealJamesWoods) June 2, 2016
@CSteven @Scully64 @realDonaldTrump @BarackObama Ha Haaaa! When Imam Obama has no script, he stutters his emptiness & dangerous childishness

— Sham Naarai (@ShamNaarai) June 2, 2016
@AlanColmes OBAMA STUMBLES, STUTTERS, STAMMERS AND BUMBLES HIS WAY THROUGH A SPEECH LIKE A DRUNKEN LIBTARD

— Big Kahuna (@BigKahuna919191) June 2, 2016
Obama stutters when trying to bash Trump. Hilarious

— Conservative Babè (@Brooke_dheaaa) June 2, 2016
@seanhannity Was the teleprompterless Elkhart Indiana stand up routine, Obama's best Jimmy Stewart impression? Obama stutters when he lies.

— Victor Redlick (@6a6d1b6149364ae) June 2, 2016
Obama stutters and stammers when he is not being truthful.What progress is Obama talking about?The economy is a mess https://t.co/u43xJMdkCA

— Peach Brown (@Jnetab) June 2, 2016
@HazamaYakiba @KNP2BP Could have taken a nap during any of Obama's stutters today during his Trump rants .

— Walden70 (@Blackbear359129) June 1, 2016
@ThePatriot143 remember, Obama stutters because he's just so brilliant.

— BostonDave_TX 2016 (@orion99da) June 1, 2016
(H/T: The Gateway Pundit)