NEW YORK — Former Pennsylvania Gov. Ed Rendell (D) may be a superdelegate for Democratic presidential front-runner Hillary Clinton, but that doesn't mean he's completely on board with the process.
Speaking to those gathered for the Common Good Forum on U.S. security and economy at a private club in Manhattan last week, Rendell said that he's spoken to the former secretary of state and implored her to come together with her Democratic nomination rival, Sen. Bernie Sanders (Vt.), to call for the elimination of the superdelegates.
"I've urged Secretary Clinton to have a press conference with Sen. Sanders to say they both are going to recommend to the platform committee to put in our platform the recommendation that the [Democratic National Committee] organization, which controls this, to eliminate superdelegates, that would be No. 1," Rendell, the former DNC chairman, said.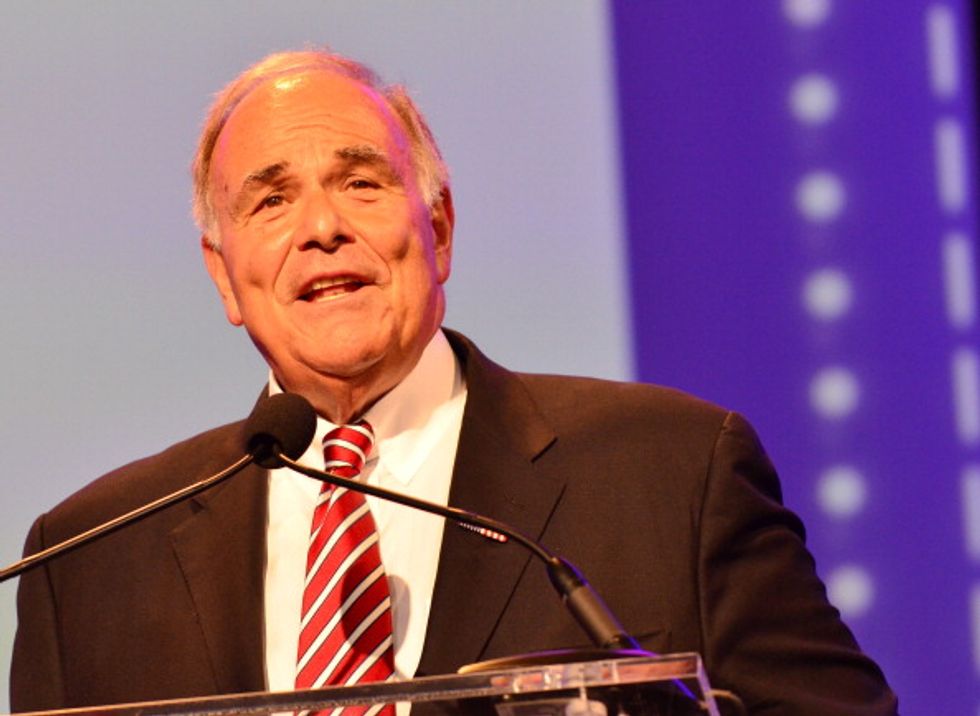 Former Pennsylvania Gov. Ed Rendell (D) speaks to a Philadelphia audience. (Getty Images/Lisa Lake)
"Although, let's be clear about one thing: Unlike what the Sanders folks say, Hillary Clinton is not going to win because of superdelegates," Rendell continued, adding that Clinton would still beat Sanders even without the superdelegates.
Rendell's comments from the May 27 event stand in stark contrast to an interview he gave the New York Daily News a few days later.
"Superdelegates have a role. It's a small role compared to the elected delegates, but there is a role. There should be a balance, and that's what (the system) has," Rendell told the paper.
"We're trying to field the strongest candidate we can in the fall. There ought to be some party elders, by virtue of their past achievements ... who have input in that process," he continued.
While the Sanders camp has been openly critical of the superdelegate process — especially as it propels Clinton closer and closer to the Democratic presidential nomination — GOP officials have also decried the superdelegate system as they assert that it puts the election in the bag for Clinton.
"It's ironic that the Democrats' superdelegate system isn't very Democratic," Matt Moore, head of the South Carolina GOP, told TheBlaze. "Party insiders have stacked the deck for Clinton and against Sanders. Sanders never really had a chance."
Republican presidential nominee Donald Trump has also complained that the Democrat's nomination is "rigged" against Sanders — including on social media.
Bernie Sanders is being treated very badly by the Democrats - the system is rigged against him. Many of his disenfranchised fans are for me!

— Donald J. Trump (@Donald J. Trump) 1463570419.0
Dr. David Woodard, Thurmond professor of political science at Clemson University, told TheBlaze that while "superdelegates were originally a good idea," they have made the Democratic convention useless due to "bureaucratic inflation."
"Incidentally, I think the future of the political parties is moving away from the conventions. They are really obsolete nowadays," Woodard added. "All that is to say that the future of superdelegates may be endangered."
As of Friday morning, Clinton had 2,313 total delegates, including 544 pledged superdelegates, compared to Sanders' 1,546 delegates, including 45 superdelegates.
—
Follow Kaitlyn Schallhorn (@K_Schallhorn) on Twitter