CAMP TARIQ, Iraq (AP) — Iraqi forces say they have secured the southern edge of the Islamic State group stronghold of Fallujah, two weeks after the launch of an operation to recapture the city.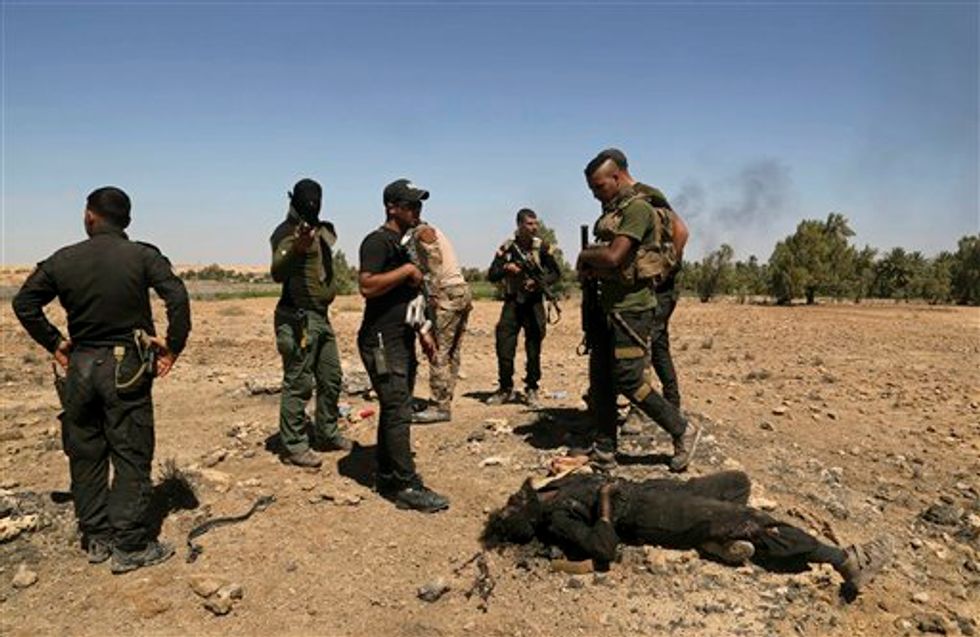 Members of Iraq's elite counterterrorism forces survey the body of an Islamic State group fighter who was killed during heavy clashes as Iraqi Security forces surround the town of Hit, 85 miles (140 kilometers) west of Baghdad, Iraq, Saturday, April 2, 2016. (AP Photo/Khalid Mohammed))
Lt. Gen. Abdel Wahab al-Saadi says his forces secured the largely agricultural southern neighborhood of Naymiyah, under cover of U.S.-led coalition airstrikes, and are poised to enter the main city.
The slow-moving operation was announced in May. On Monday, Iraq's elite special forces began pushing into the city center, but they have faced stiff resistance as Fallujah has been under IS control for more than two years, and the militants have been able to erect complex defenses.
Fallujah is one of the last strongholds of IS in Iraq. The militants also hold its second largest city, Mosul.