WASHINGTON (TheBlaze/AP) — Speaking at the White House Sunday afternoon, President Barack Obama called the shooting that took place at Pulse nightclub in Orlando an "act of terror" and an "act of hate."
He added that the FBI is investigating the massacre as an act of terrorism. Obama assured that no effort will be spared to determine whether the shooter was affiliated with terrorist groups like the Islamic State.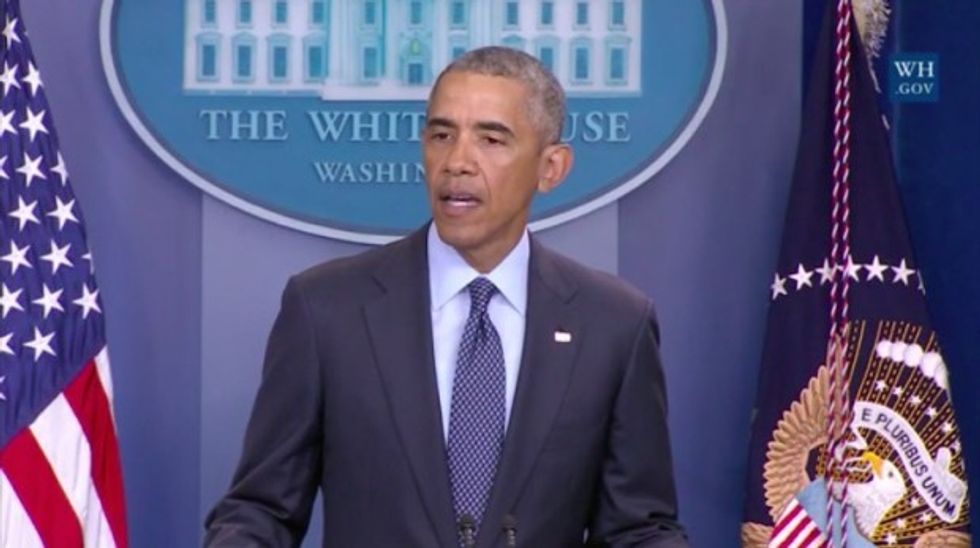 Image via Twitter/White House
The president spoke at the White House after 50 people were killed in what is now the worst mass shooting in the nation's history. Officials have said 53 more are hospitalized.
Obama noted that the killer targeted a gay nightclub, calling the incident a "sobering reminder" that an attack on any American is an attack "on all of us."
Message from @WhiteHouse @POTUS on #PulseNightclubShooting pic.twitter.com/KdmM7TIXSR

— Carly Hoilman (@carlyhoilman) June 12, 2016
Earlier Sunday morning, the White House released a statement regarding the shooting. It reads, in part:
Our thoughts and prayers are with the families and loved ones of the victims. The President asked to receive regular updates as the FBI, and other federal officials, work with the Orlando Police to gather more information, and directed that the federal government provide any assistance necessary to pursue the investigation and support the community.
"This was an act of terror and act of hate." —@POTUS on the tragic shooting in #Orlando https://t.co/i7fOS38GzH

— The White House (@WhiteHouse) June 12, 2016
June is international Gay Pride Month. Just one day before the mass shooting, President Obama delivered a speech at the White House honoring the members of the LGBT community who "paved the way for progress" by advocating for gay rights around the world.
"Minds open. Hearts change. America shifts." —President Obama #Pride2016 https://t.co/JJSBJW5UEb

— Barack Obama (@BarackObama) June 10, 2016