© 2023 Blaze Media LLC. All rights reserved.
Gay Conservative Milo Yiannopoulos Holds 'Gays and Islam' Event Near Scene of Orlando Terror Attack, Issues a 'Warning From Europe
"I'm here to give you a warning from Europe."
Speaking near the scene of the deadly Orlando terrorist attack on Wednesday, conservative provocateur Milo Yiannopoulos issued a "warning" to America on the dangers of pandering to Islam.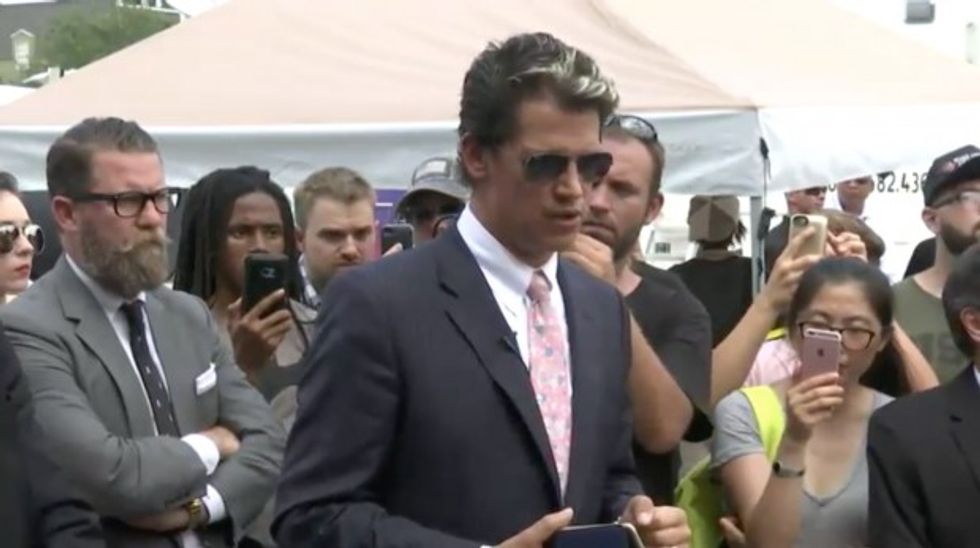 (YouTube)
"I'm here to give you a warning from Europe," Yiannopoulos said. "I'm from London and I know what happens when governments and the media collude to pander to and to mollycoddle Islam. I know what happens to gay people, I know what happens to trans people, I know what happens to women."
Yiannopoulos then cited a Gallup poll of Muslims in the U.K. that found that 100 percent of polled Muslims believed homosexuality was unacceptable.
He argued that Islam as a whole, not just radical Islam, has a problem when it comes to treatment of gays.
"This is Muslims in the west," he said. "This is not radical Islam. This is Islam."
Watch below -- the speech starts at around 24:00 (Warning: Some strong language and adult content)
Yiannopoulos also spoke out in support of the Second Amendment, calling it "terrifying" that some people think fewer guns is the answer to ending terror attacks like the one that occurred Sunday.
"Gun-free zones are the most dangerous places in America, because gun-free zones provide safe spaces for killers," he said. "The left likes to talk about safe spaces."
At the end of Yiannopoulos' speech, comedian Gavin McInnes joined him in the spotlight and surprised everyone by sharing a very intimate kiss in an effort to anger Muslims who don't like gays.
"I want us all to recognize that the west is the best. And America is the greatest. And homosexuality is a little weird, but we're the most advanced. And as a straight man standing here with a gay man, I would just like to say f*** you, Islam."
That more outrageous moment of the press conference can be viewed here at the 29-minute mark:
---
Want to leave a tip?
We answer to you. Help keep our content free of advertisers and big tech censorship by leaving a tip today.
more stories
Sign up for the Blaze newsletter
By signing up, you agree to our
Privacy Policy
and
Terms of Use
, and agree to receive content that may sometimes include advertisements. You may opt out at any time.