The editor of "The Jesus-Centered Bible," a popular Bible edition that pinpoints all of the places in the Old Testament that refer to Christ, said that his unique version of the text has gotten a great deal of attention due to its efforts to highlight prophetic mentions of Jesus.
"There's something about reading the Bible in a way that, no matter where you're reading it, [it] redirects you to the real, underlying narrative of the Bible, which is Jesus," Rick Lawrence, executive editor of GROUP Magazine, told The Church Boys in a recent interview.
Lawrence, who also authored the new book, "The Jesus-Centered Life: The Life You Didn't Think Possible, With the Jesus You Never Knew," discussed what he believes many people get wrong about both Jesus and the gospel, offering up an example to try and illustrate his point.
Listen to Lawrence describe what Christians get wrong about Christ below:
He described a hypothetical situation in which a person goes to a one-and-a-half hour cooking class with Oprah Winfrey to learn some of the popular host's favorite recipes, relating that scenario back to the ways in which many people handle their relationship with Christ.
"At the end of that 90 minute time she looks at you, walks over and says, 'I've really enjoyed [our] interactions ... I'm wondering if you'd like to have coffee sometime.' And you respond and say, 'I like you too, but I'd really rather have more of your recipes,'" Lawrence said. "We've become so fascinated with the recipes of Jesus that we've forgotten that his presence and his person overshadow his recipes."
In the end, the author said that many have simply become so consumed by strategies and principles that they have "forgotten to slow down and pay better attention to [Jesus]." Additionally, Lawrence said that many have an idea about Christ that simply doesn't match the Jesus that is found when one looks deeper into the Bible.
The author's goal through "The Jesus-Centered Life" is to help people get closer to the Jesus presented in the gospel, with Lawrence also explaining how churches and pastors should be playing a role in that process.
"People today in some respects forget that Jesus was never the CEO of a business," he said, noting, though, that Christ has "had more of an impact on worldwide culture than any single person." Lawrence said that a pastor's role and prime responsibility is to help congregants to become ever-closer to Jesus.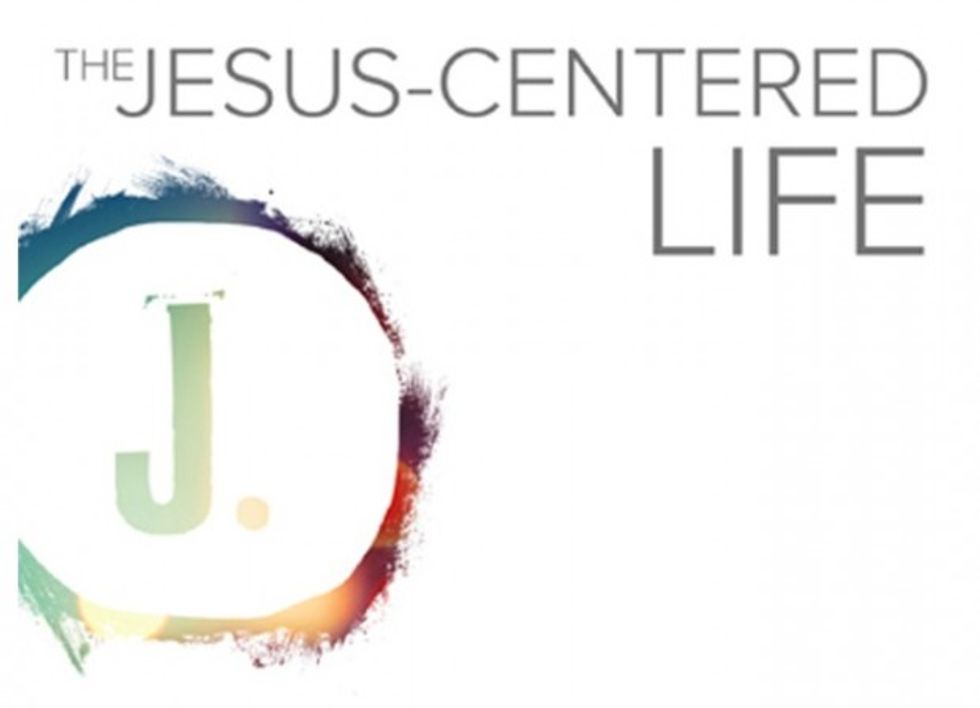 GROUP Publishing
"What a pastor's primary responsibility to do is to help the people of a church become so attentive to Jesus that they become captured by his heart and they're ruined for him forever," he said. "That's what starts a transformational movement."
As TheBlaze previously reported, Lawrence previously told The Church Boys that the "Jesus-Centered Bible" pinpoints all of the places in the Old Testament that he and fellow author Ken Castor believe refer to Christ.
"There's red letters in the New Testament where Jesus speaks — what if we highlighted in the Old Testament with blue letters any place that points to Jesus or is connected to Jesus in the New Testament?" Lawrence recalled proposing at the start of the project.
And that's exactly what he and Castor did, working long, 18-hour days for many weeks in an effort to find those specific spots in the Bible and to create brief descriptors for each.
In the end, the two editors were overwhelmed to find nearly 700 places in the Old Testament scriptures that they believe refer, in some way, to Jesus. There were so many, in fact, that Lawrence said that they had to limit their scope for risk of making the Bible too long to publish.
Listen to Lawrence discuss the "Jesus-Centered Bible" with The Church Boys podcast last October at the 21:30 mark below:
--
Follow the author of this story on Twitter and Facebook and check out his new book "The Armageddon Code: One Journalist's Quest for End-Times Answers":