Rebecca Rizzi was isolated, alone — and pregnant, convinced that her only viable option was to have an abortion. But after she arrived at Planned Parenthood in Tempe, Arizona, the unexpected happened: she met pro-life protesters at the clinic who changed her mind entirely.
Rizzi's story was widely shared back in January 2014 when she opened up to TheBlaze about her last-minute decision to carry her pregnancy to term — a birth that resulted in twin girls named Olivia Grace and Kara Shea.
"The girls are about 2 and a half. They are very active," the mother of two told TheBlaze in a follow-up email interview this week. "They love to play at the park and read books along with the occasional mischief."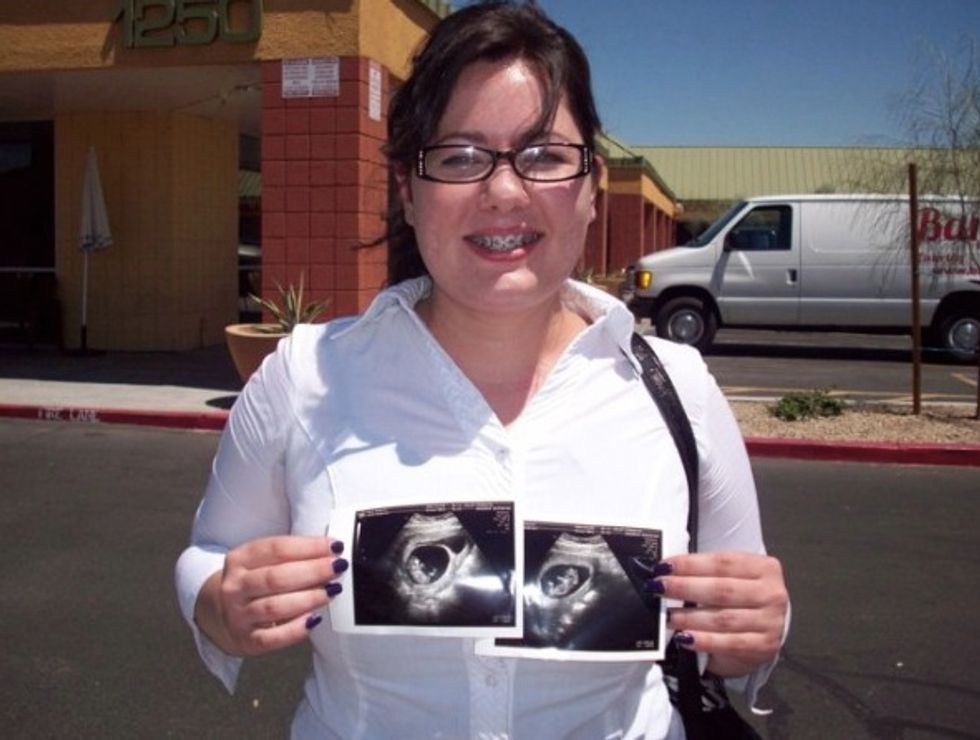 Rebecca Rizzi holds images of her ultrasounds (Image source: Sherry Pierce)
It was in her 2014 interview that Rizzi originally told TheBlaze about why she initially felt compelled to have an abortion; at the time that she visited the clinic, she had no idea that she was expecting twins.
"I felt I had to do it," she said at the time. "It was a situation where I hadn't talked to my family in a long time — same with my friends."
Feeling isolated, Rizzi had convinced herself, despite her inner most inclinations, that abortion was her only option. When she arrived at Planned Parenthood, she noticed a woman named Sherry Pierce outside, among other pro-life protesters who assembled as part of the "Refuge in the Desert" ministry.
While Rizzi said she knew that their message about the sanctity of life was true, she entered the clinic anyway.
Once inside, she sat down in a crowded waiting room and waited. But as she waited, doubts reemerged in her mind. Each time someone opened the door to enter or exit, Rizzi could hear the protesters outside — a convicting sound that stirred something deep within her heart.
Feeling as though she couldn't go through with the abortion, she walked outside to take a break and that's when she encountered the protesters who changed her mind by providing information about alternative options.
"Sherry asked me to tell her what was going on, why I had to feel like I had to do this. She told me there were all these resources," Rizzi recalled. "She took me to the pregnancy crisis center, and I think that day I had changed my mind after what Sherry said to me."
She continued, "I had it set in my mind that I could do this and put the baby up for adoption. I could live with that."
In the end, though, Rizzi decided to keep the babies, telling TheBlaze this week that she cannot imagine what her life would be like had she gone through with the abortion or had given them up for adoption.
"I cannot even begin to imagine my life without my girls. I wouldn't want to," Rizzi said. "They have been such a blessing and the honest truth is … if I had an abortion I likely would have taken my own life as so many post-abortive women do."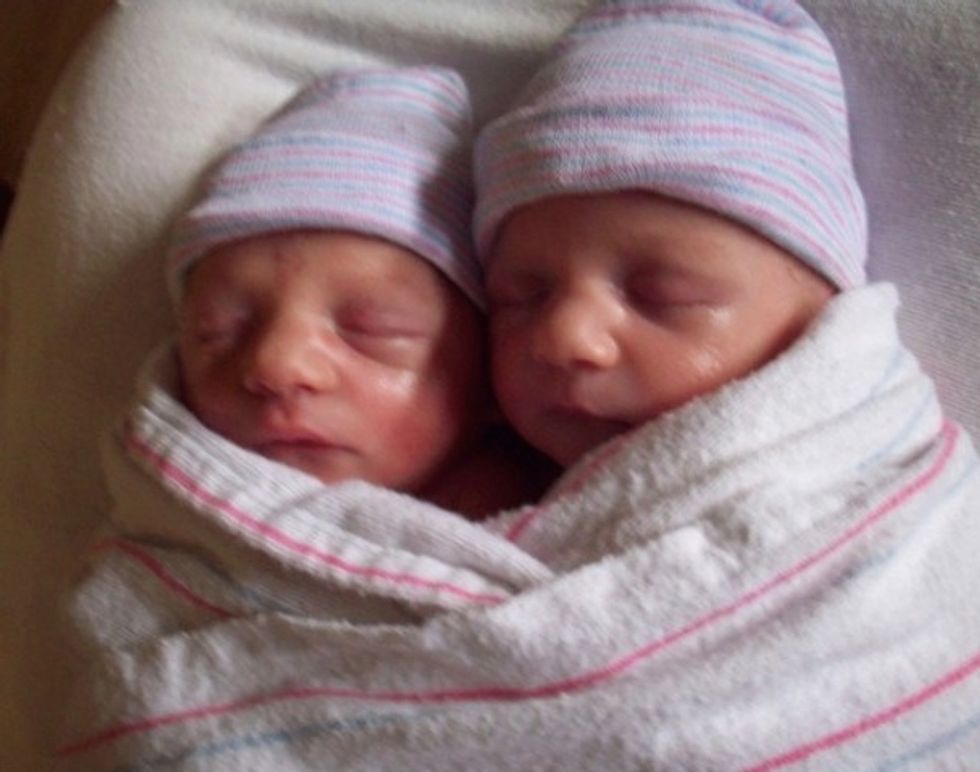 Olivia Grace and Kara Shea (Image source: Sherry Pierce)
The 26-year-old said that motherhood has taught her some incredibly important lessons, including keeping focus on what's important, saying that the experience has also encouraged her "to be a stronger person and to achieve new goals." While having twins on her own certainly has had its difficult moments, Rizzi said that much of it comes naturally due to the "intense love" that she feels for the children.
Rizzi also spoke of Pierce, one of the protesters with the "Refuge in the Desert" ministry whom she encountered outside the clinic that day, crediting her and others at Pierce's church as being a profound and helpful blessing in her life.
"Sherry and her church have been such a blessing. They have provided us with an incredible amount of help, but the most important gift they gave me was hope for the future, hope for our lives," Rizzi said. "They believed that I could absolutely do this and they were right. Imagine if I had thrown all of this away out of fear? It wasn't the end of the world; it was a new beginning."
As for Pierce, she told TheBlaze that she and others at the church continue to text, call and visit with Rizzi and her children, saying that the most inspiring part of her experience has been seeing the little babies grow.
"Seeing, hugging, and knowing these two precious little girls, so full of life and laughter are here by the grace of God and we had the privilege of being a part of their rescue," she said. "It has been amazing to watch Rebecca go from a mother intending to sacrifice her own children's lives for her sake, to now being a mother willing to sacrifice and lay down her own life for the sake of her children."
Pierce also shared that her ministry has seen "many other little boys and girls" saved, and that those mothers — like Rizzi — have been grateful for the protesters' assistance.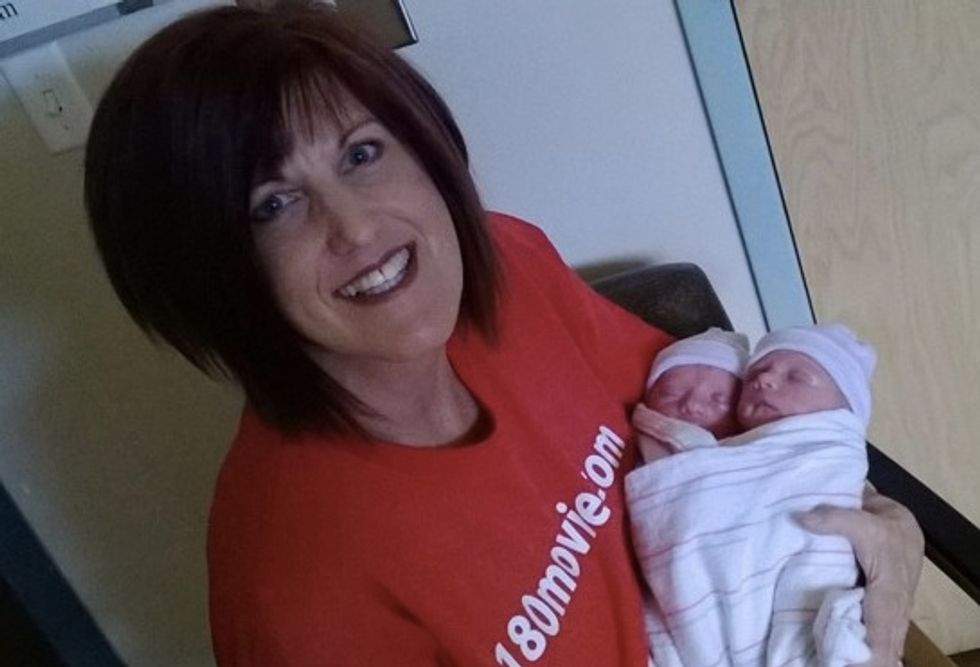 Sherry Pierce holding Olivia Grace and Kara Shea (Image source: Sherry Pierce)
"Every single one of their mothers are grateful that we did not remain silent out in front of the Planned Parenthood," she explained. "Though they may have preferred it at the time, they are thankful that they were reminded that 'God commands us not to murder,' so abortion is never an option, and we are in awe of God's mercy that changed their hearts and minds."
Rizzi is hoping that her own experience will help other women make a similar decision, offering up a message to those who might find themselves pregnant, alone and uncertain about what to do.
"To any women contemplating abortion, I beg you to seek other options," she told TheBlaze. "There are many clinics, doctors, organizations and ministries that dedicate themselves to helping women in your situation. They want to help you. Do not let anyone force or intimidate you into making a choice that cannot be reversed."
She concluded, "Pregnancy is temporary, the infant years fly by, the not so terrible twos don't last. Everything is temporary. Death is permanent. Abortion is permanent."
--
Follow the author of this story on Twitter and Facebook and check out his new book "The Armageddon Code: One Journalist's Quest for End-Times Answers":