Conservative columnist George Will announced on Saturday he is leaving the Republican Party over Donald Trump.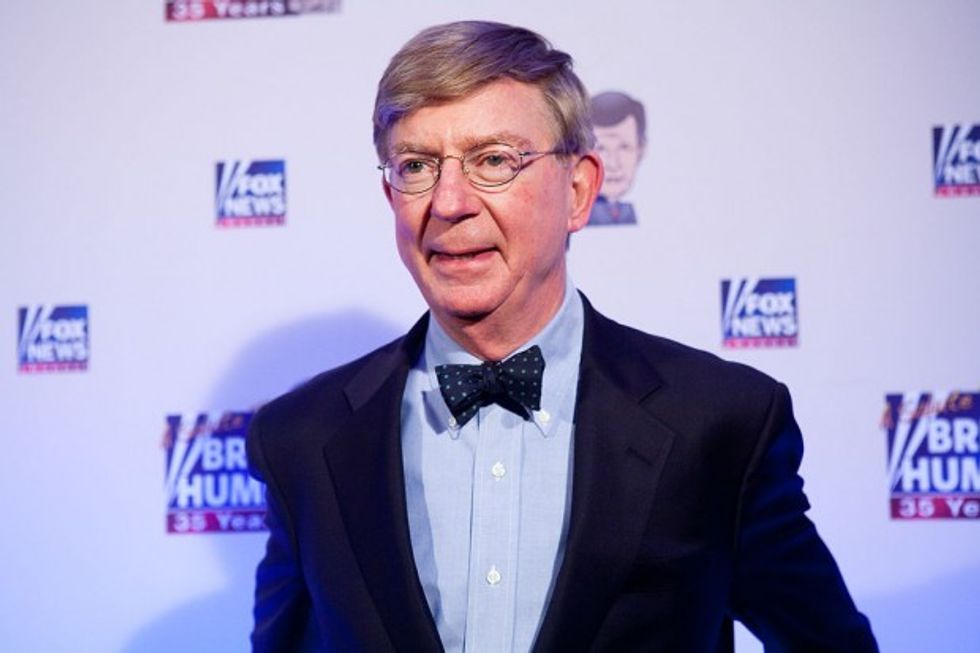 WASHINGTON - JANUARY 08: Conservative newspaper columnist George Will poses on the red carpet upon arrival at a salute to FOX News Channel's Brit Hume on January 8, 2009 in Washington, DC. Hume was honored for his 35 years in journalism. (Photo by Brendan Hoffman/Getty Images)
"This is not my party," Will said during a speech at a Federalist Society luncheon on Saturday. He later told PJ Media he is "unaffiliated" in the state of Maryland.
Because it may be too late to find any other candidate to replace Trump as the GOP nominee, Will said Republicans who dislike Trump should do everything they can to "make sure he loses" and "grit their teeth for four years and win the White House."
He also argued gridlock in the federal government is good "nine times out of ten."
From Texas to New Hampshire, well-respected members of the Republican Party's professional class say they cannot look past their deep personal and professional reservations about the presumptive presidential nominee.
While there are exceptions, many strategists who best understand the mechanics of presidential politics fear that taking a Trump paycheck might stain their resumes, spook other clients and even cause problems at home. They also are reluctant to devote months to a divisive candidate whose campaign has been plagued by infighting and disorganization.
"Right now I feel no obligation to lift a finger to help Donald Trump," said Brent Swander, an Ohio-based operative who has coordinated nationwide logistics for Republican presidential campaigns dating to George W. Bush.
"Everything that we're taught as children - not to bully, not to demean, to treat others with respect - everything we're taught as children is the exact opposite of what the Republican nominee is doing. How do you work for somebody like that? What would I tell my family?" Swander said.
As in years past, the primary season created a pool of battle-tested staffers who worked for other candidates, from which Trump would be expected to draw. But hundreds of such aides have so far declined invitations to work for him.
They include several communications aides to Chris Christie, as well as the New Jersey governor's senior political adviser, Michael DuHaime, who has rejected direct and indirect inquiries to sign on with the billionaire.
Chris Wilson, a senior aide to Ted Cruz, said the Texas senator's entire paid staff of more than 150 ignored encouragement from Trump's team to apply for positions after Cruz quit the presidential race. Wilson said that even now, many unemployed Cruz aides are refusing to work for the man who called their former boss "Lyin' Ted."
That's the case for Scott Smith, a Texas-based operative who traveled the country planning events for Cruz, and earlier worked on presidential bids for Bush and Texas Gov. Rick Perry.
---