An injured deer stumbled into a Wisconsin grocery store Friday, making its way down the aisles and forcing an evacuation, KTRK-TV reported.
According the station, the deer had slammed into a set of glass windows at the Oconomowoc strip mall where the Piggly Wiggly grocery store is located.
"It had a broken leg obviously, and there was a little bit of blood," the store's manager, Mike Edwards, told KTRK.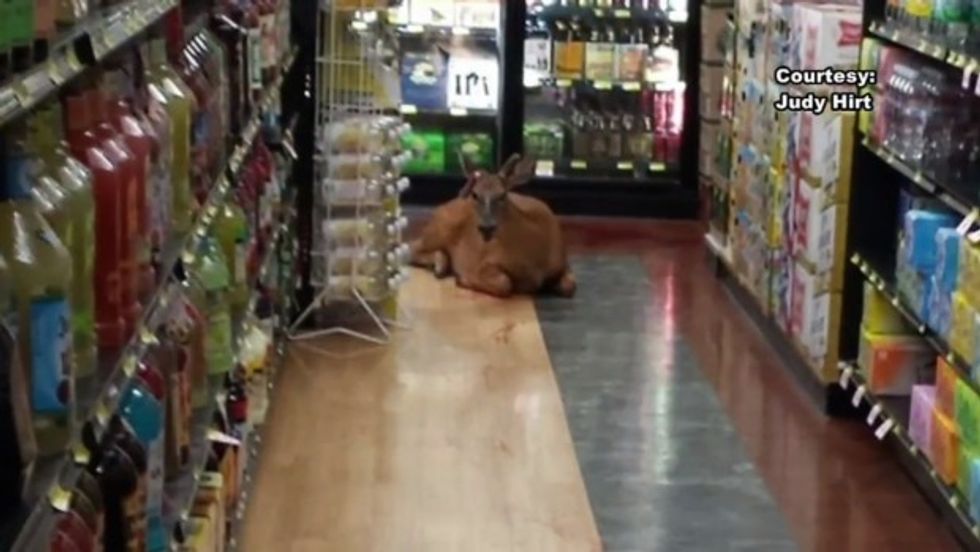 Image source: KTRK-TV
The deer reportedly entered the Piggly Wiggly through the store's automatic doors.
Edwards told WDJT-TV that his initial reaction was one of fear for the customers. But then, he said, he began to feel sorry for poor creature.
"Everyone was in shock because you don't expect a deer to be inside the building," he told WDJT.
Edwards said that the deer didn't end up causing any damage to the store or its merchandise. And after running around a bit, the exhausted animal did what many people would want to do after such a traumatic experience: It lay down by the liquor section.
Police and the Department of Natural Resources arrived eventually and ordered that the store be evacuated, Ewdards told KTRK, "Right in mid shopping, so there were carts all over the store half full and carts in the checkout lanes."
Authorities managed to remove the animal after about an hour, but it later had to be put down due to its injuries.
Watch: