Calum McSwiggan, a gay British YouTube star, claimed he was assaulted by three men near a gay nightclub in West Hollywood early Monday morning — but after police were called to the scene, they came to a different conclusion.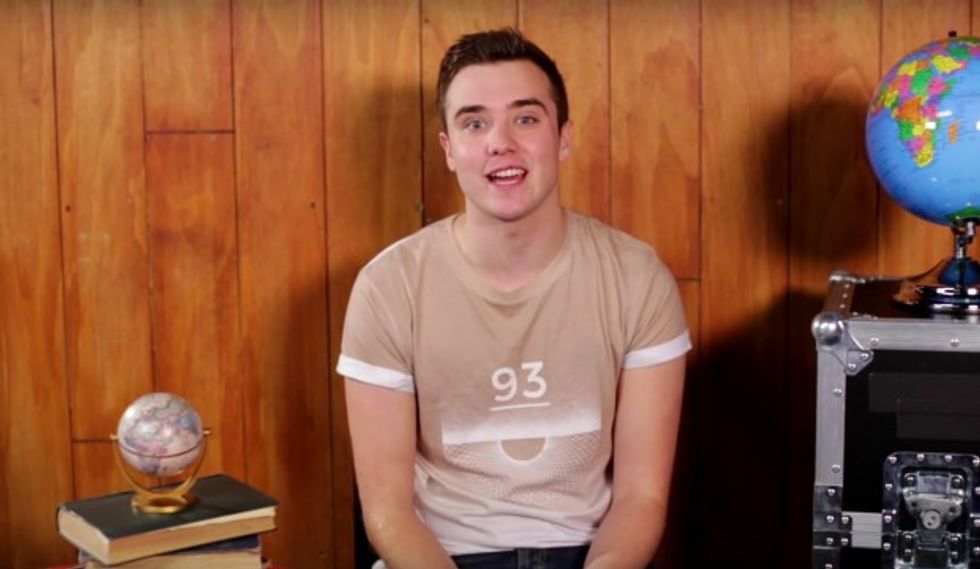 Calum McSwiggan (Image source: YouTube)
After McSwiggan called 911, KABC-TV reported that Los Angeles County sheriff's deputies said they couldn't substantiate his assault claim and found no visible injuries on McSwiggan.
Captain Holly Perez of the West Hollywood sheriff's station told Wehoville — a West Hollywood publication — that deputies who examined McSwiggan saw no cuts, bruises or other evidence that he had been attacked.
Here's the statement sheriff's provided to Wehoville:
"Responding deputies were unable to substantiate the assault. Mr. McSwiggan, who had no visible injuries, was subsequently arrested after deputies observed him vandalizing a car in the 8900 block of Santa Monica Boulevard. After being booked and photographed, Mr. McSwiggan was placed into a cell by himself at West Hollywood Station. Mr. McSwiggan was then observed injuring himself with the handle and receiver to a payphone inside the cell. Medical personnel were summoned and Mr. McSwiggan was transported to a local hospital for treatment."
On Wednesday afternoon, McSwiggan gave a different account of the vandalism in a lengthy Facebook post, noting that after he was attacked and discovered one of his front teeth was broken, a "moment of devastation, anger and blind rage" came over him.
He then "kicked the wing mirror of the attacker's car until it broke and then ripped it off with my hands. I also scratched the front of the car with the broken wing mirror before returning back to The Abbey for help."
McSwiggan didn't mention police witnessing his vandalism but said he admitted it to them after they arrived. "I did not think that under the circumstances that I would be treated as a criminal and I suggested bringing the police to the vehicle so that they could take the registration and find the owner to prosecute him," McSwiggan wrote on his Facebook explanation.
After arriving at the vandalized vehicle with police, McSwiggan said a female officer approached him and said, "'I'm sorry, but I have no choice but to do this,' and reached for her handcuffs." McSwiggan soon asked why he "was being treated as the criminal. She apologized but said that she did not believe I had been attacked due to the lack of physical injuries on my face."
McSwiggan's Facebook post doesn't mention he tried showing police his broken tooth, and police didn't mention a tooth, either.
Here's his booking photo via the Los Angeles County Sheriff's Department: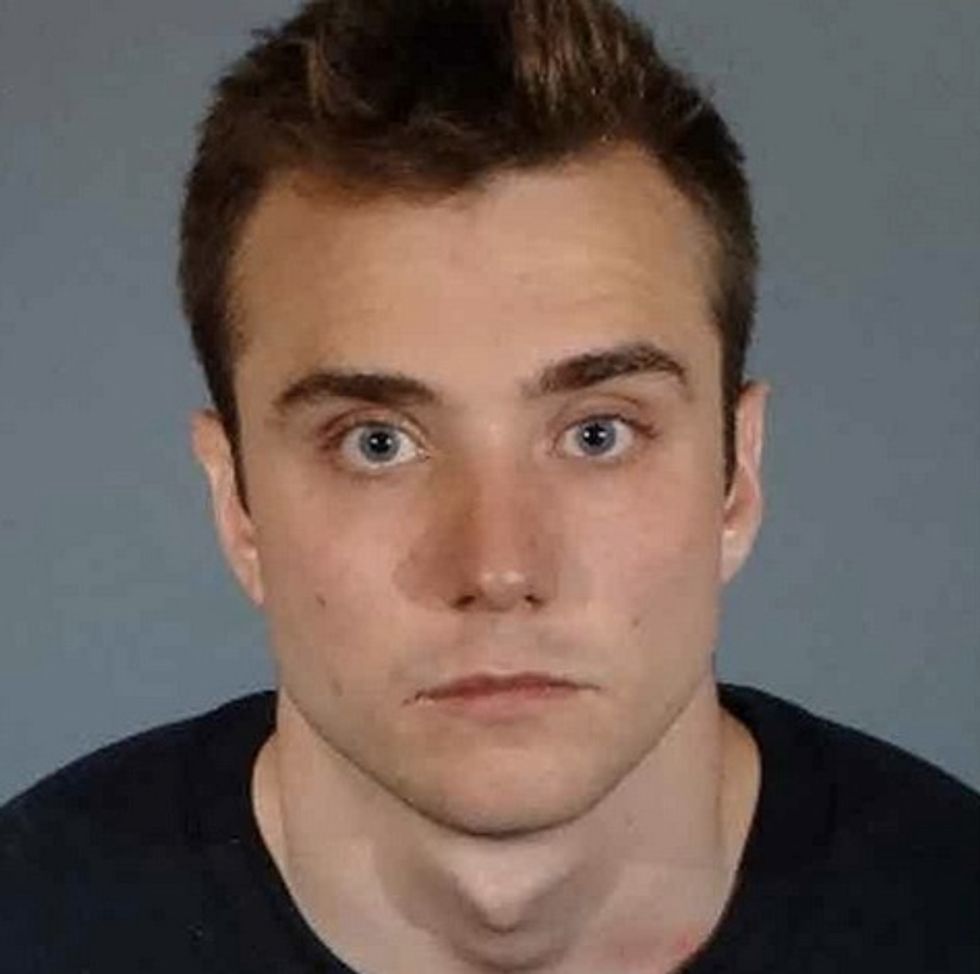 Calum McSwiggan (Image source: Los Angeles County Sheriff's Department)
As for the sheriff's statement that McSwiggan was "observed injuring himself with the handle and receiver to a payphone inside the cell" after he was booked and photographed, McSwiggan admitted the same on Wednesday's Facebook post — but said there was a reason behind his actions.
"My father eventually called the station and I could hear them speaking to him on the phone. I pleaded with them to let me speak with him but they wouldn't allow me to. They were asking him to pay $20,000 to release me otherwise I'd have to stay in jail until my court case. I did not understand this was bail or how bail worked and I freaked out. I knew he would pay it and couldn't allow him to do that. In a moment of desperation to get out of the cell, I took the pay phone off the wall and hit myself once across the forehead with it as hard as I could. I knew I had to injure myself to get out of the cell and into a hospital, and it was the only solution I could find to get myself out of there. This is incredibly out of character for me and is testament to how upset I was in that moment. I do not regret doing this as I could still be in the jail cell if I didn't."
After being taken to a hospital and receiving stitches in his forehead, McSwiggan posted a selfie from his bed:
His photo included a long caption, including the following sentences: "The authorities should have been there to help and protect me but instead they treated me like a second class citizen. With three broken teeth and six stitches in my forehead, I've never felt so terrified to be a gay man in the public eye."
Some have taken issue with McSwiggan's hospital post, particularly the sentence about his stitches, as it may appear he's connecting them to his alleged attack and didn't mention having injured himself in his jail cell.
McSwiggan added in his Wednesday Facebook post that he attended court Wednesday morning but "there was no record of my case on file. We're going back later to try and resolve this fully."
He ended his Wednesday post in this manner:
"The injuries sustained from the attack were as follows:

- Three broken teeth

- Cut and bruise on my collar bone (visible in the mug shot)

- Bruising to my left arm and shoulder, barely visible, but unable to raise arm fully

- Bruising on my right wrist

- Minor scrapes on body

The injuries sustained in the holding cell:

- One wound to the forehead which required six stitches

Thank you for those that believed me from the start. Your support has been the only thing that has gotten me and my friends through this nightmare of a situation. Thank you from the bottom of my heart."