© 2023 Blaze Media LLC. All rights reserved.
Newspaper Publisher Thrown in Jail Over Open Records Fight — Read the Indictment
"I was astounded, in disbelief that there were even any charges to be had."
A rural North Georgia journalist was indicted on a felony charge and jailed overnight last week, all for filing an open-records request.
Mark Thomason, publisher of the Fannin Focus, a local paper, and his attorney Russell Stookey were jailed Friday of last week and charged with identity fraud and attempted identity fraud. Additionally, Thomason was accused of lying in his open-records request.
According to the Atlantic-Journal Constitution, Thomason's pursuit of public records relating to the local Superior Court angered Brenda Weaver, the court's chief judge who also chairs the state's Judicial Qualifications Commission. Frustrated by Thomason's actions, Weaver took the issue to the district attorney, who obtained the indictments.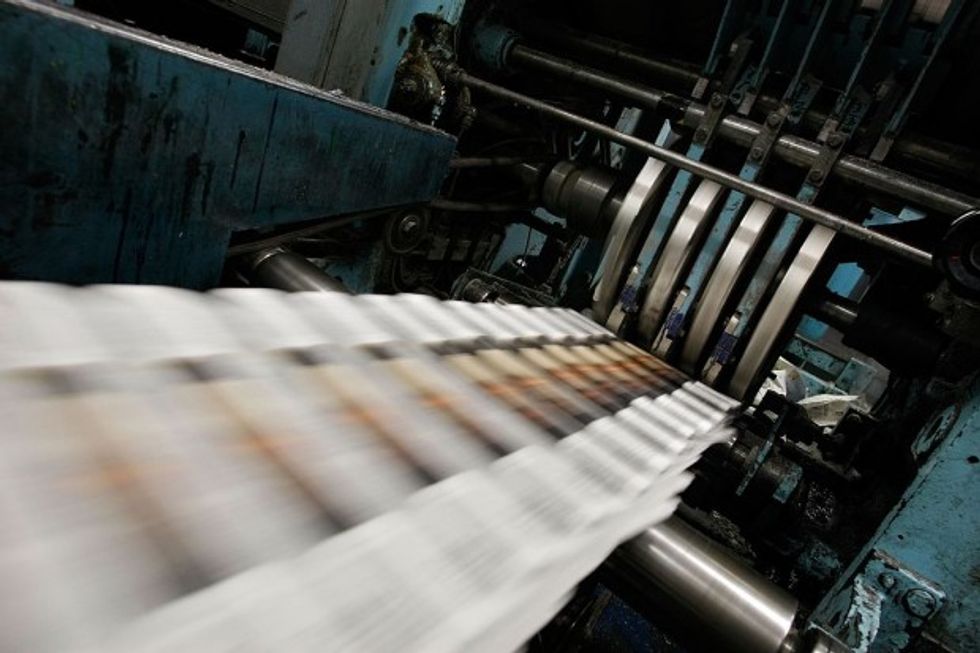 Photo by Justin Sullivan/Getty Images
The local reporter was charged June 24 for making a false statement in his request, in which he asked for copies of checks  "cashed illegally." Both Thomason and Stookey were charged with identity fraud and attempted identity fraud for not seeking express approval before sending the subpoenas to the banks where Weaver and another judge had accounts for office expenses.
According to Weaver, the two men may have been attempting to steal bank information found on the checks. But, in Thomason's version of the story, he was just "doing his job."
"I was astounded, in disbelief that there were even any charges to be had," Thomason, who grew up in the area, told AJC. "I take this as a punch at journalists across the nation that if we continue to do our jobs correctly, then we have to live in fear of being imprisoned."
Now Thomason and Stookey are out on a $10,000 bond, but have a long list of things they are prohibited from doing if they want to stay out of jail before their trials. Attempting to do his job late last week, Thomason showed up to a pretrial center and was told he may have to submit to a random drug test, which was a condition of his bond.
As out-of-line as Thomason may believe the charges are, Weaver, along with Alison Sosebee, district attorney in the three counties in the Appalachian Judicial Circuit, believe the charges are perfectly justified. According to Weaver, Thomason has been attacking her weekly in the Fannin Focus and in talks with her constituents, and she resents it.
"I don't react well when my honesty is questioned," she said. "It's clear this is a personal vendetta against me. I don't know how else to explain that."
But several see the charges as inappropriate and an assault on Thomason's rights, including David E. Hudson, Georgia's leading authority on the First Amendment, who called the case "an affront to the exercise of First Amendment rights," according to The Valdosta Daily Times.
And he's not the only one.
"To the extent these criminal charges stem from the use of the Open Records Act undermines the entire purpose of the law," Georgia First Amendment Foundation executive director Hollie Mannheimer told the AJC. "The Open Records Act is the vehicle by which citizens access governmental information.
"Retaliation for use of the Open Records Act will inhibit every citizen from using it, and reel us back into the dark ages," she added.
A third legal expert, Robin Rubin, president of the Georgia Association of Criminal Defense Lawyers, believes the charges against Stookey are unfounded because it's wrong for a grand jury to indict him, given the fact he's a lawyer who "is using the legitimate court process for a subpoena to get records relevant for his case."
The dispute first arose out of a 2015 incident involving another Judge Robert Bradley, who is no longer on the bench. Bradley, presiding over several cases, asked for the name of the next defendant one day. The assistant district attorney announced him, saying his name was "[Racial slur] Ray," which Bradley repeated.
Bradley, who also talked about another man whose street name started with the same slur, resigned earlier this year.
Thomason asked for the transcript after learning courtroom deputies invoked the slur, but the notes only indicated Bradley and the assistant district attorney used the phrase. According to Thomason, the court reporter said it was "off the record" when others used the slur, so it was not indicated in the transcript.
In lieu of the written text, Thomason asked for the audio recording, but his request was declined. Sticking with the story, Thomason asked Stookey to file paperwork with the court, forcing Rhonda Stubblefield, the stenographer, to release the recording.
Stubblefield retaliated with a $1.6 million counterclaim against the persistent journalist, claiming he was defaming her in stories by indicating that the transcripts she produced might not be fully accurate. Two months later, Thomason's case was closed by a judge who didn't believe the reporter had produced enough evidence to show the transcript was inaccurate.
Last April, Stubblefield dropped the counterclaim because it was unlikely Thomason could pay the award if he lost, her lawyer wrote. But the next month, she filed paperwork to be repaid her attorney's fees, even though she received an almost $16,000 check from then-Judge Bradley's operating account.
"She was being accused of all this stuff. She was very distressed. She had done absolutely nothing wrong," Weaver said of the judge's decision to use court money to cover Stubblefield's costs. "She was tormented all these months and then had to pay attorneys' fees. And the only reason she was sued was she was doing what the court policy was."
But Stubblefield's lawyer Herman Clark said in court his client was asking for the money from either Thomason or Stookey so she could repay the court for the funds taken out of the account. Clark indicated it was unfair for taxpayers to pay her legal fees.
In order to fight Stubblefield's claim for legal fees, Stookey filed subpoenas requesting copies of certain checks so he could prove her attorneys had already been paid. One of the two accounts listed had Weaver's name on it.
According to Weaver, the identity fraud allegations came out of fear the reporter would use the banking information on the checks for himself.
"I have absolutely no interest in further misappropriating any government monies," Thomason asserted. "My sole goal was to show that legal fees were paid from a publicly funded account."
—
Follow the author of this story on Twitter:
Want to leave a tip?
We answer to you. Help keep our content free of advertisers and big tech censorship by leaving a tip today.
more stories
Sign up for the Blaze newsletter
By signing up, you agree to our
Privacy Policy
and
Terms of Use
, and agree to receive content that may sometimes include advertisements. You may opt out at any time.