Gary Byrne, a former Secret Service agent who protected the White House when Bill Clinton was president, is claiming Hillary Clinton was an "abusive" and "vindictive" first lady.
While many are questioning the integrity of the "Crisis of Character" tell-all, Byrne told TheBlaze, "My book is true and they know it."
"A lot of these people who are running the [Hillary] Clinton campaign were actually staffers in Bill Clinton's administration — they all know me," he said. "They know I'm a stand-up guy. They're not happy about me coming forward, but that's what the reality is."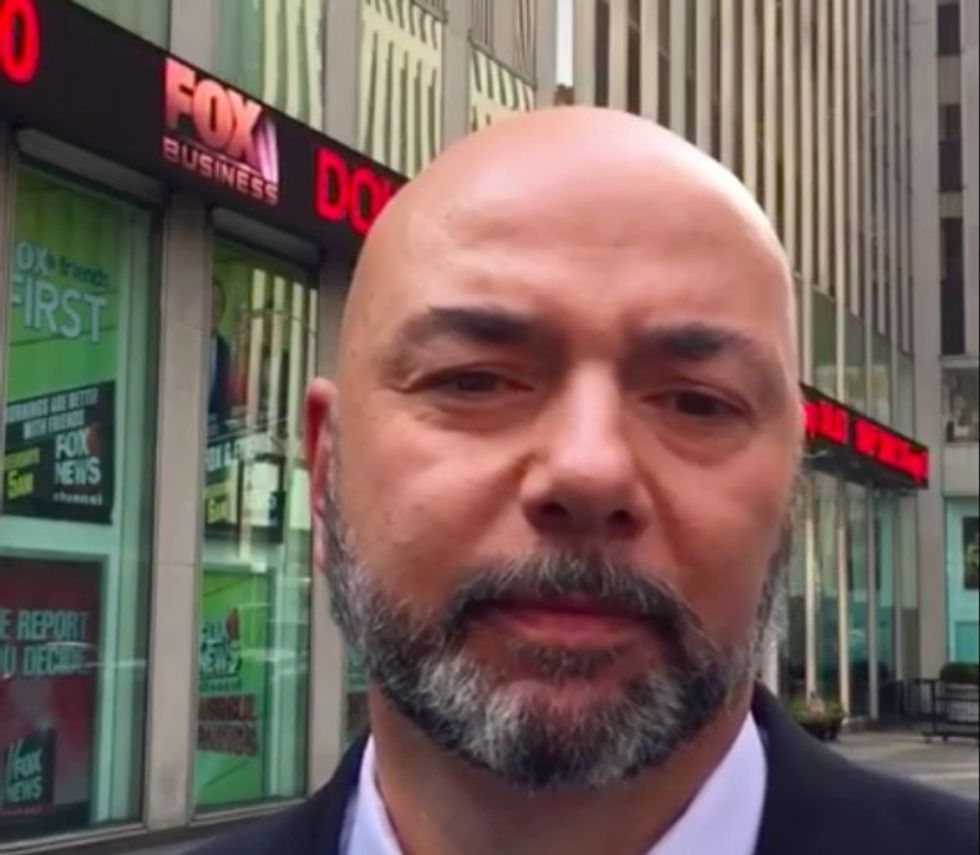 Image source: Facebook Live screen grab
Many have cast doubt on Byrne's recent testimony, citing the fact that the reports in his new book differ greatly from what he told investigators from Kenneth Starr's Office of the Independent Counsel in 1998.
In "Crisis of Character," Byrne writes about Bayani Nelvis, a former White House steward, who he claims came to him with a stained towel allegedly from Bill Clinton, asking, "Does that look like semen to you?"
"Any boy lucky enough to live past his high school years could identify the stains, translucent and white, half gooey, and already absorbing into the fabric," the former agent wrote, adding that Nelvis said he had been cleaning "semen and lipstick-stained towels for weeks" in order to keep laundry personnel from seeing them.
Byrne claimed he was eventually able to calm Nelvis by "reassuring him that I'd take care of this myself." He wrote that he then took the towels off the White House premises on his own.
"I placed the offending linens in the trash bag and hid them in a furniture drawer near my post," he wrote. "I didn't let that drawer out of my sight until my very long day was done. Getting the trash bag to my gym bag to my car involved some risky moments, but I made it. In D.C. traffic I worried, 'Have I just illegally destroyed evidence?'"
But in a deposition on June 25, 1998, Byrne described what seems to be the same situation, but offered much less detail about what occurred.
In his testimony then, the author said he witnessed Nelvis, who was holding towels, cleaning up the Oval Office study, when the steward remarked, "I'm tired of having to clean up this crap, or this something, you know, to that effect." Byrne said he came his "own conclusion that there was … some kind of possible physical contact between them and the president."
At the time, Byrne recalled Nelvis saying "something about lipstick" and he "assumed that, that it was on these towels," even though the steward never explicitly said that. He said he never actually saw lipstick or semen stains on the towels, but just told Nelvis to "get rid of it; in other words, to throw it out."
"I just remember him kind of walking away, and that was it," Byrne said during the deposition. "I don't know what he did with them. That was the end of the thing."
His story of Bill Clinton's sexual trysts is much more detailed now. But he defends the more explicit recalling in his book, saying that, during the deposition, he was just responding to exactly what he was asked and not offering further detail.
"There's a difference between testimony and telling your life story," Byrne told TheBlaze. "You have to realize, it wasn't my job to tell the investigators what to ask. In one particular case they're talking about — it's two different stories."
"They were talking about tissues and lipstick and other things on tissues and there was also a story that took place where there were towels involved," he continued. "It's not my job to tell them they're asking the wrong questions."
Byrne added that he was "so limited" in what he could say about Bill Clinton until the Supreme Court ordered those involved in the administration to testify months later.
"So it's not that I told different stories, or that I'm making something up," he insisted. "It's two different stories that were told at two different times and it's all true. Who would put themselves in this position, and put their families in this position, if it wasn't true?"
Watch TheBlaze reporter Josiah Ryan's full interview with Byrne below:
—
Follow the author of this story on Twitter: