Texas Sen. Ted Cruz, the former top rival of presumptive Republican presidential nominee Donald Trump, will speak at the Republican National Convention — even though he hasn't endorsed the candidate yet.
The two Republicans met today in Washington, D.C., Cruz's spokeswoman confirmed, and Trump asked the former 2016 presidential hopeful to speak at the party's convention this month in Cleveland. Cruz "said he would be happy to do so," his spokeswoman Catherine Frazier said in a statement.
However, there was "no discussion of any endorsement," Frazier added.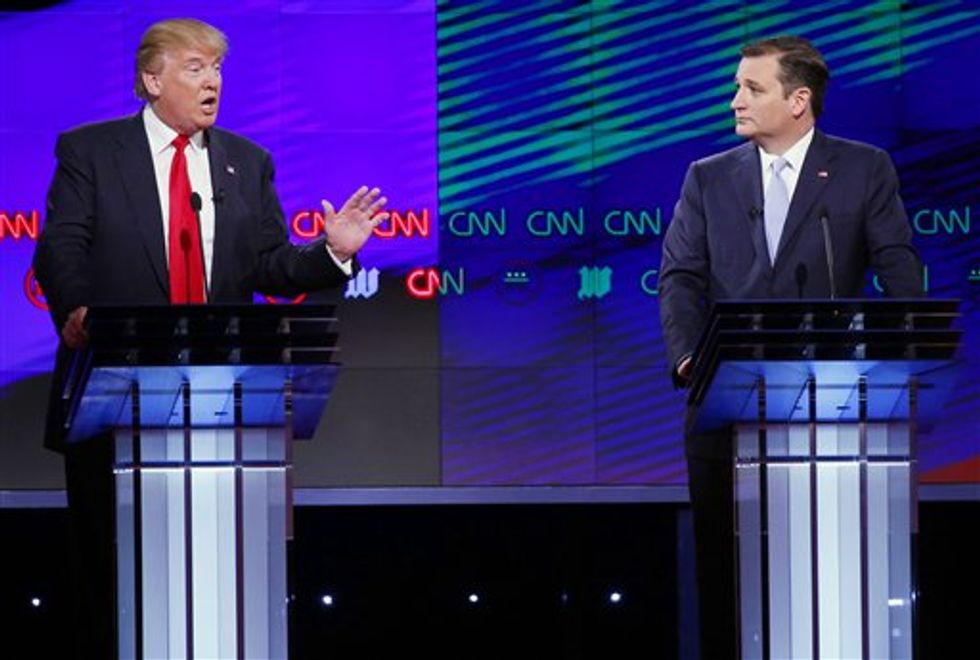 Donald Trump and Ted Cruz debate in Coral Gables, Florida, March 10. (AP/Wilfredo Lee)
The move is a reversal for Trump, who had previously said he would not allow former 2016 rivals to speak at the RNC unless they had given him their endorsements.
But Cruz, who has been an outspoken critic of many of Trump's moves so far this election cycle, has yet to endorse to the presumptive nominee. And he has asked state party leaders to allow him to keep the 559 delegates he secured throughout the primary process.
A movement of "Never Trump" advocates is looking for loopholes in the RNC rules to "unbind" some of the 1,542 delegates pledged to Trump in hopes of nominating an alternative candidate like Cruz in Trump's place.
Cruz says Trump invited him to speak at the convention and he accepted pic.twitter.com/vhbTsFjJ65

— Katherine Faulders (@KFaulders) July 7, 2016
Cruz also plans to advise Trump on possible Supreme Court nominations, Frazier said.
"Mr. Trump also asked Sen. Cruz for his counsel on future judicial nominations, and Cruz responded he would continue to do everything he can to help ensure principled constitutionalists on the courts," she said.
—
Follow the author of this story on Twitter and Facebook:
[facebook //www.facebook.com/plugins/like.php?href=