TEHRAN, Iran (AP) — Iran said Saturday it will continue its ballistic missile program, after the U.N. Secretary-General Ban Ki-Moon said that the missile tests aren't in the spirit of the country's landmark nuclear deal with world powers.
"Iran will strongly continue its missile program based on its own defense and national security calculations," foreign ministry spokesman Bahram Ghasemi said in comments published on the ministry's website.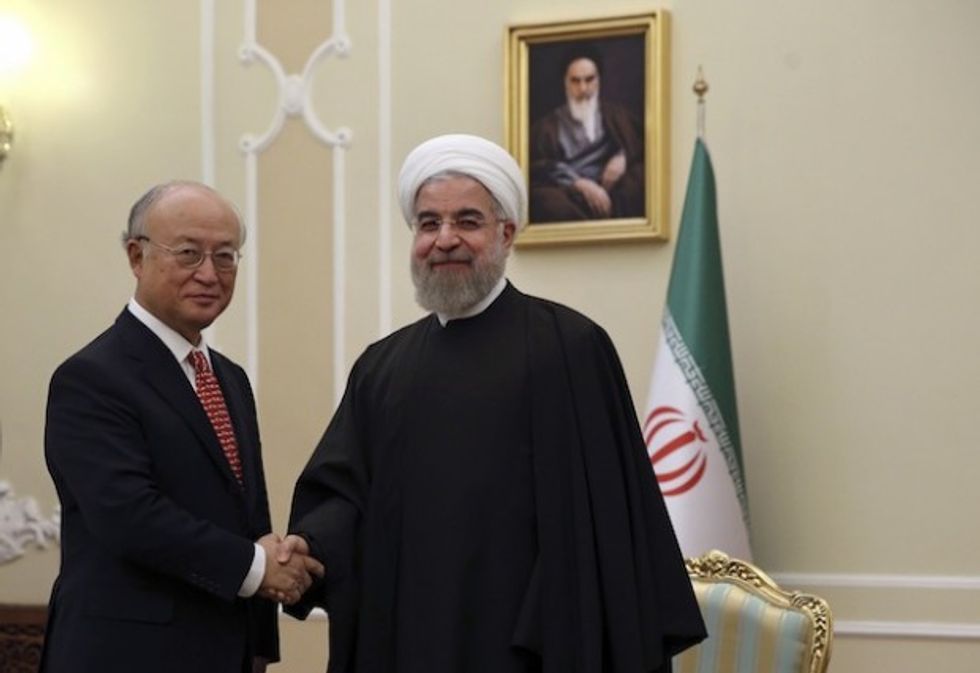 Iranian President Hassan Rouhani, center, welcomes U.N. nuclear chief Yukiya Amano at the start of their meeting in Tehran, Iran, Sunday, Sept. 20, 2015. (AP Photo/Vahid Salemi)
Iran's missile program is not linked to the nuclear deal and does not conflict with the U.N. Security Council resolution endorsing the agreement, he said. "Iran's missile program has aimed at defense and it is not designed to carry a nuclear warhead," he added.
In the first six-month report to the U.N. Security Council on the implementation of the resolution, the U.N. chief called on Iran to stop the tests and said they increase tensions in the Mideast. The resolution, which was adopted on July 20, authorized measures leading to the end of U.N. sanctions on Iran.
The U.S., France, Britain and Germany called in March for the Security Council to discuss "appropriate responses" to Iran's ballistic missile activity, which they said was "destabilizing and provocative."
Iran's nuclear chief Ali Akbar Salehi described the international response as "strange," adding that "I think a conspiracy is taking shape."
After the U.N. nuclear agency certified in mid-January that Iran had met all of its commitments under the nuclear deal, many Western economic sanctions that had been in place for years were lifted, unlocking access to $100 billion in frozen assets and unleashing new opportunities for the country's battered economy.
Iran is, however, still subject to a U.N. arms embargo and other restrictions, and the U.N. resolution includes a provision that would automatically reinstate sanctions if Tehran reneges on its promises.