Mexican President Enrique Pena Nieto told CNN's Fareed Zakaria that there is "no way" Mexico will pay for Presumptive Republican nominee Donald Trump's proposed border wall during an interview Sunday.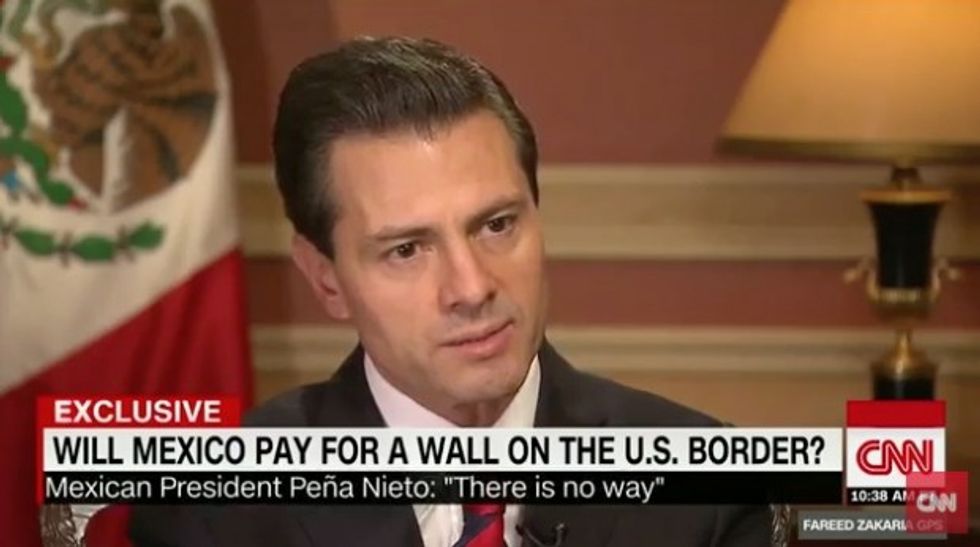 Image source: YouTube/CNN
Trump has made his pledge to order the construction of a wall on the Southern border - a wall he says Mexico will pay for - a cornerstone of his campaign.
"There is no way to have Mexico pay the — a wall, but any decisions inside United States is a decision of its government," Pena Nieto said, adding, "There is no way that Mexico can pay [for] a wall like that."
Pena Nieto said "the security of the United States is linked with the security of its neighboring countries."
"And this is what we have built," he continued. "And I'll say it again, this is what we have been doing with the U.S. government. We have a relationship of coordination, of collaboration and of cooperation in the area of security, precisely in order to have security in Mexico, to have security in the U.S. and... we are journey companions. We are strategic partners working for security in North America."
Peña Nieto also pushed back at some of the rhetoric Trump has used while discussing Mexico.
During remarks last year announcing his candidacy, Trump said:
"When Mexico sends its people, they're not sending their best. They're not sending you. They're not sending you. They're sending people that have lots of problems, and they're bringing those problems with us. They're bringing drugs. They're bringing crime. They're rapists. And some, I assume, are good people."
Peña Nieto said that he "cannot agree with such a generalization for Mexicans."
"There's no way to agree with comments like these which describe all Mexicans in such a way," he said. "I believe that in every country, there are individuals who are criminals, that we need to fight and apply the full extent of the law."
Peña Nieto stressed that he is "respectful [of] the democratic process" as the United States selects its next president.
"I believe that any of the candidates, Mrs. Clinton, Mr. Trump, I'm sure that both of them would like to build good conditions and better wellness for their people," he added. "We are very respectful to whomever is elected. We want to build a positive and constructive relation among Mexico and to whomever becomes president of United States."
Watch below:
—
Follow the author of this story on Twitter and Facebook: