Residents near Alabama's Mobile Bay woke up Saturday morning to a horrifying sight — and smell: dozens of dead baby bull sharks lining the shore.
Local wildlife officials are now working together to come up with a possible explanation, WAFA-TV reported.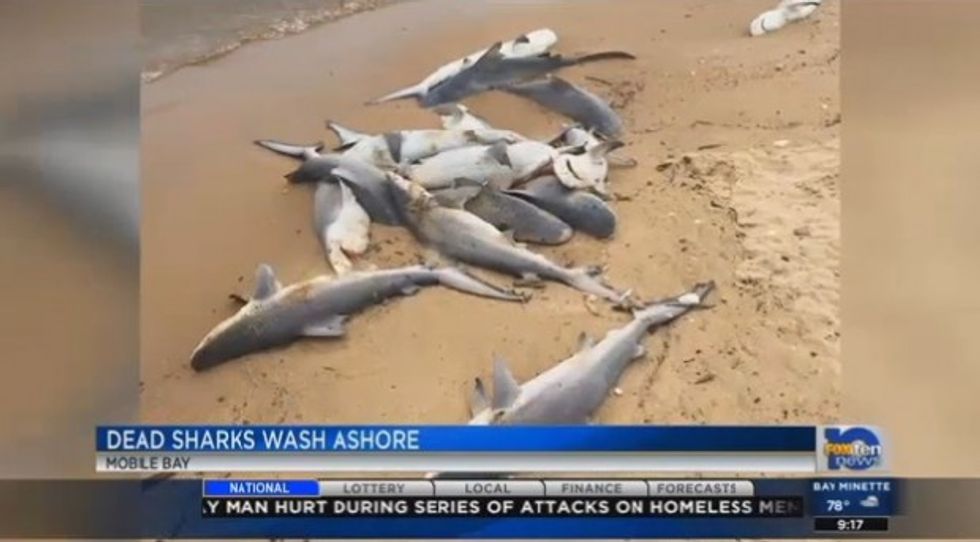 Image source: WALA-TV
"Horrified! Not expecting something like that," Sabrina Rios, who was visiting Mobile Bay with her family over the weekend, told WAFA. "They were all about two-to-three feet and they were just all piled on the beach here."
"The smell was overwhelming," Rios' husband, Stoney Adkins, told the station. "So our two older boys took the shovel over and tried to dig holes and bury them."
Biologists with the Dauphin Island Sea Lab recovered 57 sharks from the beach Saturday and will conduct autopsies to determine what likely caused the strange sight.
On Sunday, WAFA sent a news crew to the shore, where they counted three more sharks, along with catfish, crabs and other sea life all caught in a gill net.
Officials with Alabama Marine Resources told WAFA they believe the net is likely what killed the sharks.
"From what we could see, somebody had set a recreational gill net on the beach and the sharks were just swimming into the net and got tangled," Marine Resources Director Chris Blankenship said. "If sharks aren't moving through the water, they die."
Rios told WAFA that many of the dead sharks they collected were still tangled in a large part of a gill net.
"It looks like they tried to take them out of the net and left a pile on the beach," she said. "Then they just kind of gave up and left a ton of them inside the net itself."
Marine Resources has collected fragments of the net, which they will use to aid their investigation. WAFA reported that a gill net requires a license and is supposed to be monitored when in the water. Investigators are working to determine if this gill net was legal.
"There were no markings on this piece of gill net that was there on the beach, so it's difficult to say whether the person that put it out had a license and if they were netting legally or not," Blankenship explained.
The number of sharks is indeed large, but officials say that it comprises only a small portion of Mobile Bay's shark population. WAFA reported that the area will be patrolled more closely.