In an extremely heated discussion on Fox News Wednesday night, actor and author D.L. Hughley suggested to host Megyn Kelly that her network and police departments pretend racism doesn't exist.
The bold accusation came after the "Kelly File" anchor instructed Hughley not to make assumptions that race is a factor in situations when few details are known, specifically when it comes to the police-related shooting of Philando Castile in Baton Rouge last week.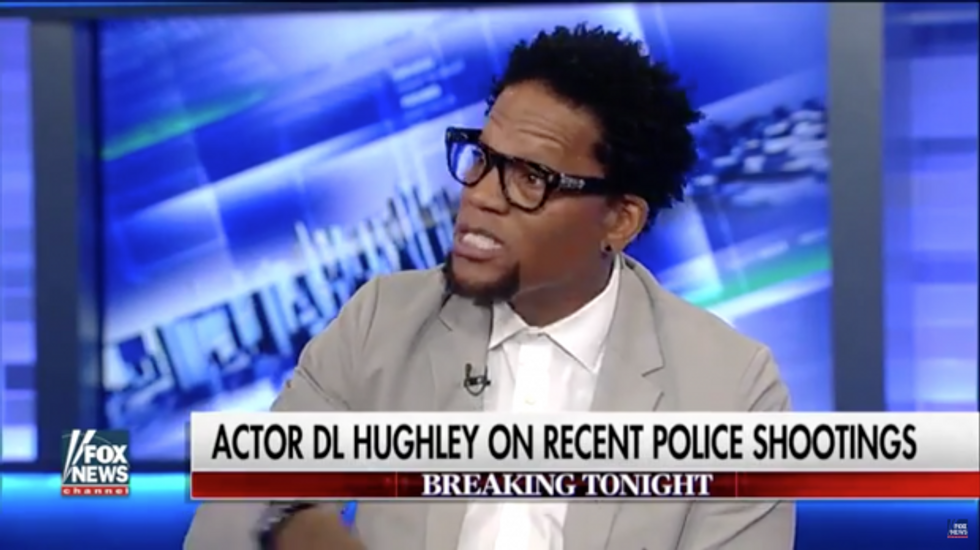 Fox News screen grab
He pushed back, however, telling Kelly she is "willing to give [the officer involved] a presumption of innocence I'm not." In response, the Fox News host informed Hughley "the law gives him the presumption of innocence."
The tense back and forth seemed to be sparked when the author learned that Fox News contributor Mark Fuhrman, who rose to fame in the wake of the O.J. Simpson trial, was featured in the segment before his, something of which he was apparently unaware. From that point forward, the interaction was anything but friendly.
A few minutes into the interview, the conversation turned toward the 2014 police shooting of Michael Brown in Ferguson, Missouri. Hughley told Kelly the facts of that case are still unknown, disregarding the Justice Department's ruling that, while the Ferguson Police Department did exhibit systematic racism, the "hands up, don't shoot" narrative surrounding Brown's death was wholly untrue. Kelly also pointed out that the department exonerated the officer involved.
At that, Hughley offered his sarcastic jab toward Fox News.
"The only place racism doesn't exist is Fox News and the police department," he said. "That's absolutely true."
Kelly responded, calling the accusation "insulting" to the millions of people who watch the channel. But Hughley shot back at the host saying he's "insulted by the things I hear on this network — so we're even."
"I couldn't care less about insulting people who insult me on a daily basis," he said, adding that he believes "a lot of people on this network have never seen a black man."
Watch the very charged argument below:
—
Follow the author of this story on Twitter: