At least two individuals with connections to terrorism conducted a "dry run" two years before the 9/11 attacks on a commercial flight from Phoenix to Washington, D.C.
According to newly declassified pages released Friday by Congress, the FBI investigated the 1999 incident and found that two individuals, Mohammed Al-Qudhacein and Hamdan al-Shalawi, boarded an America West flight bound for the nation's capital. The documents say the men were traveling to Washington, D.C., to attend a party at the Saudi Embassy when Al-Qudhacein asked one of the flight attendants where the bathroom was.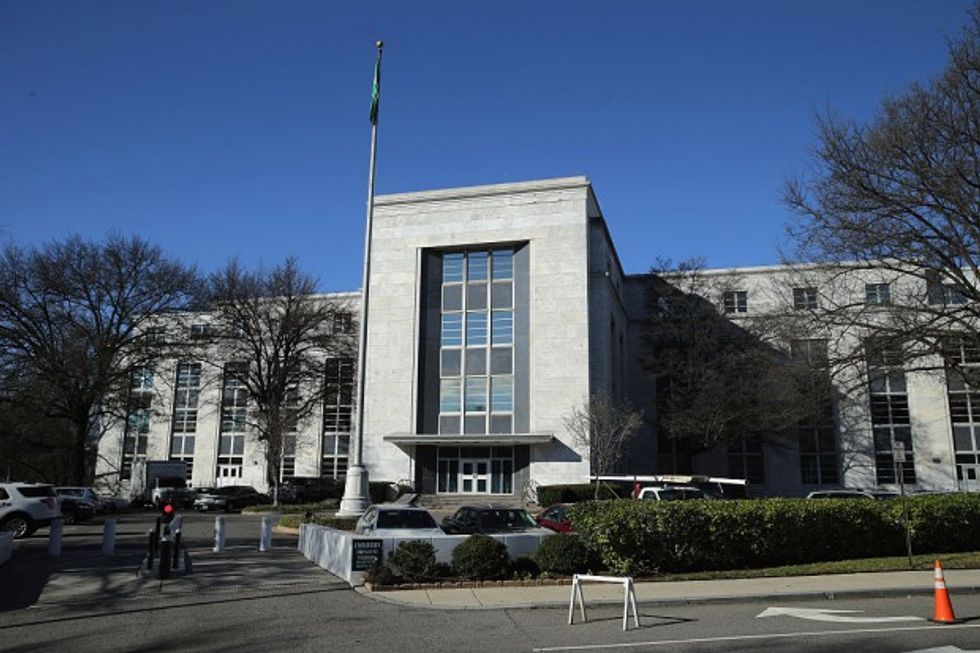 The Kingdom of Saudi Arabia's embassy in the United States stands in the Foggy Bottom neighborhood near the Kennedy Center for the Performing Arts and the Watergate complex January 4, 2016 in Washington, DC. Saudia Arabia severed diplomatic ties with Iran after protesters ransacked and set fire to its embassy in Tehran on Saturday, along with the Saudi Consulate in IranÕs second-largest city, Mashhad, after the Saudis executed a Shiite cleric, Sheikh Nimr al-Nimr. (Photo by Chip Somodevilla/Getty Images)
"After they boarded the plane in Phoenix, they began asking the flight attendant technical questions about the flight that the flight attendants found suspicious. When the plane was in flight, al-Qudhacein asked where the bathroom was; one of the flight attendants pointed him to the back of the plane," the pages reveal.
"Nevertheless, al-Qudhacein went to the front of the plane and attempted on two occasions to enter the cockpit," the report added. "The plane made an emergency landing and the FBI investigated the incident, but decided not to pursue a prosecution."
According to the report, both men claimed their tickets were paid for the by Saudi Embassy. An FBI investigation later found that both had "connections to terrorism." The FBI did not immediately respond to TheBlaze on Friday when asked what those "connections" were, specifically.
The "28 pages," as they have become known, were part of the House Intelligence Committee's 9/11 report and were declassified amid questions of whether the Saudi Arabian government possibly played a role in the attacks, which killed nearly 3,000 Americans.
(H/T: @justinjm1)
—