Retired neurosurgeon Ben Carson, himself a vanquished candidate for the Republican presidential nomination, seemed to link Hillary Clinton to "Lucifer" during his six-minute speech at the GOP convention Tuesday night.
"Now, one of the things that I have learned about Hillary Clinton is that one of her heroes, her mentors, was Saul Alinsky," Carson said, deviating from his prepared remarks. "And her senior thesis was about Saul Alinsky — this was someone she greatly admired. And let me tell you something about Saul Alinsky. So he wrote a book called 'Rules for Radicals.' It acknowledges Lucifer, the original radical who gained his own kingdom."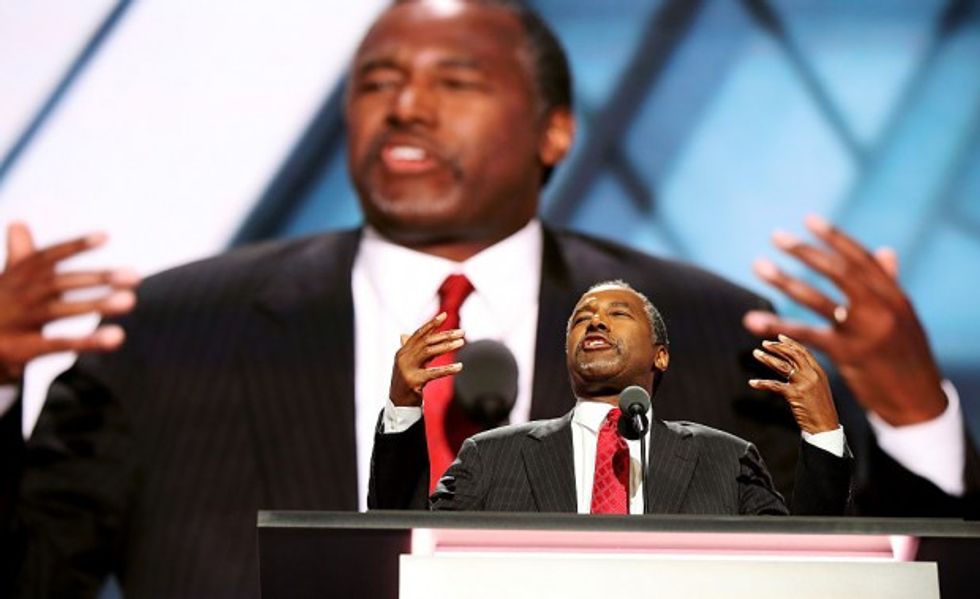 Former Republican presidential candidate Ben Carson delivers a speech on the second day of the Republican National Convention on July 19, 2016 at the Quicken Loans Arena in Cleveland, Ohio. Republican presidential candidate Donald Trump received the number of votes needed to secure the party's nomination. An estimated 50,000 people are expected in Cleveland, including hundreds of protesters and members of the media. The four-day Republican National Convention kicked off on July 18. (Photo by Joe Raedle/Getty Images)
He went on to ask the delegation gathered at the Quicken Loans Arena in Cleveland if they are "willing to elect someone as president who has as their role model somebody who acknowledges Lucifer."
"Now think about that," he said to the energetic audience. "This is our nation, where our founding document, the Declaration of Independence, talks about certain inalienable rights that come from our creator; a nation where our Pledge of Allegiance says we are one nation under God. This is a nation where every coin in our pockets and every bill in our wallet says 'In God We Trust.'"
The remarks earned a lengthy and boisterous applause from the conservatives still gathered in the arena Tuesday night.
Also in his speech, Carson asserted that the "secular progressive agenda" of Clinton and the Democrats is "antithetical to the principles of the founding of this nation." He said if voters continue to "allow them to take God out of our lives, God will remove himself from us."
In Carson's view, Donald Trump, who was officially nominated by the Republican Party Tuesday, understands the foundational principles upon which the U.S. was built.
"Donald Trump, he understands this very well," Carson said. "He understands that the blessings of this nation come with a responsibility to ensure that they are available to all, not just the privileged few."
"This is exemplified by his willingness to take on the establishment against all odds," he continued. "It is evident in his passion for the American worker. It is found in his desire to put his considerable skills to work on behalf of American interest, not his self-interest."
Carson, who endorsed Trump shortly after ending his own campaign for the GOP nomination, said the billionaire businessman is "extraordinary" and "the right leader for such a time as this."
Watch his address below:
–
Follow the author of this story on Twitter: