Ivanka Trump became her father Donald Trump's ambassador to women Thursday night when she sought to introduce a Republican presidential nominee who prioritizes equal pay and affordable child care.
Speaking ahead of the billionaire businessman, the younger Trump described her father as a "color-blind and gender-neutral" man who "hires the best person for the job, period." Ivanka Trump, who has worked alongside Donald Trump for more than a decade, said the candidate hires people from "all walks of life."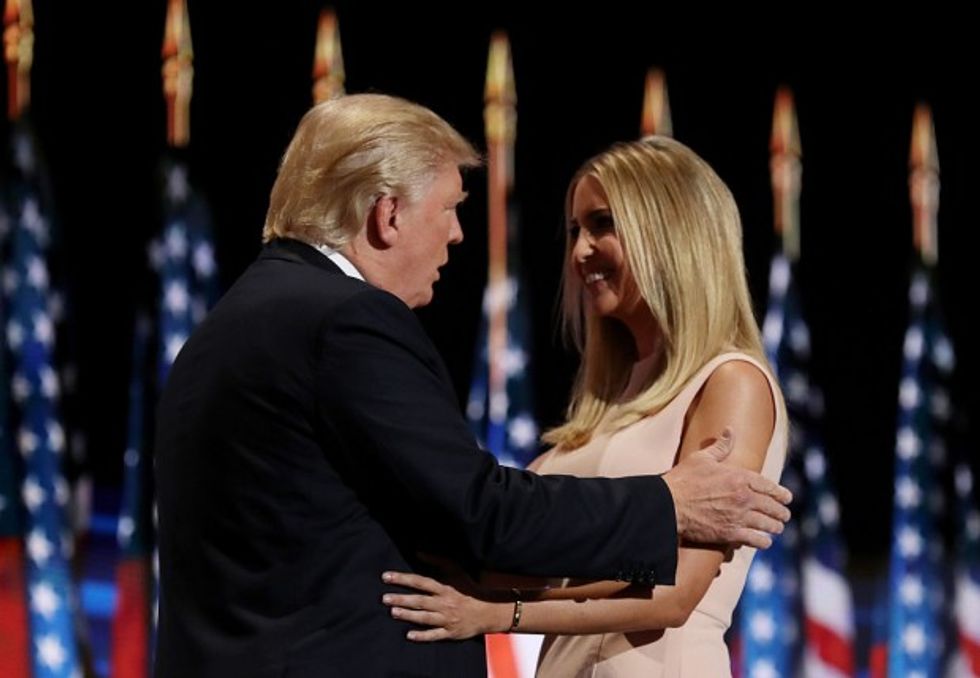 Photo by Joe Raedle/Getty Images
While the elder Trump has been the subject of criticism for his comments about women, his daughter assured listeners in Cleveland at the Quicken Loans Arena that Donald Trump's construction sites are "true meritocracies."
In a speech that outlined many priorities often highlighted by Democrats, Ivanka Trump also indicated the GOP nominee would make affordable childcare a key issue in his potential presidency. She suggested motherhood created pay inequities and said her father would fight to change that.
Donald Trump will "focus on making affordable childcare affordable and accessible for all," Ivanka Trump told the excited crowd. It is important to note, though, that the candidate himself has not yet addressed issues of pay inequality or childcare costs on the campaign trail.
In Ivanka Trump's view, Donald Trump has "the kindness and compassion that will enable him to be the leader that this country needs."
"I am here to tell you that this is the moment, and Donald Trump is the person, to make America great again," Ivanka Trump said, borrowing her father's famous slogan. "If it's possible to be famous, and simultaneously not well-known, that describes the father who raised me."
"I have seen him fight for his family," she continued, "I have seen him fight for his employees, I have seen him fight for his company, and now, I am seeing him fight for our country."
Closing her remarks, before Donald Trump took the stage to deliver his much-anticipated nomination acceptance speech, she shared of her father's optimism and love for the United States. She said the New York real estate developer will bring "fresh perspective" and "brave new solutions" to the White House, if he succeeds in November.
"He's the single-most qualified person to serve as chief executive of an $18 trillion economy," she asserted.
Watch Ivanka Trump's entire speech below:
—
Follow the author of this story on Twitter: