Liberal political satirist Bill Maher hosted his third consecutive live broadcast Friday after the Republican National Convention in Cleveland came to a close.
Maher devoted a special editorial segment of his show to the newly appointed GOP presidential nominee, Donald Trump, in which he described the billionaire business man as a "'50s guy" whose dated views on women and minorities are fundamentally problematic for modern society.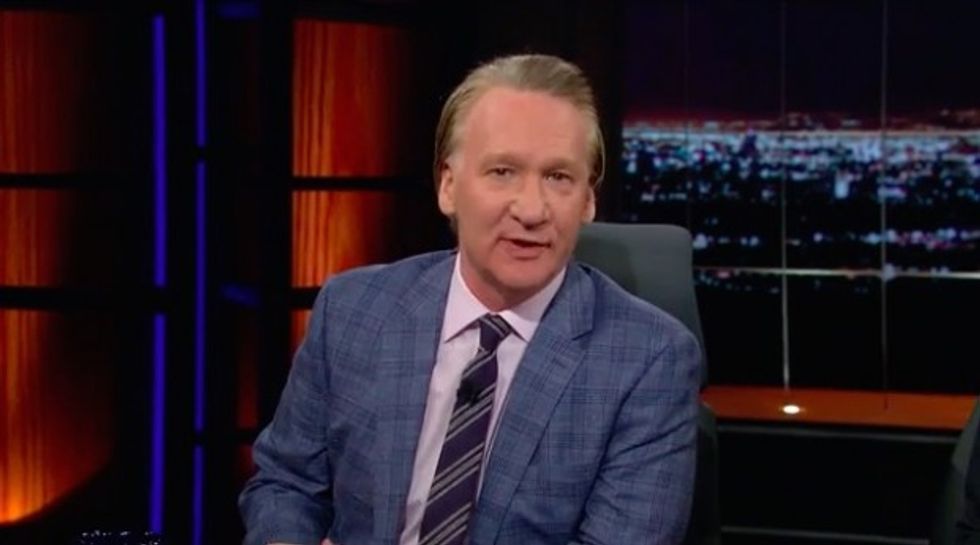 Image source: YouTube/"Real Time With Bill Maher"
During the segment titled "New Rule," Maher made the case for why Trump's "Make America Great Again" really translates to, "Make America White Again."
"Now that the Republican Convention is finally over, those of you thoroughly disgusted by what you witnessed have to look on the bright side: win or lose, Donald Trump will probably be the last '50s guy to run for president, and frankly, that is something to be thankful for," Maher began.
"Because '50s guys, you know, guys like Trump who actually say, 'I'm a '50s guy,' we know what they mean," he said, cutting to an old interview clip of Trump telling ABC News, "I think putting a wife to work is a very dangerous thing."
"When I come home and my dinner's not ready, I go through the roof," Trump tells the female reporter.
"The '50s guy," Maher continued. "He likes steak, he keeps a bottle of Scotch in his desk and he thinks an educated woman should be locked up," he said as the screen displayed a photo of Democratic presidential candidate Hillary Clinton.
Maher went on to assert that the "tension between '50s and '60s people is what still drives our politics today." He depicted progressive Democrats as those seeking to build upon the social and political change that began in the '60s, while Republicans seek to return to the "Leave It to Beaver" era of the '50s when "white men didn't have to really try."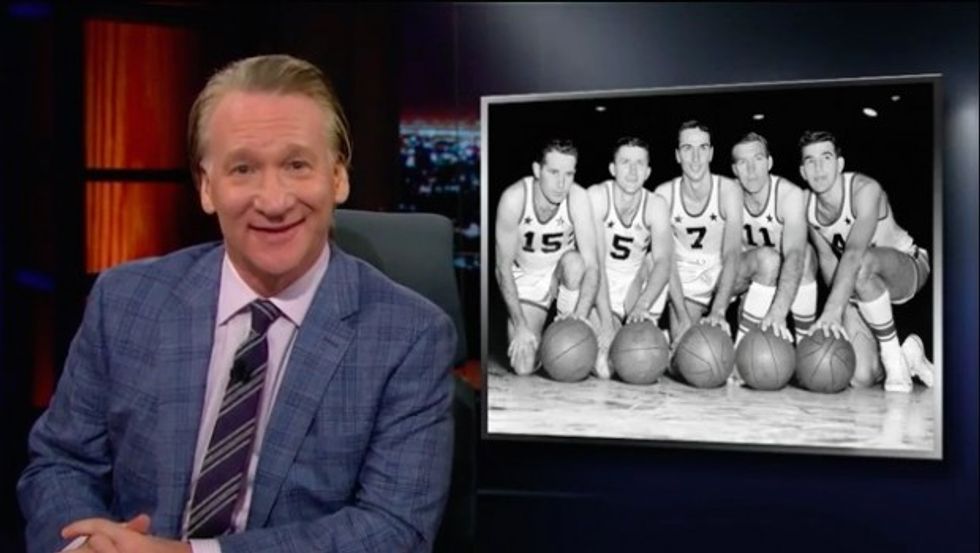 Image source: YouTube/"Real Time With Bill Maher"
"[Trump] complains about rigged systems, but the '50s was the ultimate rigged system," the "Real Time" host continued. "For example, basketball teams looked like this," Maher said, showing an old team photo featuring all-white players.
"Trump was 10 when Elvis burst on the scene, and while other people had made music like that before, only Elvis had the insight to do it while being white," Maher joked.
The host added that, in the '50s, "nobody ever asked you to 'check your privilege' — you didn't have to check; it was there alright."
Maher then offered his final explanation for why Trump's "Make America Great Again" slogan appeals to so many Americans.
"When Republicans talk about 'restoring America,' 'making it great again,' 'taking their country back,' this is where they want to take it back to: 1959, when life was still in black and white, before the '60s came along and ruined everything with color."