Conservative Christian radio talkshow host and author Eric Metaxas appeared on "CNN Tonight" with Don Lemon Friday to discuss Hillary Clinton's newly appointed running mate, Virginia Sen. Tim Kaine.
Metaxas explained to Lemon that Clinton has some obstacles to overcome if she hopes to gain the votes of religious pro-life voters. He noted that her decision to choose Kaine, a practicing Catholic who personally opposes abortion, as her vice president is a smart one, but the challenges facing her party remain.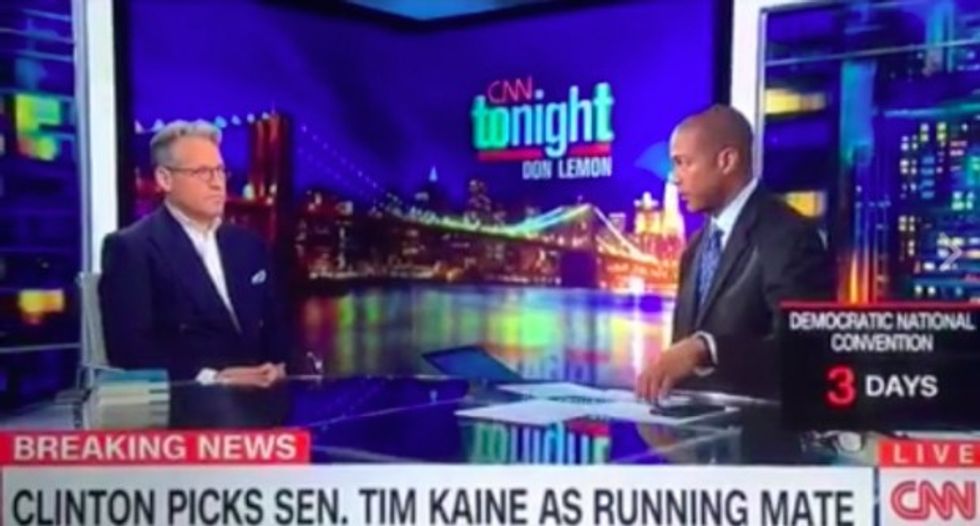 Image via Facebook/Eric Metaxas
"I mean, [Clinton] has to deal with the fact that ... the Democrats are considered the party of Planned Parenthood and selling baby parts," he said. "Now, that's gruesome. She has to deal with that. So I think she probably reached to a religious candidate because she realizes that she's gonna be attacked on that."
When Lemon noted that Kaine is well liked by Planned Parenthood, the pro-life talkshow host interjected.
"Right!" Metaxas fired back. "Now that he's out of the womb."
Lemon nodded at first, until he realized what had been said.
"OK," Lemon said, seeming a little agitated by the comment.
"Enough?" Metaxas asked.
Lemon smiled and rolled his eyes before saying, "yeah," and moving on.
Metaxas posted a recording of his exchange with Lemon to Facebook Saturday.
"It just came out, I suppose," he wrote of his "womb" comment. "I loved being on and hope Don Lemon will have me back soon! This is an important time in our country and we need to talk about these things!"