PHILADELPHIA — Bernie Sanders' supporters booed their own leader today when he suggested that they vote for presumptive nominee Hillary Clinton in November.
The Vermont senator and 2016 hopeful has all but dropped out of the presidential race, transferring his support to the former secretary of state.
But a leak of Democratic National Committee emails this weekend has sent Sanders' supporters into an uproar for supposedly proving that the DNC favored Clinton over Sanders throughout the Democratic primary.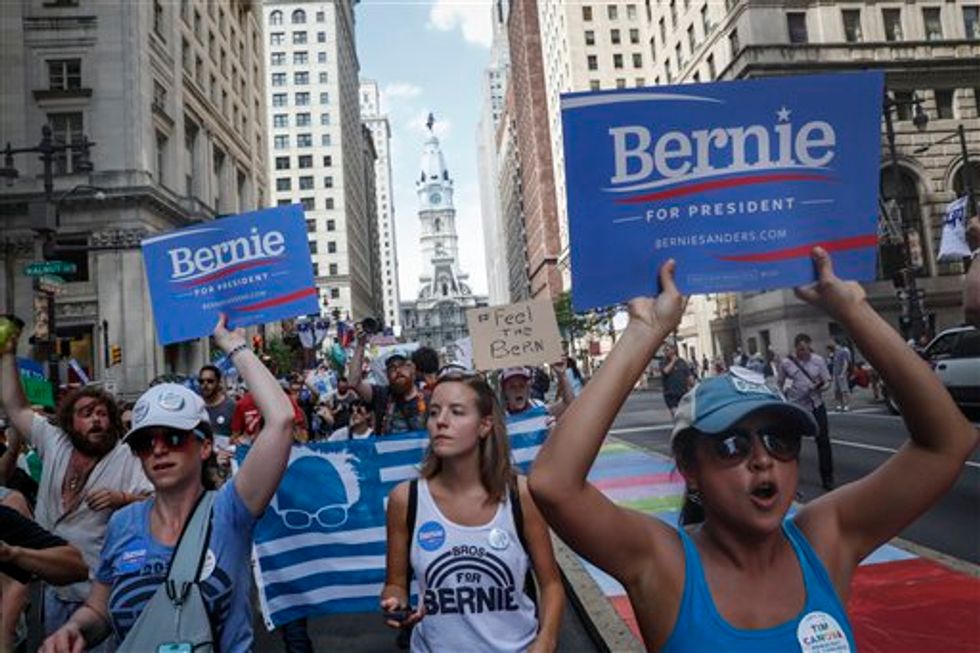 Supporters of Sen. Bernie Sanders, I-Vt., march during a protest in Philadelphia on Sunday. (AP/John Minchillo)
At an event Monday in Philadelphia ahead of his speech to the Democratic National Convention tonight, supporters of the Democratic socialist candidate didn't take kindly to his message of reconciliation and party unity.
"We have got to defeat Donald Trump, and we have got to elect Hillary Clinton and Tim Kaine," Sanders said, but was met with both cheers and boos by the crowd.
BERNIE: "We have got to defeat Donald Trump, & we have to got to elect Hillary Clinton & Tim Kaine."
CROWD: pic.twitter.com/uYpi1yex3L

— David Mack (@davidmackau) July 25, 2016
After the emails leaked, DNC chair Debbie Wasserman Schultz announced plans to step down from her role and join the Clinton campaign. She was booed at a breakfast with the Florida delegation this morning, and will no longer gavel the convention into order on Monday, the AP reported today.
—
Follow the author of this story on Twitter and Facebook:
[facebook //www.facebook.com/plugins/like.php?href=