PHILADELPHIA — Bernie Sanders' supporters have already made their voices heard at the Democratic National Convention, but they have yet to face their biggest challenge — Tuesday's roll-call vote.
Division within the party was on full display in the City of Brotherly Love as the convention got underway Monday, due in part to the leaked DNC emails that purportedly revealed the party convoluting and conspiring against Sanders, the self-proclaimed democratic socialist and anti-establishment candidate. Despite an apology from the DNC and resignation of party chief Rep. Debbie Wasserman Schultz (D-Fla.), tensions still ran high among delegates gathered in Philadelphia — especially within those whose loyalty lay with Sanders.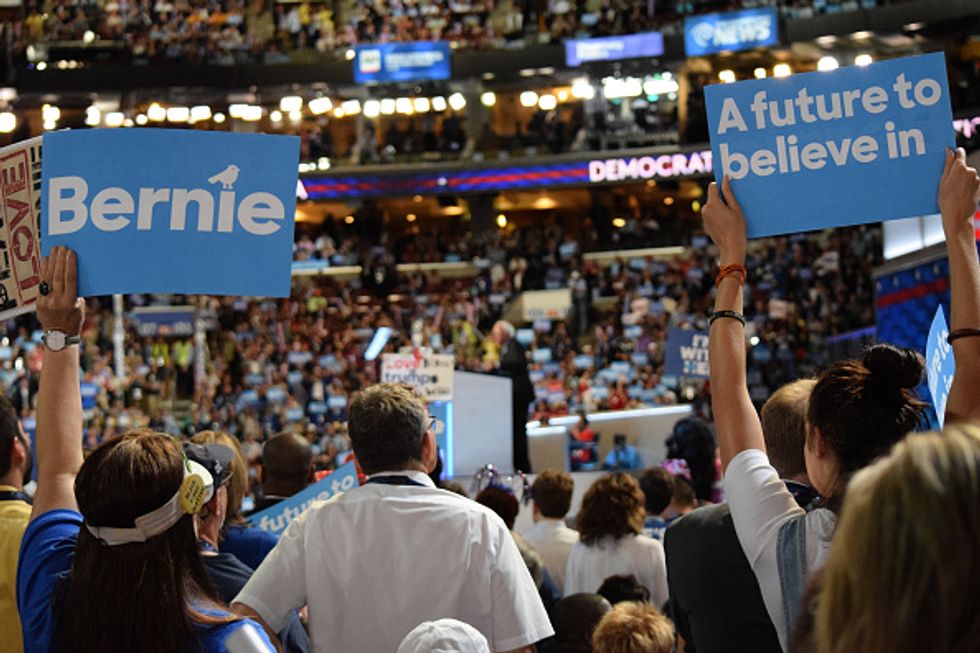 Democratic National Convention at the Wells Fargo Center in Philadelphia. (Gatty Images/Alycia Monaco)
Along with front-runner former Secretary of State Hillary Clinton, Sanders' name was placed into nomination in a move that DNC sources said Monday night was "mostly symbolic." With both candidates still technically in contention for the nomination, each will get 20 minutes of floor time later Tuesday. Sanders has not yet officially suspended his presidential campaign.
During the roll-call vote, Clinton could win simply by an acclamation vote from Sanders for Clinton, thus ending the voting process and making the Democratic Party the first national party to nominate a woman for president.
Clinton employed that same tactic in 2008 when she ran against then-Illinois Sen. Barack Obama as she cut the roll-call vote short. She then released her delegates and contended that Obama be determined the nominee by acclamation.
Sanders' spokesman announced Tuesday afternoon that the Vermont senator has asked that his state go last in the roll-call vote, despite the vote usually going through in alphabetical order, and said that he will then acclimate his vote for Clinton, CNN's Dan Merica reported Tuesday. By going last, Sanders will be able to count Washington's and Wisconsin's votes for him before he cedes to Clinton.
But multiple Sanders and DNC sources also told TheBlaze Tuesday that by waiting until the very last minute, Sanders could be holding off to see if Clinton reaches the 2,383 delegates needed to clinch the nomination.
If she doesn't, some Sanders supporters remain hopeful that he could make a ploy to become the nominee; others simply think he will still acclimate his vote as he's "proved his point."
Even Monday night, while he attempted to assuage his frustrated supporters and advised his base to back a Clinton nominee, Sanders said, "I look forward to your vote during the roll-call tomorrow."
By mentioning the roll-call, Sanders essentially squelched any hope that he would pull the same gracious move in the name of party unity, Democratic operatives told TheBlaze.
Clinton press secretary Brian Fallon said he fully expected a roll-call vote to occur, CBS reported.
"It is exactly in keeping with our philosophy that every vote should count, and that means every delegate being counted on the floor of the convention," he said.
Thousands of Sanders supporters and anti-Clinton demonstrators took to the humid streets Monday and Tuesday to protest, and delegates packed the Wells Fargo Arena with duct tape covering their mouths to symbolize their voices being silenced.
Now, all eyes are on Tuesday's roll-call vote as delegates plan for what some have called "the fight of their lives."
Jeff Cohen, media coordinator for the Bernie Delegates Network, told TheBlaze to expect a possible demonstration from the convention floor or a walk-out Tuesday during the roll-call vote.
"It's hard to get a consensus on what is to be done," Cohen said in an interview.
A Democratic operative told TheBlaze that as Sanders' supporters are "dealing with the pains of a campaign ending," they are also attempting to launch a fight for the "last-ditch remnants of what was the result of the contentious primary."
"It was a contentious primary, and we're seeing some of the side effects of that," the operative said.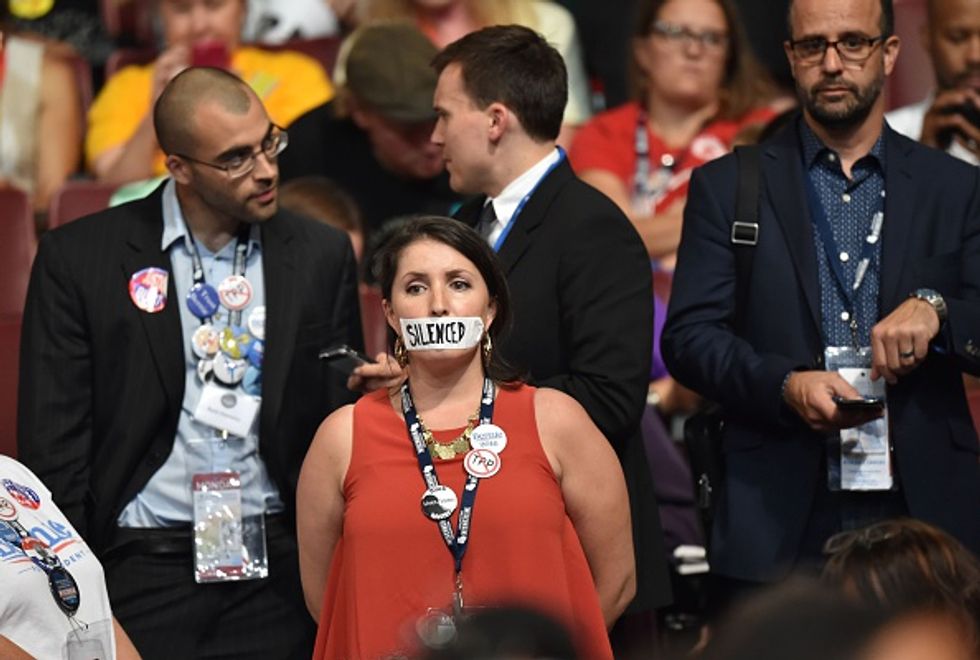 A supporter of Democratic presidential candidate Bernie Sanders stands in silent protest during Day 1 of the Democratic National Convention at the Wells Fargo Center in Philadelphia, Pennsylvania. (Getty Images/Nicholas Kamm)
But even with his name placed in nomination, a group of Sanders' delegates said Tuesday morning that it wasn't enough, especially if the move is purely "symbolic."
Cohen contended that while he couldn't speak for all delegates, many are planning to adhere to what he called the "safe state strategy": in states where Clinton or Trump is almost certain to dominate, Sanders supporters will vote for Green Party candidate Jill Stein or another "protest candidate;" in swing states, Sanders' supporters will vote Democrat "despite the misgivings."
"If Clinton had chosen someone like [Massachusetts Sen.] Elizabeth Warren, the convention would be happy, and we could easily defeat Trump," Cohen said. "It could have been an easy election."
Even prior to the roll-call vote, Sanders supporters have been antsy — some stood in the convention hall with tape over their mouths that read, "Silenced at the DNC," and others shouted the oft-criticized chant that rang out at the GOP convention: "Lock her up." Still others have clashed with Clinton supporters and shouted down Wasserman Schultz at delegation breakfasts.
While the GOP convention faced its own division between supporters of eventual presidential nominee Donald Trump and supporters of Texas Sen. Ted Cruz, Democratic activists said there is a stark difference between the fight at the RNC and the fight here at the DNC — how the so-called outsider candidates have handled the consternation. Sanders has publicly asked delegates and supporters to refrain from protesting and booing, Cruz encouraged Republicans to "vote their conscience."
"What you're going to see here is going to be totally different than what you saw in Cleveland because what they were doing in Cleveland was pushing a negative," said Matt Corridoni, communications director for Richmond mayor candidate Levar Stoney (D) and former aide to Democratic presidential contender Gov. Martin O'Malley (Md.). "Any communications professional is going to tell you, you can't win by pushing a negative. You need to be united around someone and rallying behind policies in a platform to win in November."
"Democrats are here to rally behind Secretary Clinton and propel her into victory this November," Corridoni told TheBlaze.
While there isn't a clear consensus among delegates about what is to be done about a possible Clinton nomination, two things are clear to them: Virginia Sen. Tim Kaine is not the ideal running mate and Trump must be defeated in November.
"The other consensus among Bernie delegates is to show everyone that progressivism is alive and active," Cohen said.
—
Follow Kaitlyn Schallhorn (@K_Schallhorn) on Twitter