A group of bystanders witnessed an apparent drunken scuffle between two men on a rental boat over the weekend in Maryland.
The brawl erupted Saturday during a charity regatta on the Choptank River. Daryl Newhouse, who was riding in a safety boat for the race posted a video on Facebook, along with a description of the incident.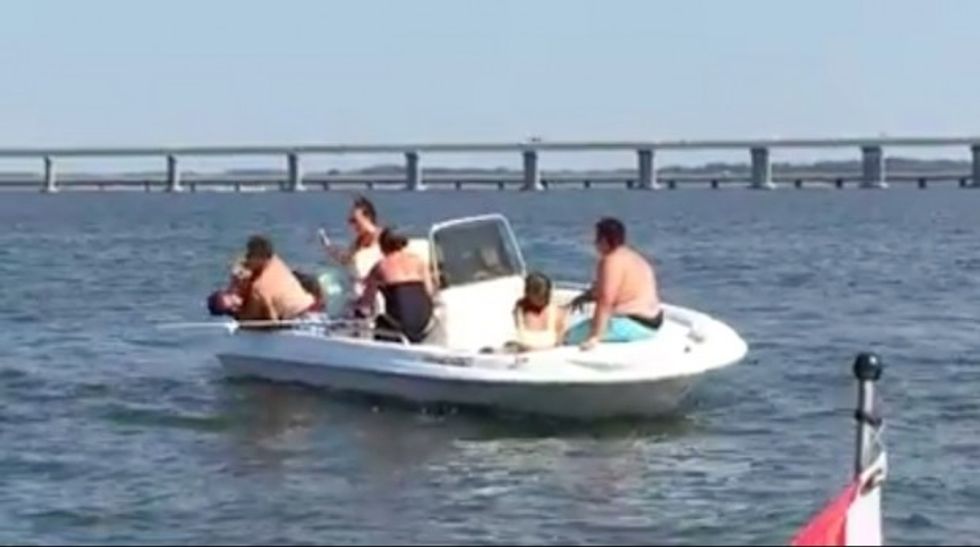 Image via Facebook
"We tried to hail a boat that was getting dangerously close to our sailboat racers and was interfering with the course," she wrote.
They ignored our hailing and we started to follow them because they were operating so unsafely and appeared very drunk. Madness ensued and of course no DNR or Coast Guards were anywhere in the area. I seriously worried one of them was going overboard. They did over $3000 damage to their rental boat from the Hyatt resort rental concession.

Women on the rental boat screamed frantically for the rowdy men to stop, as the stumbling combatants came dangerously close to falling overboard.
Witnesses on the safety boat noted that none of the six people in the vessel had a life vest.
During the recording a man on the safety boat can be heard calling law enforcement officials as the men continue to brawl, dealing punches to each others' heads and bodies.
At one point, the boat hook appears to break off and one of the men uses it to hit the other.
The video has received over half a million views. Another video Newhouse posted the same day shows one of the men on the rental boat shouting profanities at her after she and her crew called law enforcement.
Charges are reportedly pending against the man who was operating the boat and threw the first blow, WTTG-TV reported.
This story has been updated.