Republican presidential nominee Donald Trump has secured the endorsement of House Speaker Paul Ryan (R-Wis.), but the Manhattan billionaire isn't ready to reciprocate.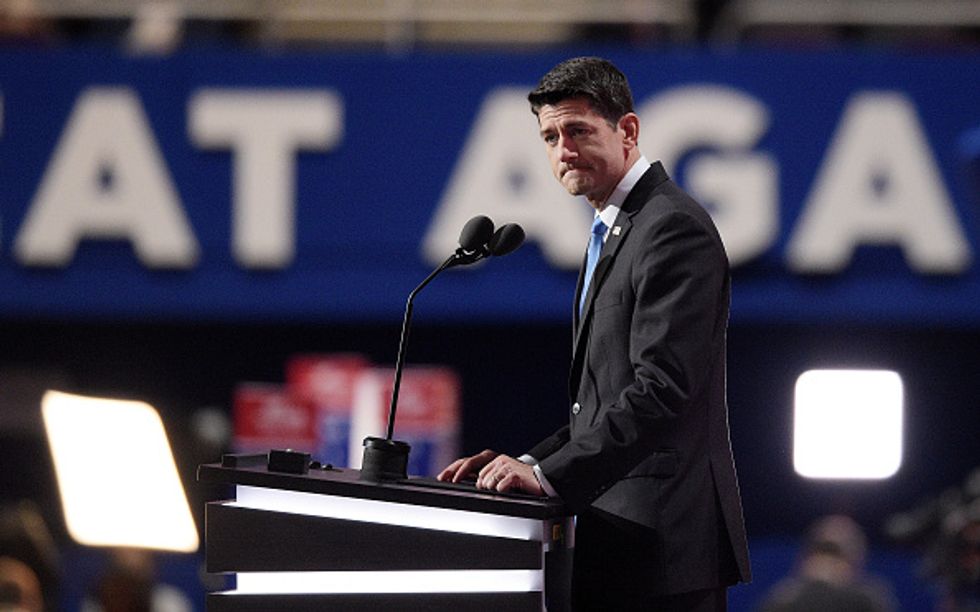 Speaker of the House Paul Ryan delivers a speech on the second day of the 2016 Republican National Convention in Cleveland where Donald Trump received the party's nomination. (Getty Images/Jeff Swensen)
Trump told the Washington Post Tuesday that he is "not quite there yet" when it comes to backing the Wisconsin Republican in his upcoming primary election. He contended that, while Ryan has sought out his support, Trump is only "giving it very serious consideration right now."
"I like Paul, but these are horrible times for our country," Trump told the Post. "We need very strong leadership. We need very, very strong leadership. And I'm just not quite there yet. I'm not quite there yet."
On Monday, Trump praised Ryan's primary challenger Paul Nehlen on social media as he thanked him for his "kind words, very much appreciated."
Thanks to @pnehlen for your kind words, very much appreciated.

— Donald J. Trump (@realDonaldTrump) August 1, 2016
The presidential nominee reiterated his praise for Nehlen Tuesday as he told the Post that he is running "a very good campaign."
He added that Nehlen "is a big fan of what I'm saying — big fan."
@realDonaldTrump my pleasure, Sir. Just want to Make America Great Again.

— Paul Nehlen (@pnehlen) August 1, 2016
"[Ryan's] opponent sent me a very scholarly and well thought out letter yesterday and all I did was say think you very much for your very nice letter. You saw my statement," Trump said. "I'm giving very serious consideration to that whole situation, to Ryan, to Paul."
While Ryan did endorse Trump after he became the GOP's presumptive nominee, he has not withheld his criticism of the bombastic businessman, especially when it comes to his call for a moratorium on Muslim immigrants. He also told CNN prior to his endorsement that he was "just not quite there yet" when asked about his support of Trump — a phrase that Trump appears to be repeating in his Post interview.
Aside from Ryan, Trump also declined to support Sens. John McCain (Ariz.) and Kelly Ayotte (N.H.) in their primary challenges. Neither Ayotte nor McCain have endorsed Trump, though Ayotte has said she will "support" Trump.
—
Follow Kaitlyn Schallhorn (@K_Schallhorn) on Twitter