Comedian Patton Oswalt posted an emotional note on Facebook late Monday evening about grief 102 days after he lost his wife, Michelle McNamera, 46, a crime writer. McNamera died unexpectedly in her sleep in April.
"Thanks, grief," Oswalt wrote. "Thanks for making depression look like the buzzing little bully it always was."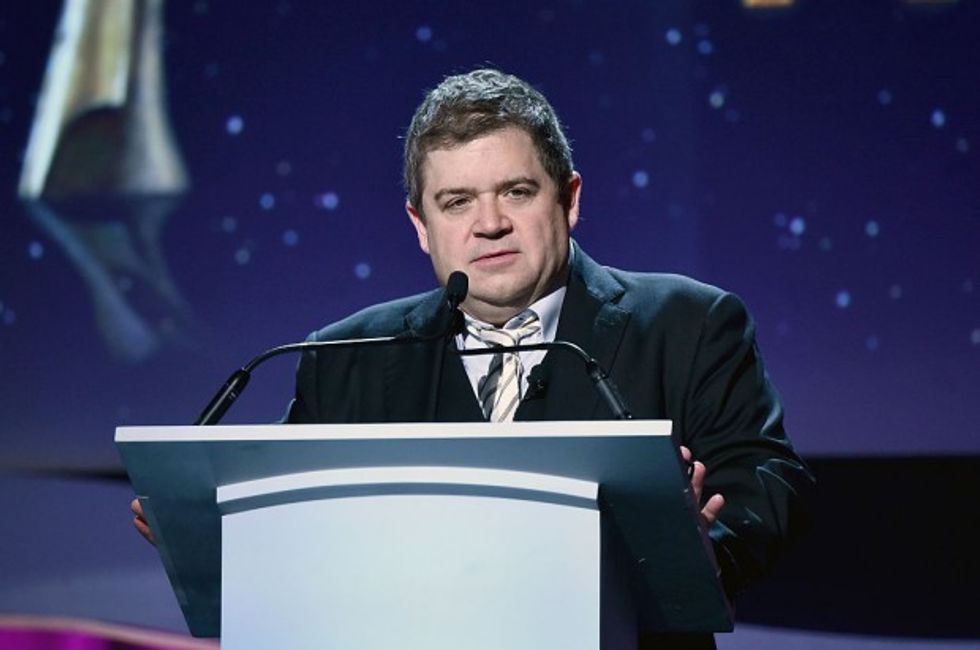 Patton Oswalt speaks onstage during the 2016 Writers Guild Awards at the Hyatt Regency Century Plaza Feb. 13 in Los Angeles. (Alberto E. Rodriguez/Getty Images for Writers Guild of America, West)
Oswalt wrote that "102 days at the mercy of grief and loss feels like 102 years and you have s**t to show for it."
"You will not be physically healthier," he wrote. "You will not feel 'wiser.' You will not have 'closure.' You will not have 'perspective' or 'resilience' or 'a new sense of self.' You WILL have solid knowledge of fear, exhaustion and a new appreciation for the randomness and horror of the universe. And you'll also realize that 102 days is nothing but a warm-up for things to come."
He vowed to finish McNamera's "amazing unfinished book."
"And I'm going to start telling jokes again soon," Oswalt wrote. "And writing. And acting in stuff and making things I like and working with friends on projects and do all the stuff I was always so privileged to get to do before the air caught fire around me and the sun died. It's all I knew how to do before I met Michelle. I don't know what else I'm supposed to do now without her."
Oswalt wrote that he's moving on not because he thinks moving on "is what Michelle would have wanted me to do."
"For me to even presume to know what Michelle would have wanted me to do is the height of arrogance on my part," he wrote. "That was one of the many reasons I so looked forward to growing old with her. Because she was always surprising me. Because I never knew what she'd think or what direction she'd go."
He concluded:
Okay, I'll start being funny again soon. What other choice do I have? Reality is in a death spiral and we seem to be living in a cackling, looming nightmare-swamp. We're all being dragged into a shadow-realm of doom by hateful lunatics who are determined to send our planet careening into oblivion.

Hey, there's that smile I was missing!
Read Oswalt's full post below:
(Content warning: Strong language)
—
Follow the author of this story on Twitter and Facebook: