Fox News host Bret Baier questioned Brian Fallon, Democratic presidential nominee Hillary Clinton's campaign spokesman, about whether or not the Clinton Foundation is being investigated by the Internal Revenue Service during an interview on "Special Report" Wednesday.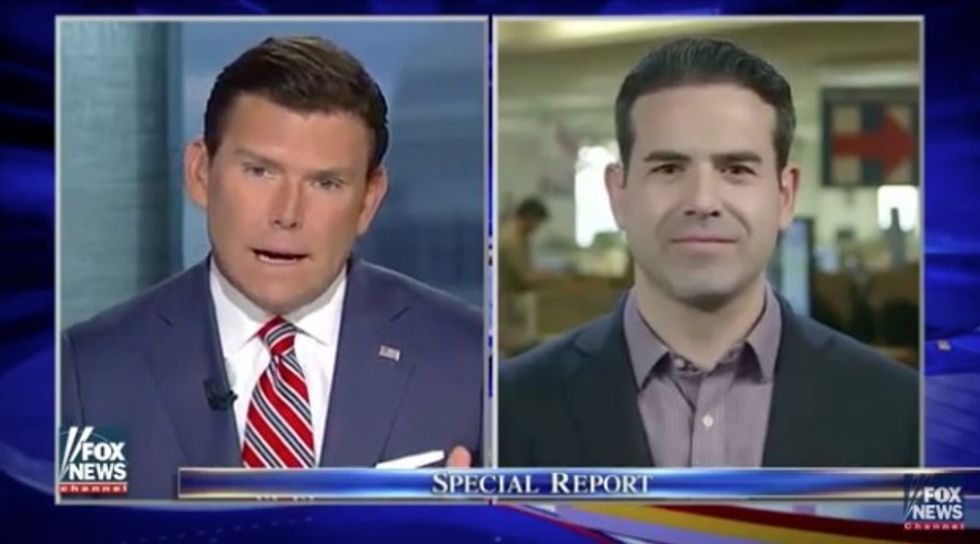 Image source: YouTube
The Daily Caller first reported that the IRS will investigate "pay to play" accusations at the Bill, Hillary and Chelsea Clinton Foundation.
"Do you know if the Clinton Foundation is under investigation?" Baier asked.
Fallon replied that "there's no basis to believe that."
"I have no knowledge of that, and there's no evidence to that effect," Fallon said. "That has been a baseless report that's been circulating out there."
"The Clinton Foundation does extremely valuable work across the globe when it comes to things like providing drinking-water in countries in Africa, preventing juvenile diabetes and encouraging healthy habits here in the United States for school children," Fallon added. "So the foundation continues to be unfairly the subject of many partisan attacks. But President Clinton and Secretary Clinton are extremely proud of the foundation's work."
Baier continued to press Fallon on the Clinton Foundation, and Fallon replied that Republicans in Congress "leaked" a form letter they received after they asked the IRS to investigate the foundation.
Watch below:
—
Follow the author of this story on Twitter and Facebook: