Thomas Salbey has been hailed as the "balcony man" following a video showing him engaged in a shouting match with Ali Sonboly just after the 18 year old shot up a Munich shopping center last month in a deadly rampage.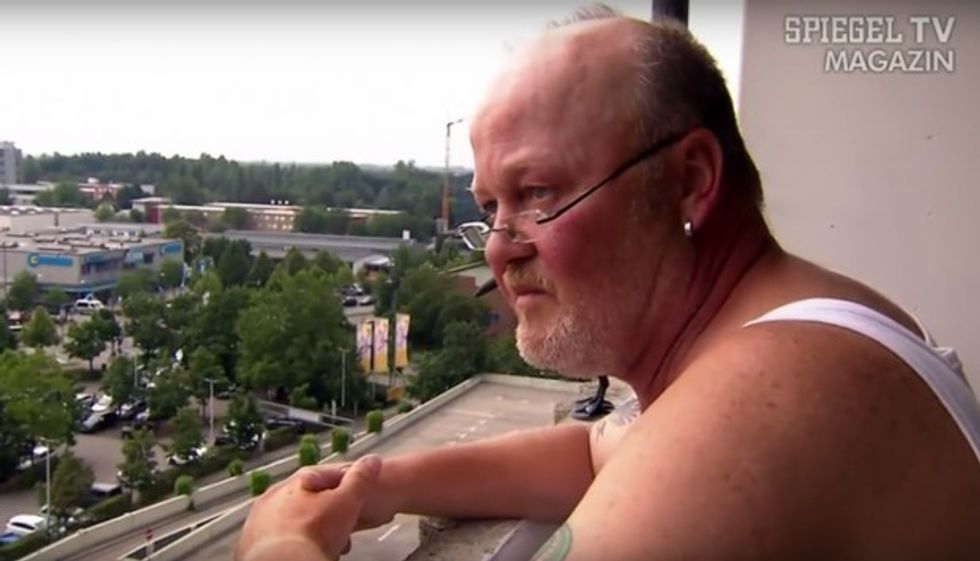 Thomas Salbey (Image source: YouTube)
Salbey heard the first volley of bullets, went to his balcony and spotted the mass shooter running from the scene and reloading his gun. That's when Salbey, 57, chucked his beer bottle at the killer.
With that Sonboly headed to the roof of a parking garage, and Salbey got into it with him, hollering at the killer and reportedly calling him a "wanker," a "f***ing asshole," a "f***ing foreigner" and declaring "your head should be cut off."
Sonboly argued back, reportedly saying that "because of you I was bullied for 7 years" — and fired several shots at Salbey's direction. Sonboly later died of a self-inflicted shotgun wound.
"All I had was a beer bottle to throw at him," Salbey told the Daily Mail. "If I had a gun ... I'd have shot him in the head."
A neighbor captured the exchange on video, which made Salbey somewhat of a folk hero after it hit the Internet.
But apparently not everyone is giving Salbey pats on his back.
According to the Express, Florian Weinzierl, spokesman from the Munich State Prosecutor's office, said Salbey is being investigated and charges could include "insults to the detriment of the dead."
Weinzierl said the argument between Salbey and Sonboly had no influence on the decision to investigate Salbey, the Express reported.
Sonboly killed nine and injured 16 in his attack.
(H/T: The Gateway Pundit)