Three presidential candidates have been asked to sign a pledge that promises to crack down on existing anti-obscenity laws, but only one nominee responded.
Republican presidential nominee Donald Trump returned the signed pledge to the nonpartisan organization Enough Is Enough prior to his party's national convention last month, the group's founder and CEO Donna Rice Hughes said. Democratic nominee Hillary Clinton's campaign told the organization that while she personally agrees with the pledge and mission, the campaign has a strict policy against signing pledges, Hughes told TheBlaze.
Libertarian Party nominee Gary Johnson has yet to respond to Enough Is Enough's inquiry.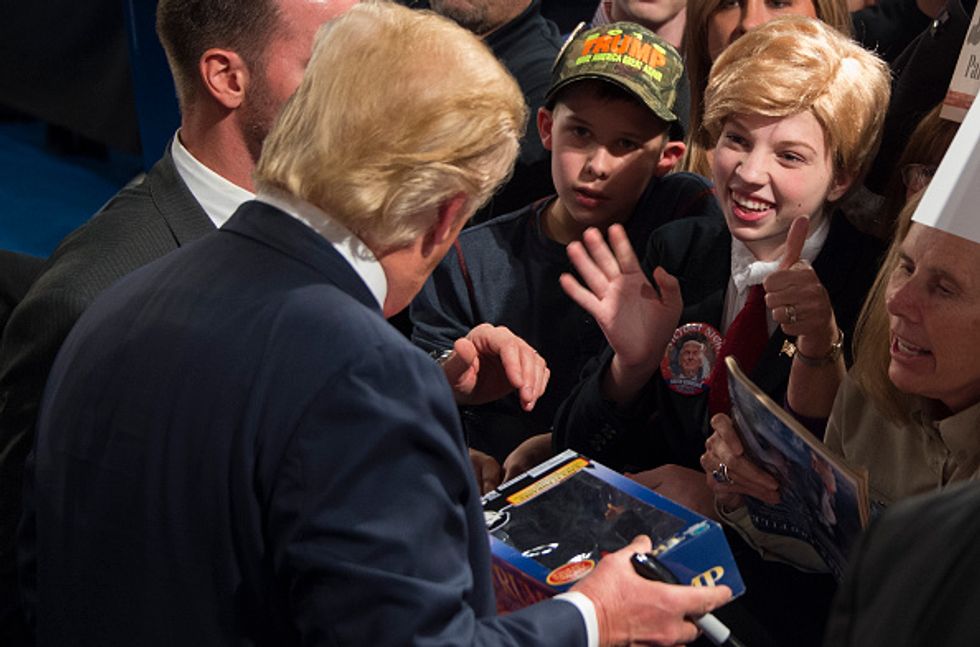 Republican presidential candidate Donald Trump signs a Trump doll for a girl dressed in costume like him during a campaign rally in Sumter, South Carolina. (Getty Images/Jim Watson)
"Mr. Trump's leadership and commitment to uphold the rule of law is demonstrated by his signing of the Children's Internet Safety Presidential Pledge," Hughes said in a statement. "Making the internet safer for children and families is a critical step in making America safe again."
"The Clinton campaign's support of the pledge's goals is also a step in the right direction," she added. "This is a bipartisan unifying issue in which we can all check our differences at the door for the sake of the children. I remain optimistic that Secretary Clinton will reconsider signing this important pledge and that Gov. Johnson will do the same.  
The eight-page pledge states that as president, the signatory will "uphold the rule of law by aggressively enforce existing laws to prevent the sexual exploitation of children online, including the federal obscenity laws, child pornography laws, sexual predation laws and the sex trafficking laws" by appointing an attorney general who would make these goals a top priority as well as provide law enforcement officials with the resources necessary to "investigate and prosecute Internet crimes involving the sexual exploitation of children."
The pledge also calls on the president to ensure that taxpayer-funded schools and public libraries filter child pornography from computers as well as establish a public-private partnership with corporations to create voluntary efforts to "reduce the threat of the Internet-enabled sexual exploitation of children by the implementation of updated corporate policies and viable technology tools and solutions."
That public-private partnership model is one that Enough Is Enough drew upon from the United Kingdom's Prime Minister David Cameron, Hughes told TheBlaze.
"There's a lot of misinformation about what's protected and what is not. Sex trafficking of course is growing exponentially as well as sexual violence against women," Hughes said. "We believe that it's important to get the next president of the United States to lead from the top. What we saw in particular in the United Kingdom is that Prime Minister Cameron did that."
"[Cameron] worked to develop public-private partnerships with corporate U.K. and made the enforcement of all of the laws a priority," she continued. "We really looked at that model and looked at what we have not been able to get accomplished in this country so let's go to the candidates before they're elected and let's see if they agree to do a few very basic things that all fall under the umbrella of aggressive enforcement of the existing laws."
Hughes stressed that neither the organization nor the pledge was "anti-porn" but rather strove to protect children from sexual exploitation and enforce existing laws as more "kids are being exposed to very hardcore, extreme, obscene pornography which is not protected under the First Amendment."
Although Hughes said that Enough Is Enough is a nonpartisan organization and the mission has received bipartisan support, she contended, "Interestingly enough, the Department of Justice, the [attorney generals] under [President Barack] Obama as well as under [former President Bill] Clinton have not aggressively enforced the internet security laws."
—
Follow Kaitlyn Schallhorn (@K_Schallhorn) on Twitter