KANSAS CITY, Kan. (AP) -- The son of a Kansas state lawmaker died Sunday on a water slide that is billed as the world's largest, according to officials and the boy's family.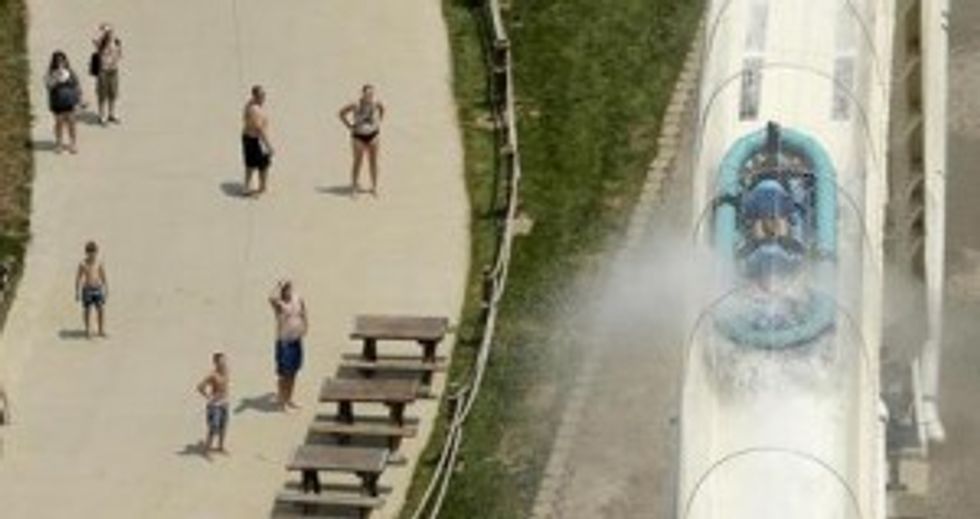 FILE - In this July 9, 2014 file photo, riders are propelled by jets of water as they go over a hump while riding a water slide called "Verruckt" at Schlitterbahn Waterpark in Kansas City, Kan. (AP Photo/Charlie Riedel, File)
Authorities did not immediately identify the boy who died at Schlitterbahn Waterpark, in Kansas City, Kansas, but Kansas state Rep. Scott Schwab and his wife released a statement saying it was their son Caleb Thomas Schwab.
"Since the day he was born, he brought abundant joy to our family and all those he came in contact with," said the statement, which asked for privacy as the family grieves.
Schlitterbahn spokeswoman Winter Prosapio said the child died on one of the park's main attractions, Verruckt, a 168-foot-tall water slide that has 264 stairs leading to the top. The slide's name means "insane" in German.
Officials haven't provided specific details about what led to Caleb's death. Kansas City, Kansas, police spokesman Officer Cameron Morgan said he did not have any information, and Prosapio declined comment, saying more details would be released later.
The park will be closed Sunday and Monday, Prosapio said. An investigation is ongoing.
"Our thoughts and prayers are with the family during this difficult time," Prosapio said in a statement. She told reporters at a news conference that the boy's family had been at the park with him on Sunday.
Authorities initially said the victim was 12 years old, but Clint Sprague, a pastor who is acting as a spokesman for the family, said Caleb was 10.
Verruckt was certified as the world's tallest water slide by Guinness World Records. Riders go down the slide in multi-person rafts and have to be at last 54 inches tall, according to the park's website.
The slide's 2014 opening was delayed a few times, though the operators did not provide reasons for the delays. Two media sneak preview days in 2014 were canceled because of problems with a conveyor system that hauls 100-pound rafts to the top of the slide.
Prosapio said in 2014 that park officials would not hesitate to delay operation again for however long it takes to make sure the slide is safe.
In a news article linked to the news release announcing a 2014 delay, Schlitterbahn co-owner Jeff Henry told USA Today that he and senior designer John Schooley had based their calculations when designing the slide on roller coasters, but that didn't translate well to a water slide like Verruckt.
In early tests, rafts carrying sandbags flew off the slide, prompting engineers to tear down half of the ride and reconfigure some angles at a cost of $1 million, Henry said.
A promotional video for a show about building the slide includes footage of two men riding a raft down a half-size test model and going slightly airborne as it crests the top of the first big hill.
Prosapio said at the news conference that the park's rides are inspected daily and inspected by an "outside party" before the start of each season.
---