Though the government claims the timing of the secret $400 million payment to Iran and the release of four American hostages was merely coincidental, many critics aren't buying it.
During his program Monday night, Glenn Beck laid out exactly what the U.S. got out of the clandestine installment, which was revealed last week by the Wall Street Journal. Rehashing the controversial Iran Deal, Beck outlined what Iran received: sanctions lifted, seven prisoners released, 14 extradition requests dropped and $1.7 billion. The government claimed the $400 million was the first installment of that $1.7 billion agreement.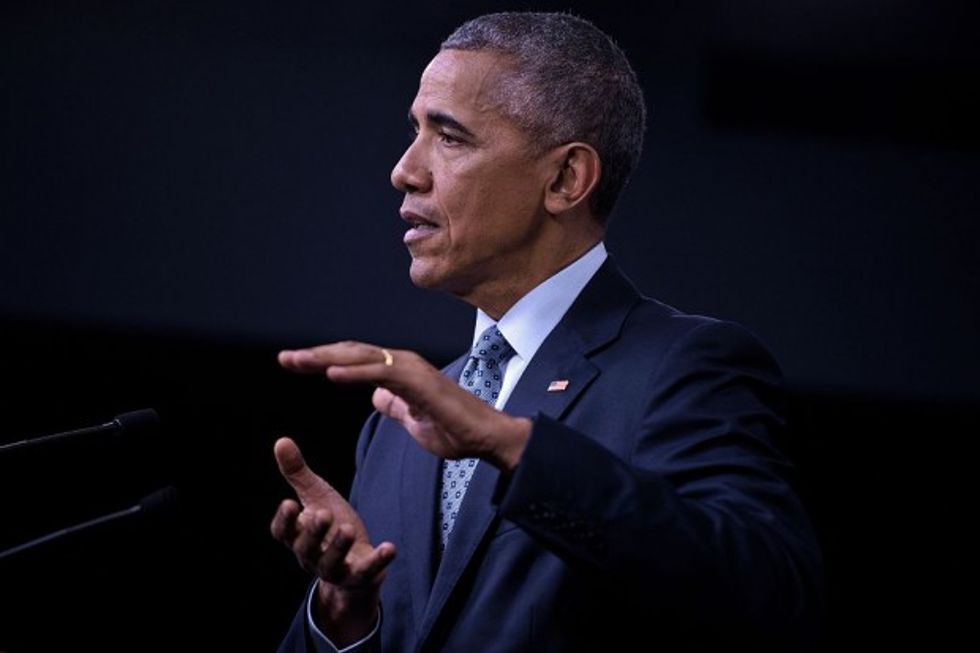 President Barack Obama speaks during a press conference at the Pentagon in Washington, DC on August 4, 2016. / AFP / Brendan Smialowski (Photo by BRENDAN SMIALOWSKI/AFP/Getty Images)
In exchange, according to Beck, "They released four of our people and they pinky-promised not to do anything bad with nukes."
"I feel better already," the conservative talker sarcastically quipped.
According to the WSJ report, the U.S. shipped "wooden pallets stacked with euros, Swiss francs and other currencies" to Iran on an "unmarked cargo plane" because American laws forbid U.S. currency transactions with Iran. While U.S. and European officials would not confirm when exactly the airlift took place, the Tasnim agency, "an Iranian news site close to the Revolutionary Guard," said the plane landed at Tehran's Mehrabad Airport the same day Iran released four American detainees.
As TheBlaze previously reported, the four American prisoners — Washington Post reporter Jason Rezaian, former marine Amir Hekmati, Christian pastor Saeed Abedini and Nosratollah Khosravi-Roodsari — were released Jan. 17 of this year.
But according to State Department spokesman John Kirby, "the negotiations over the settlement of an outstanding claim … were completely separate from the discussions about returning our American citizens home."
"Not only were the two negotiations separate," he said, "they were conducted by different teams on each side, including, in the case of The Hague claims, by technical experts involved in these negotiations for many years."
Watch Beck's comments below: —
Follow the author of this story on Twitter: