A stuntman, later identified as Steve from Virginia, took to Trump Tower in Manhattan with suction cups Wednesday to scale the massive skyscraper, but he explained why he did so in an eerie YouTube video posted the day before.
In the video, titled "Message to Mr. Trump (why I climbed your tower)" by user "Leven Thumps," a young man wearing a black hoodie and averting his eyes from the camera is seen speaking in a slow, monotone voice. He said he is "an independent researcher seeking a private audience with you to discuss an important matter."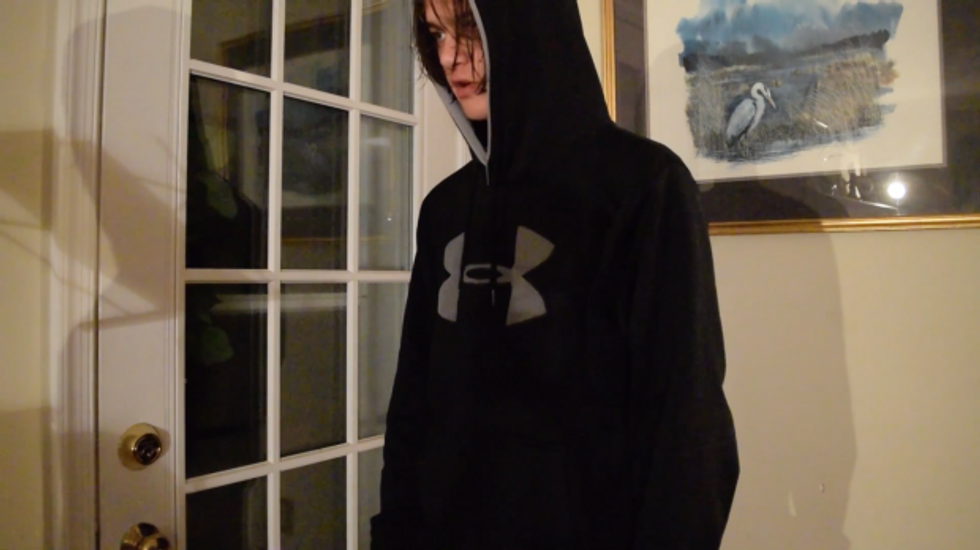 YouTube/Leven Thumps
"I guarantee you that it is in your interests to honor this request," he said. "Believe me, if my purpose was not significant, I would not risk my life pursuing it."
The man tells viewers he chose to climb the tower because he wanted to get the attention of Donald Trump, the Republican nominee for president. He said had he pursued a meeting with the billionaire businessman "via conventional means," he likely wouldn't be successful because Trump is a "busy man with many responsibilities."
The climber said he would get his contact information to the Trump campaign and then asked viewers to help make the YouTube clip go viral.
He concludes the video with this request: "Be sure to get out and vote for Mr. Trump in the 2016 election."
It does appear, based on this photo, the climber is the same person depicted in the Tuesday video.
Update: The Trump Tower climber is reportedly named Steve and dropped a laptop at one point https://t.co/tY0uY3VJ0p https://t.co/u1jlcXj8cT

— Gothamist (@Gothamist) 1470866729.0
After approximately two hours of climbing, New York Police Department officers were able to pull the stuntman into the skyscraper through a window police had removed from the building.
Watch the video below:
–
Follow the author of this story on Twitter: