Following multiple news reports on Sunday of an armed robbery involving American Olympic swimmer Ryan Lochte and three other team members, Lochte tweeted a confirmation of the story, thanking "family, friends and fans" for their "overwhelming support and concern."
https://t.co/LgkoJe4qkm pic.twitter.com/Ed3V6vWhuf

— Ryan Lochte (@RyanLochte) August 14, 2016
Lochte also spoke with Billy Bush about the incident on NBC's "Today" on the beach in Rio.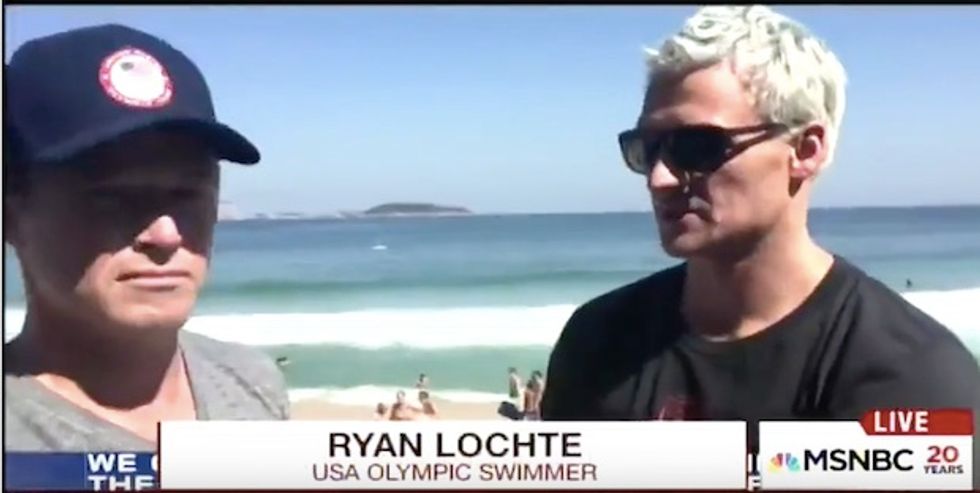 Image source: YouTube
"We got pulled over in our taxi, and these guys came out with a badge. No lights, no nothing, just a police badge. They pulled us over. They pulled out their guns. They told the other swimmers to get down on the ground. They got down on the ground," the 32-year-old swimmer told Bush.
Instead of complying with the order to get on the ground, Lochte remained standing.
One of the gunmen reportedly changed the American's mind. "He pulled out his gun, he cocked it, he put it to my forehead and said, 'Get down,'" Lochte said.
"I put my hands up, I was like 'whatever.' He took our money, he took my wallet," he continued, adding,"He left my cell phone, he left my credentials."
NBC published the following statement from the U.S. Olympic Committee on the incident:
According to four members of the U.S. Olympic Swimming Team (Gunnar Bentz, Jack Conger, Jimmy Feigen and Ryan Lochte), they left France House early Sunday morning in a taxi headed for the Olympic Village. Their taxi was stopped by individuals posing as armed police officers who demanded the athletes' money and other personal belongings. All four athletes are safe and cooperating with authorities.
An investigation into the incident is ongoing.
—
Follow the author of this story on Twitter and Facebook: