Former Texas Gov. Rick Perry, who briefly campaigned for the Republican presidential nomination, said the Democrats "used" Khizr Kahn, at their convention last month.
"Mr. Kahn is the one that went out and struck the first blow, and in a campaign, if you're going to go out and think that you can take a shot at somebody and not have incoming coming back at you, shame on you," Perry said emphatically on CNN's "The Lead" Tuesday afternoon. "I think the Democrats used him in a way that, quite frankly, I'm not sure I approve of."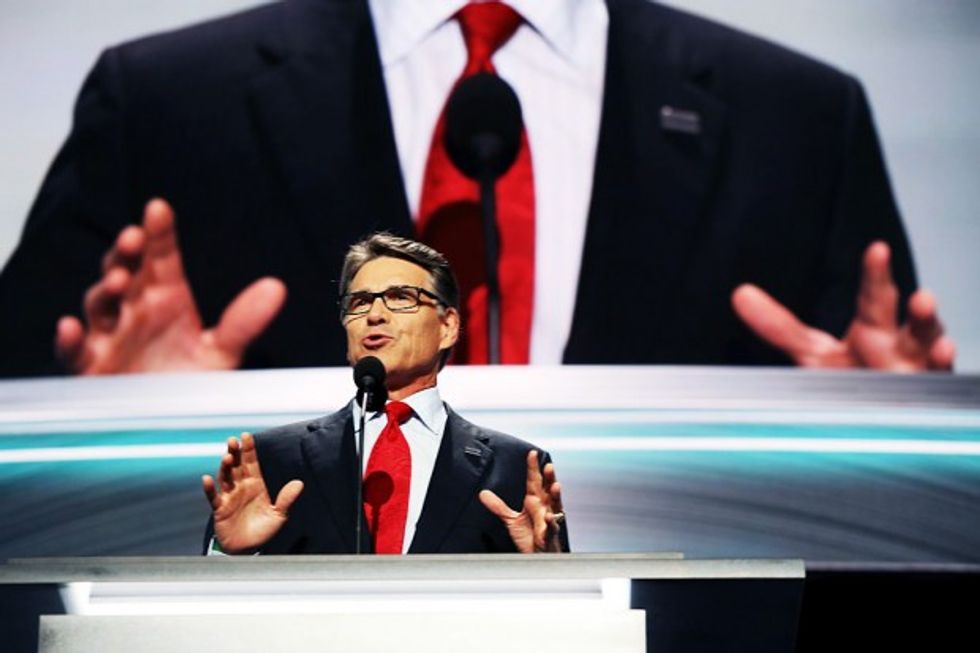 Photo by Joe Raedle/Getty Images
The former governor told host Jake Tapper that Khan, flanked by his wife Ghizala, "politically used his time on that stage to go after Donald Trump." Khan denounced the Republican presidential nominee for his proposed ban on Muslim immigration into the United States.
The Khans' son Army Capt. Humayun Khan was killed in combat in Iraq in 2004.
"Why in the world he thought that he was gonna get a free ride with that is beyond me," Perry said. "He shouldn't get a free ride when he's gonna inject himself into the political arena."
The CNN anchor pushed back against the Texan's comments, saying nobody's "saying that he shouldn't be criticized." In response, Perry asked why then are they having the conversation about it.
"If what you're trying to do is say Donald Trump is a bad man because he took on a guy that took him on in a political back-and-forth, that's the way this process works," he told Tapper. "Because he had a son that was lost in this war against terror — that gives him a free ride to say whatever he would like against a candidate that he's not for? That's not proper, that's not correct."
Perry, who claimed "nobody has done any more for our veterans than I have," said he "understands" the heartbreak that accompanies the death of a loved one due to the war.
"I understand this," he said. "I know what goes with that, but don't use that and go after a political candidate and think you're gonna get a free ride because of it."
Trump was criticized by the media and many on both sides of the aisle — including Texas Gov. Greg Abbott (R) — for suggesting Ghizala Khan was not permitted to speak during the convention address.
Watch Perry's comments below:
–
Follow the author of this story on Twitter: