The Republican Jewish Coalition called on Hillary Clinton to "immediately condemn" the $400 million cash payment to Iran following an admission by the State Department that receipt of the cash was, in fact, contingent upon the release of American prisoners.
"Hillary Clinton and Democrats across the country should immediately condemn this ransom payment and reverse their support for the dangerous nuclear deal with Iran," RJC Executive Director Matt Brooks said in a statement Thursday.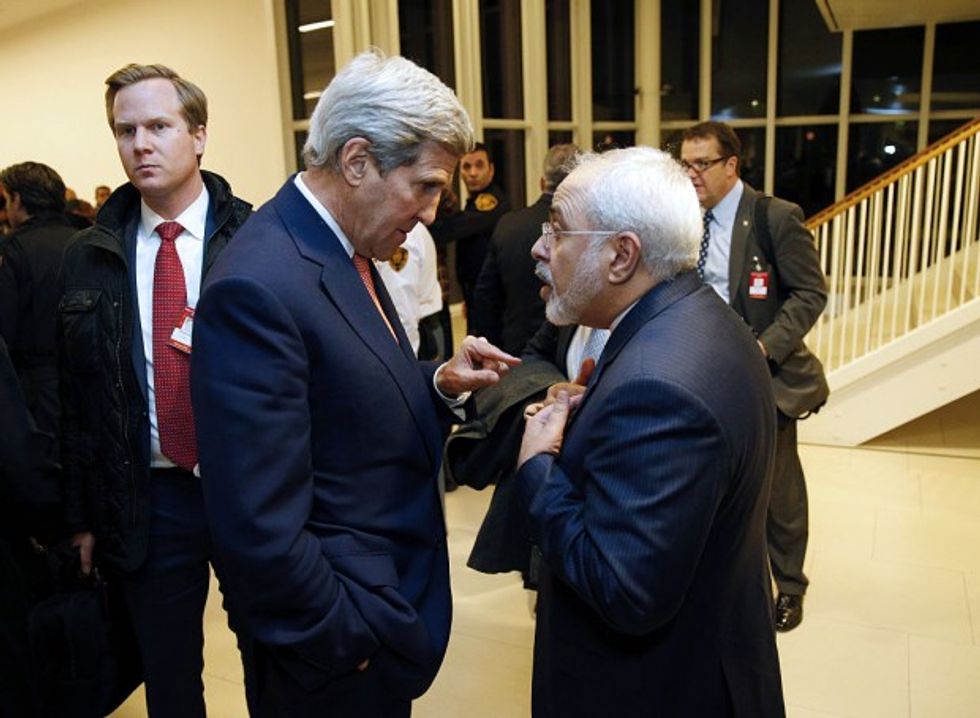 Secretary of State John Kerry (L) speaks with Iranian Foreign Minister Mohammad Javad Zarif after the International Atomic Energy Agency (IAEA) verified that Iran has met all conditions under the nuclear deal during the E3/EU+3 and Iran talks in Vienna on January 16, 2016. The historic nuclear accord between Iran and major powers entered into force as the UN confirmed that Tehran has shrunk its atomic programme and as painful sanctions were lifted on the Islamic republic. (Photo by KEVIN LAMARQUE/AFP/Getty Images)
Brooks said the payment — which President Barack Obama's administration has insisted is not a ransom — "to the largest state sponsor of terrorism sets a dangerous precedent, one that will only put more Americans at risk."
The large payment and the release of the American hostages occurred on Jan. 17.
"This $400 million ransom, along with the $100 billion Iran has already collected from the U.S., will further Iran's funding of terrorist organizations who launch regular attacks in Israel, as well as their funding of militia fighters directly working to undermine our coalition forces in Iraq and Syria," he added.
According to officials  who spoke Wednesday to The Wall Street Journal, the Iran payment was held until the American detainees were released. Thursday's statement from the State Department marks the first time the Obama administration has admitted the cash was at all associated with the prisoners' release.
As TheBlaze previously reported, State Department spokesman John Kirby said the payment was put on hold to be used as leverage until all U.S. citizens were freed, but maintained the White House's position that the transactions were entirely separate.
In an interview, Iranian-American pastor Saeed Abedini, one of the prisoners released, claimed a senior Iranian intelligence official at the time told him their departure was dependent upon the movements of a second cargo plane. U.S. officials, it should be noted, repudiated the Christian minister's report.
—
Follow the author of this story on Twitter: