UPDATE 5:30 p.m. ET: President Barack Obama canceled his meeting with Philippine President Rodrigo Duterte after the South Asian leader called the leader of the free world a "son of a bitch."
—
Philippine President Rodrigo Duterte today warned U.S. President Barack Obama not to question him about unjust killings in his country during an upcoming summit in Laos.
If Obama questions him about extrajudicial killings, "son of a b*tch, I will swear at you," Duterte said, according to the Associated Press. The comment was made after a reporter asked Duterte how he will explain the deaths of more than 2,000 suspected drug sellers and users in his "war on drugs" since taking office on June 30.
When asked about Duterte's promise, Obama said: "Clearly he's a colorful guy."
Obama currently plans to meet with Duterte one-on-one, but after those statements he said he asked aides to determine whether it would still be "productive" to meet with the leader.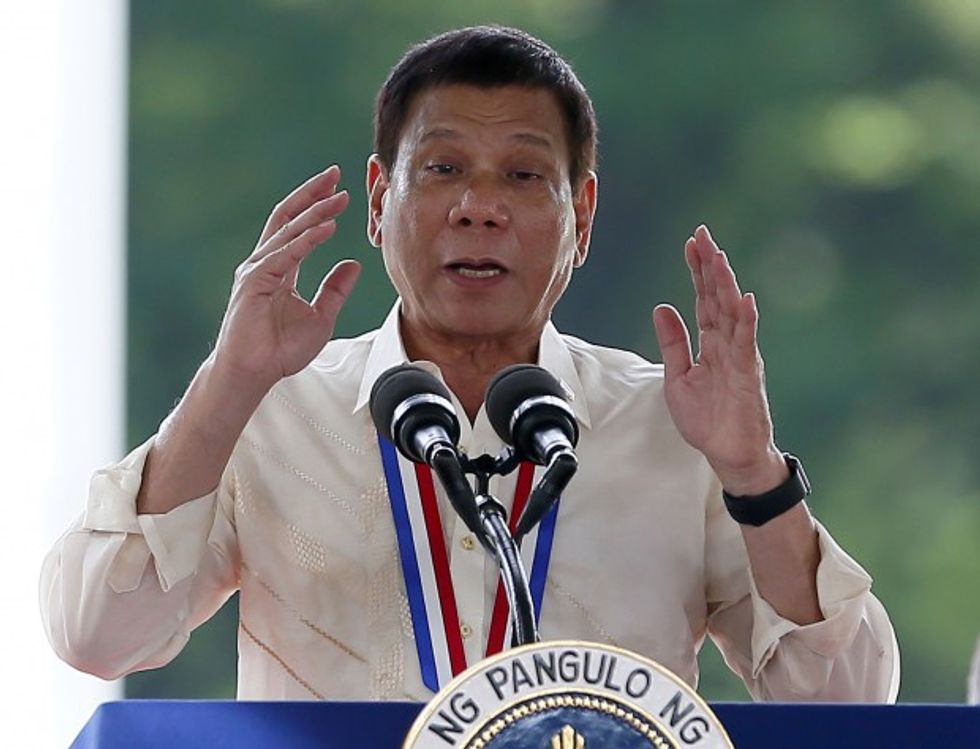 Philippine President Rodrigo Duterte gestures while addressing guests following a wreath-laying ceremony Monday in the Philippines. (AP/Bullit Marquez)
Obama is currently in Laos, a communist Southeast Asian country of nearly 7 million people, for a three-day visit centered around the annual meeting of the Association of Southeast Asian Nations.
Last week, Duterte had said that Obama needs to "listen," then speak, at the upcoming summit.
In response, White House Press Secretary Josh Earnest said that the Philippines "is a Treaty Ally of the United States," and they "benefit" from a close relationship with the U.S. due to their proximity to the South China Sea.
"I think the President is going to speak quite directly about our shared interests with the Philippines, both countries benefit from effective cooperation on a variety of issues, including maritime security," Earnest said. "But the president is certainly not going to pull any punches in raising well documented and relevant concerns when it comes to human rights."
When a reporter described Duterte as unorthodox and unpredictable, Earnest replied: "that's putting it mildly."
—
Follow the author of this story on Twitter and Facebook:
[facebook //www.facebook.com/plugins/like.php?href=